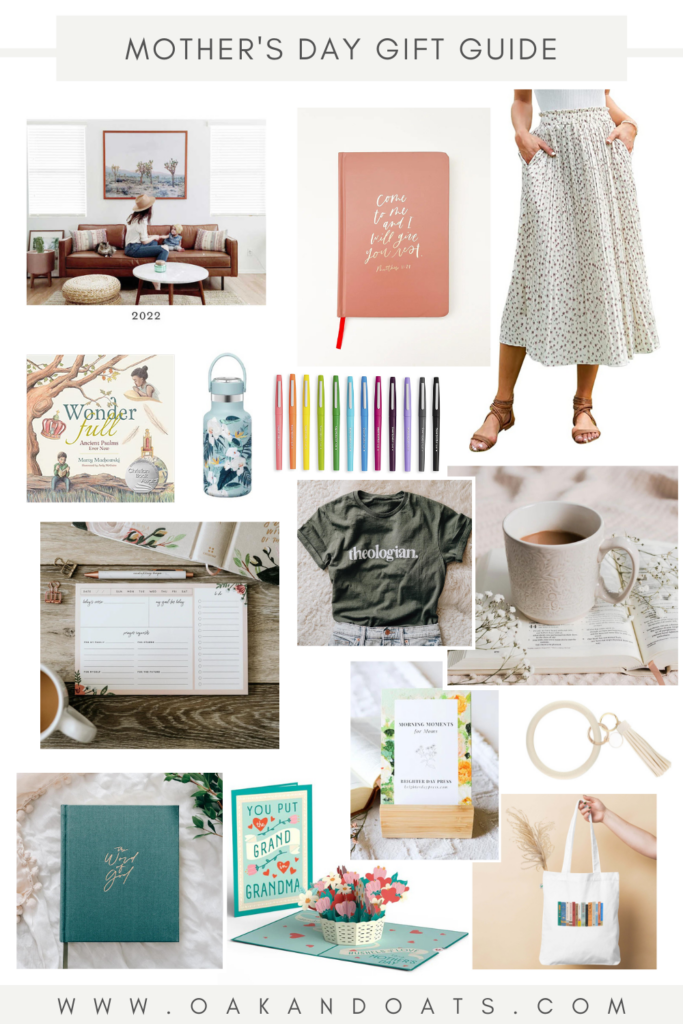 Mother's Day Photo Yearbook – $50 || I Will Give You Rest Journal – $20 || Floral Skirt – $35 || Wonderfull: Ancient Psalms Ever New – $25 || Water Bottle – $19 || Felt Pens – $10 || Daily Notepad – $10 || Theologian Shirt – $24 || Daily Grace Mug – $20 || Morning Moments for Mom – $16 || Key Chain – $9 || ESV Journaling Bible – $60 || You put the Grand in Grandma Card – $13 || Mothering by the Book Tote – $22
I've always loved Mother's Day – even before I was a mother myself and I had to frequently share this holiday with my birthday. I've always loved my mom and felt close to her, so celebrating her was always easy. Plus she always picked things to celebrate that I loved too – like sleeping in, brunch foods, afternoon hikes, and good books.
Something about Mother's Day on the horizon always makes me want to make a gift guide, so here it is! I had both my mama and me in mind as I put this together. So many good things – like that book tote for the library, The Word of God Bible for truth & beauty, the yearbook filled with family memories, the grand grandma card any grandma would love to receive (plus so many more mother's day cards), and the morning moments for mama (save 15% off your order at Brighter Day Press with code: ELIZABETHM15) I hope you can find something fun off this list for the mama in your life this year.
Happy Mother's Day!