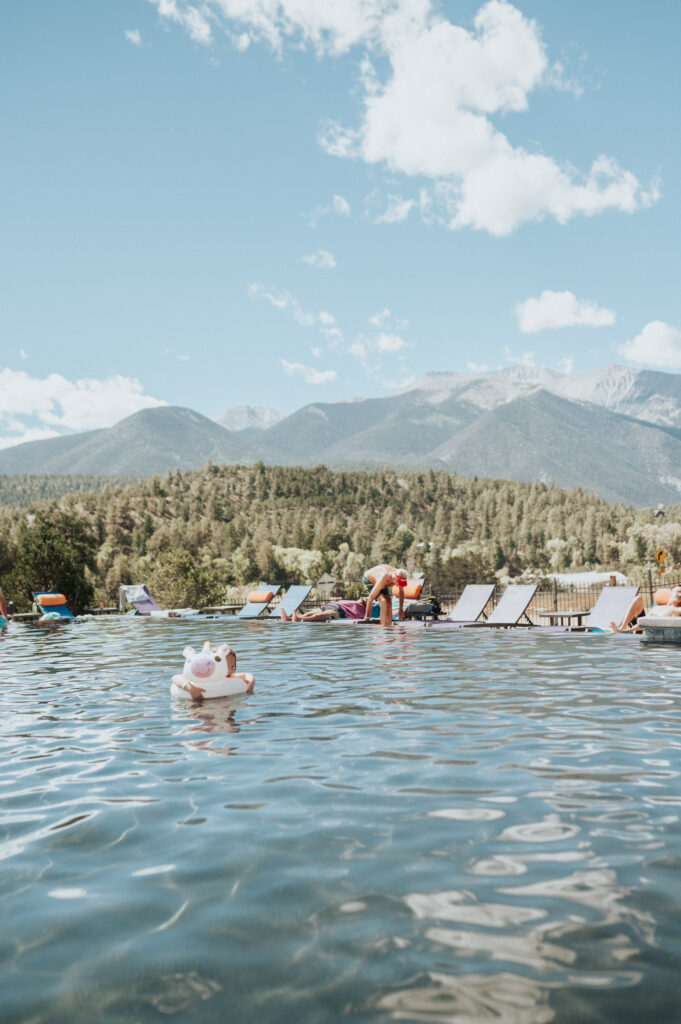 With views like this, we crown it the king of all pools! As we planned our family vacation to Buena Vista, Mount Princeton Hot Springs was a must on my list and several others as well. I mean, how can you not spend time soaking in these natural springs when you are only minutes away?
I have fond memories of coming here as a child and moving the rocks in the river to create the "perfect" temperature between (boiling) hot spring water and fresh snow melt from the river. Seeing Hilde climb all over the rocks, finding the perfect pool, and digging her feet into the warm sand brought back all those childhood memories. My mom kept saying "you guys did that when you were little!"
It was fun to come back with older (and more) kids. The last time Bruce and I were here was with Hilde (the week we found out we were pregnant with Millie!) and it was before the upper pool was open (the black bottom, infinity pool in the pictures.) Funny how we are building these memories into the next generation.
Gah. I am just so grateful. This is why I take pictures. Looking through these pictures of my family – of my little crew and also the extended family from my youth – just fills my heart with joy. I feel blessed that I get to pass on these words and these pictures to my kids.
And if you are looking for a Mt. Princeton Hot Springs review, my answer is yes, you should go!