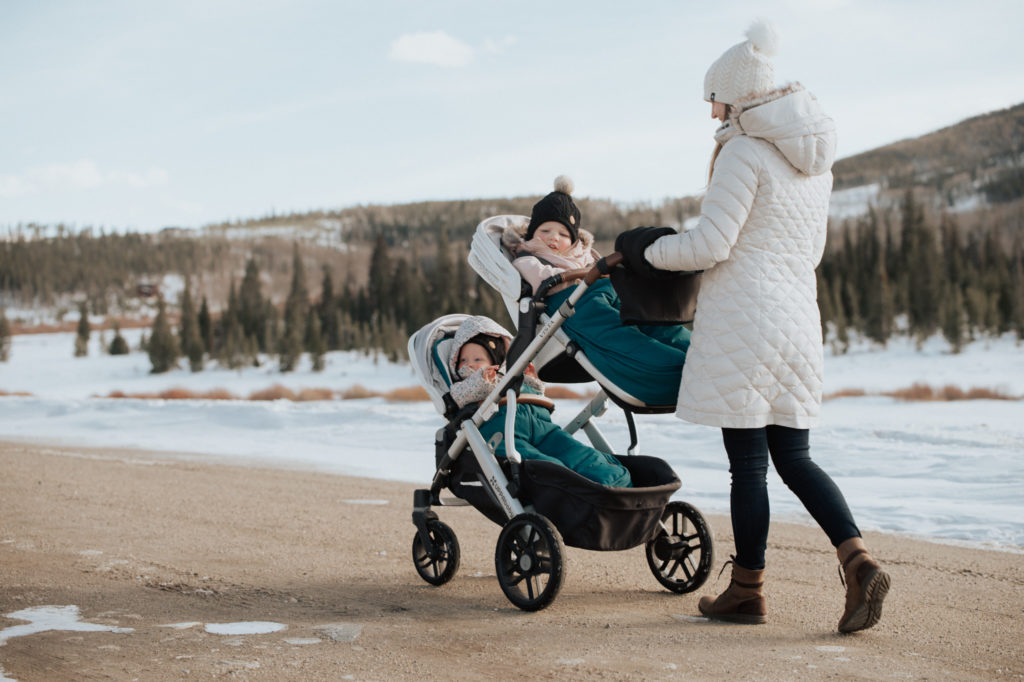 Thank you buybuy BABY for sponsoring this post!
We just got back from our almost annual family trip to Winter Park. We used to go every year but had to take a couple years off recently due to family circumstances and life BUT we are back at it! This one was the first time that either of the girls got to join us so that was fun (and made it a bit of a different experience!)
This year it was also FREAKING COLD. Mostly because of the wind but also because it is winter 😉 Truth be told, I was disappointed that it was so cold. I had dreams and plans of snowshoeing and pulling the girls in sleds and tubing for hours and just enjoying the beauty that is Winter Park in the winter. But it didn't work out that way. The first couple days we had crazy wind – reaching 80 mph and cold / windy temps the rest of the time. It wasn't a huge bust, we still spent some time outside and I was very thankful we winterized our stroller to keep these little babies toasty and (most importantly) happy!
We went on a small walk around the property near our cabin and took the stroller so we could keep the girls warm & snug. Just before this trip I ordered the 7AM Enfant Warmmuff Stroller Gloves and two Diono® All-Weather Stroller Footmuff because I like to take the girls on a walk almost every day even during the winter. There is something to say about the outdoors being a sanity saver for us all!
I saw Stephanie Pollock share about stroller gloves once on a winter walk and I knew that was something that I would be very happy to have so when I saw them on buybuy BABY, I added them to my cart right away! It took some time to settle on the perfect footmuff for the girls but the color and cozy lining really sold me on the Diono ones!
Now that we have been able to put them all to use and test them, they are almost perfect. The only downside is that with the Diono® All-Weather Stroller Footmuff, there is no way to attach it directly to the stroller and hold it up. My oldest moves A LOT in the stroller and so it falls down and I have to fix it on our walk. My youngest has zero problems with it so it really is just a busy baby that makes it travel down!
We were all very happy our package arrived before this trip because we sure needed it all up here! Thankful for outdoor moments year round and the tools that make them possible!