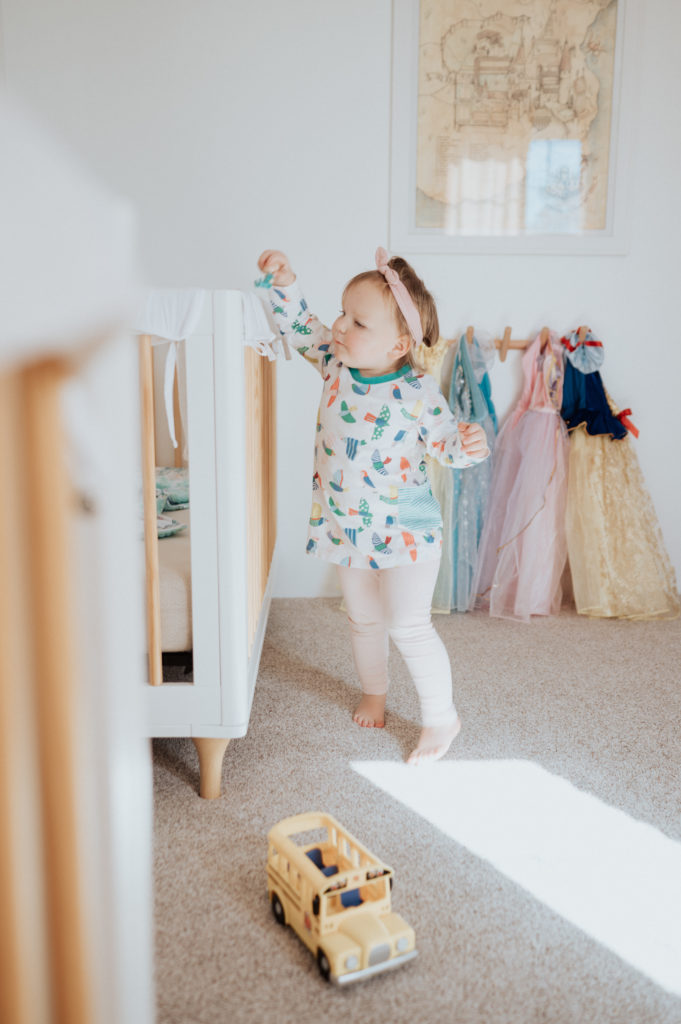 This post is sponsored by BabbleBoxx.
The other week a package arrived at our doorstep. Hilde loves when mail arrives – she rushes to the door, pulls in the packages, and helps me open them to see what is inside. While dad and Millie went to run some errands, Hilde and I opened our BabbleBoxx and she couldn't get over that there were things for her inside!
What is Inside
We opened the box and found it filled with some fun new goodies! These are all perfect for toddlers and their growing minds!
Hilde has been singing the wheels on the bus for weeks so when the CoComelon Musical Yellow School Bus from Jazwares arrived we were going 'round and 'round through the town and all over her room! I can honestly say this CoComelon doll is her new favorite toy. Have you seen the CoComelon YouTube series? Hilde watches it at my moms and immediately she started playing with JJ the baby having him drive the bus! The bus plays a clip of the "Wheels on the Bus" song and also several other bus sounds & tunes so we can sing and play. But really, we spend all day singing anyways, she just can't get over that this preschool toy sings with her!
The next thing was Else Nutrition! It is a real, clean label, organic, plant-based alternative to cow's milk/typical formulas. It is primarily made of almonds, tapioca, and buckwheat; three core ingredients that go through a clean, all-natural process that offers the protein, carbohydrates, and fat directly from the whole plants, along with phytonutrients, fiber, vitamins, and minerals nature intended to provide optimal nourishment for toddlers. I love that it has no harsh chemicals and is plant based. We've been moving to a more plant based diet so I love this option. It is also great to add to smoothies or baked goods! Save 20% when you use code: BabbleBoxx20
The next thing we opened was Baby Magic Calming Baby Bath & Calming Baby Lotion. It's hydrating and tear-free which is pretty important for these Colorado babies of mine! It also has the soft scent of lavender which makes it the ideal duo for night-time bathing! One thing I like is that they are hypoallergenic, dermatologist tested and free from sulfates, dyes, parabens and phthalates – I'm always more aware of the products we are using for the girls. This set is perfect for our nighttime routine!
Squishmallow® from Jazwares
This Squishmallow® toy is just as squishable as it sounds! It was one of the first things she snuggled with when we opened the box and she asked to put her little puppy down for a nap with her! There are currently over 500 Squishmallow characters available at retailers near you so you can collect them all if you are in for a challenge!

Reading is a favorite activity for both our girls and we make sure to get reading in with them every day! Typically they both get time with mom and time with dad! One of the items in the box was this book mark from Reach Out and Read. Reach Out and Read is the only national early literacy organization working directly with pediatric care providers to share the lifelong benefits that result from families reading aloud to their children every day. Research shows that reading sets children up for success and the first three years of life are critical and this early literacy nonprofit focuses on achieving that for every kid. Reach Out & Read works primarily in low income communities helping pediatric teams to provide new, age- and language-appropriate books and share literacy advice with children and parents at each well-child visit. Their 33,000 pediatric clinicians served 4.5 million children and shared 7 million books at 6,100 program sites around the country over the last year. Learn more here!
Lastly we got this Lil' Sidekick universal strap which I promptly put into action for our mid morning walk and our water bottle didn't fall on the ground one time! The Lil' Sidekick universal sippy cup strap is USA made and prevents those things your kids love to chew on from being chucked to the dirty floor. It's a great gift for a new mom! Save 10% with code YESPLEASE!
That was everything in the box! Such a fun thing to go through with my little toddler! Did you see anything you wanted to learn more about or add to your toddler's wish list?!