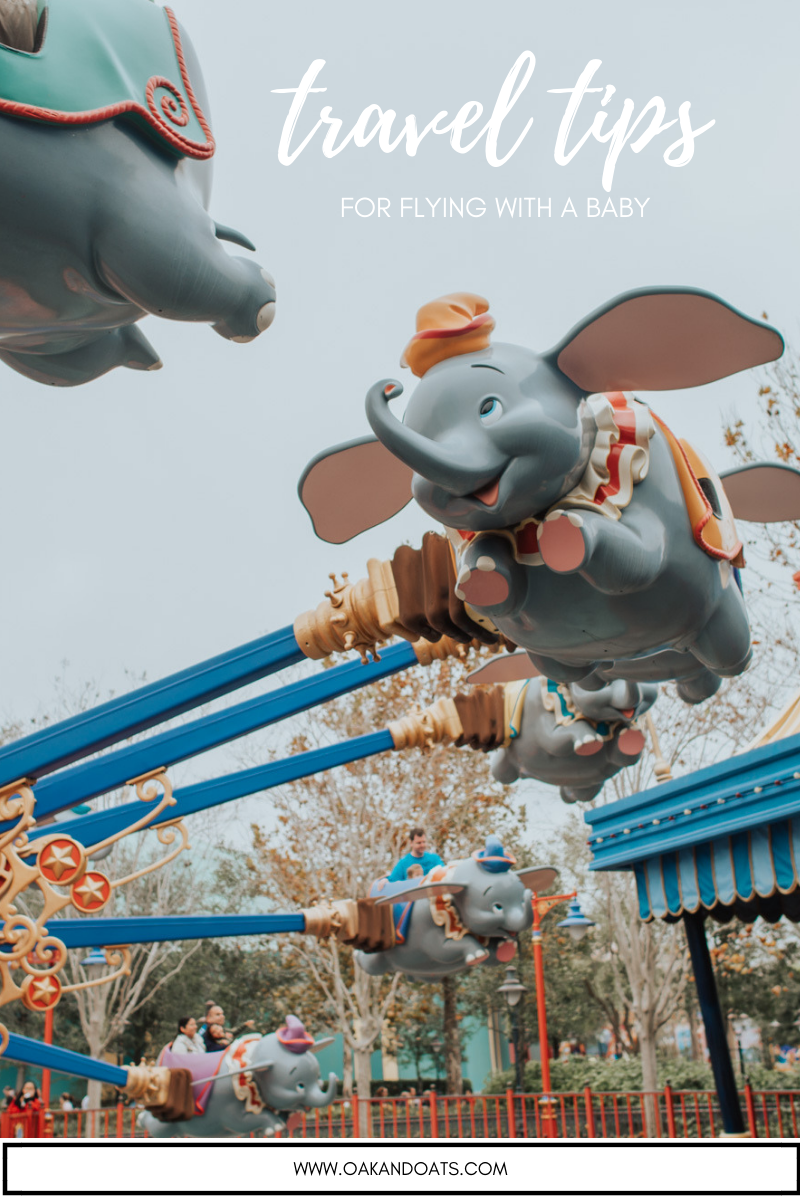 Thank you buybuy BABY for sponsoring this post!
It is no secret we love to travel. We have flown with Hilde now on two trips (and flew multiple times while we were pregnant with her too!) The first one was our trip to Tennessee when she was about 3 months old and the second was our trip to Disney World when she was five months! I know the idea of bringing a baby on a flight can be a little intimidating but it is actually very doable! Don't miss out on making memories when your littles are free to fly! Here are seven tips to help you fly with your baby!
Bring your own Car Seat & Stroller
We looked a lot into this before we decided to just bring our own. Both strollers and car seats can be rented but not only do you not know it's history, you also are not comfortable with how they work and your little is not familiar with riding in them. To us it made the most sense to bring our own and just make sure we took care of them. Bringing our own stroller and car seat has proven to be the best thing for us and it really helps baby to have some things stay the same when you are traveling! When you bring your own, you also get to use everything right when you need it. You can have your stroller the whole time at the airport and you can hop right into your rental car (or ride) and go without waiting for a rented car seat.
Check your Bags
When you are traveling with a baby you bring SO much more stuff! Don't try to lug it all through the airport with your baby and the stroller. Check as much as you can! We only brought the computer/ camera bag, the diaper bag, and the stroller with us to the gate and it still felt like a lot of stuff to cart around! Checking bags is a sanity saver. Most airlines will check your stroller and car seat for free and and it won't count against your luggage limits. Make sure you look up your airline's policy before you fly just so you know!
Use Travel Bags
If the idea of your car seat and your stroller getting thrown around with all the other luggage worries you, you are not alone!  Invest in good travel bags. We bought the UppaBaby travel bags from buybuy BABY for our VISTA stroller and our MESA car seat and have been thrilled with them. What we love about these travel bags is that once registered, UppaBaby will cover ANY damage that happens while in the bags. It gives you peace of mind while keeping your stuff clean and safe! We checked our car seat in the travel bag at the front and took the stroller into the airport with us to the gate. Just before we boarded, Bruce packed the stroller away and put it with all the other strollers.
Take a Photo of your Baby's Birth Certificate
You don't need the hard copy, but you will need to show your little one's birth certificate to get their lap ticket. We took a photo and have it saved on our phones so we can show it when we need to and don't have to worry about bringing (or losing) Hilde's birth certificate when we fly.
Nurse to help with the pressure
If you are nursing, nurse during take off and landing to help with the air pressure. This worked so well for us! A bottle or pacifier can also help meet the same need so plan on one or two of them for your flight!
Pack Your Diaper Bag Well
This is super important. If you check your bags, this will be all the stuff you have to take care of your little one the entirety of your travel – not just the couple hours in the air but all the time on each side in the airport. Keep that in mind when packing! Here are some things I make sure to have:
Enough Diapers + 3 for the journey. I packed 8 just in case.
Extra Outfit or two. Hilde has pooped on her clothes on two flights. It's not worth not having a backup outfit!
Ziplock bags for diapers. Airplanes will not let you throw away a diaper unless it is sealed in a bag and carried off with you or handled directly with the flight staff.
Sanatizing wipes to wipe everything down in your seat area.
Extra toys/ teethers just in case a toy drops on the floor.
Use a clip to keep pacifier from falling on the ground.
Changing mat. Most planes have this crazy fold down changing table in the tiny bathroom, but you'll still want to use your own changing mat on it!
Nursing cover.
Bring a Buddy
If at all possible, travel with an extra set of arms! It helps so much! Babies (like adults) get bored and fussy on airplanes! Having someone to pass the baby back and forth with to switch things up helps so much! When Hilde was 3 months, she slept most of the flight but when she was 5 months, she was awake for more of it and needed some change in scenery to keep her happy! It also helps with getting on and off the flight with all your stuff!
Those are my seven tips! And I also want to encourage you to have fun! It is never too early to make memories and get your kids used to travel! I'm glad Hilde has already been on multiple flights and I am looking forward to our next trip!! Where should we go now!?!? haha!