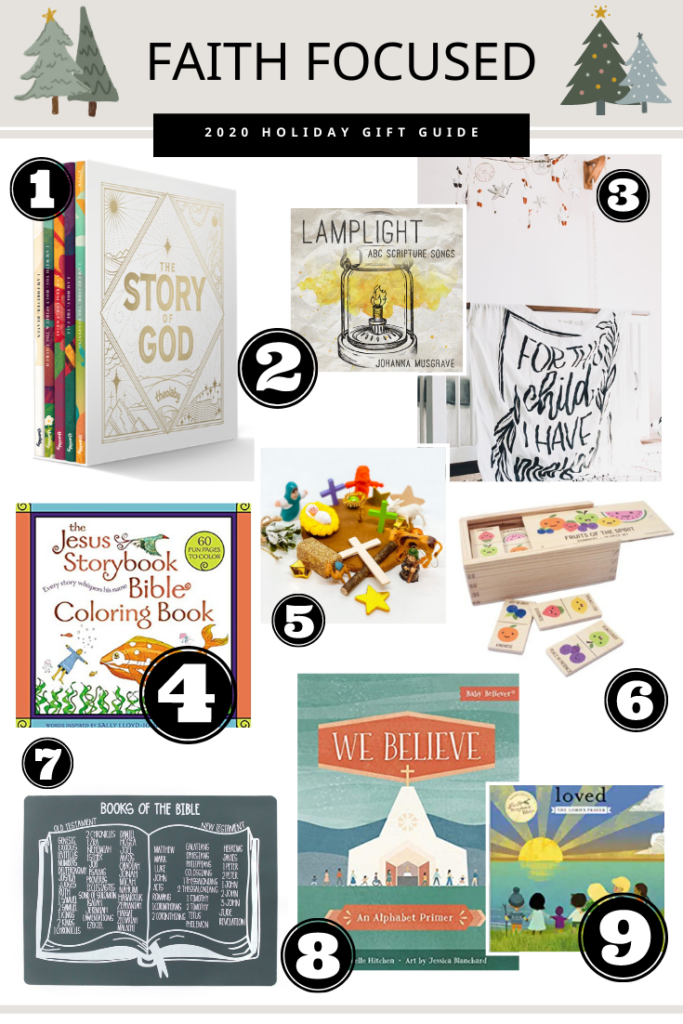 I've got lots of gift guides under my sleeves (that is the saying right?!) this year and hopefully I will get them all out here to you! HAHA. Lots of times my ambition for this space is far greater than the time I have to work on it! Since I never know, I am starting with the most important!
Proverbs 22:6 says, "Train up a child in the way he should go; even when he is old he will not depart from it." As parents (and aunts, uncles, friends, grandparents) we have the responsibility and opportunity to share the Gospel with this new generation and teach them about the Lord! This doesn't always have to be in a church or bible study setting, in fact most of what they learn from us will be from our daily interactions and lifestyle! Here are some gifts that naturally integrate the Lord into your daily life with your children!
We don't have this yet but it is on our list! Beautiful books written to connect with your kids while also being theologically grounded in Scripture!
We just got this CD and are loving it! The songs are all Bible verses and help with verse memory so that your kids (and you!) can hide God's word in your heart. We listen to it in the car and it is already so fun hearing Hilde sing along with the songs!
For This Child I Have Prayed Verse Swaddle – $30
The sweetest swaddles for your little ones! Wrap your babes in the Word of the Lord!
The Jesus Storybook Bible Coloring Book for Kids – $10
My best friend showed this to me when I was saying I wanted a coloring book for Hilde to do her quiet times with me! It is so fun! I read her the page and she gets to color it in!
Compact Play Nativity Set – $15
We got a couple of these for Halloween and Fall and Hilde was a HUGE fan. So when the holiday ones launched, I grabbed a Christmas one, Nativity one, and the Winter Wonderland one! I'm going to put some in her stocking and let her play with some before! She seriously can play with these for hours a day!!
Fruits of the Spirit Dominos – $8
How cute are these dominos! Fun for playing, learning, and conversations!
Books of the Bible Placemat – $20
How fun is this placemat? Perfect for food or crafts!
We Believe: An Alphabet Primer – $15
I love this book! It is a fun kids book with real theological words like baptism, communion, the Nicene and Apostles' Creed, and the Trinity.
Loved: The Lord's Prayer – $10​​​​​​​​​​​​​​​​​​​​​
This is another favorite book in our collection! This one is the Lord's Prayer and it is beautiful to read through even as an adult.