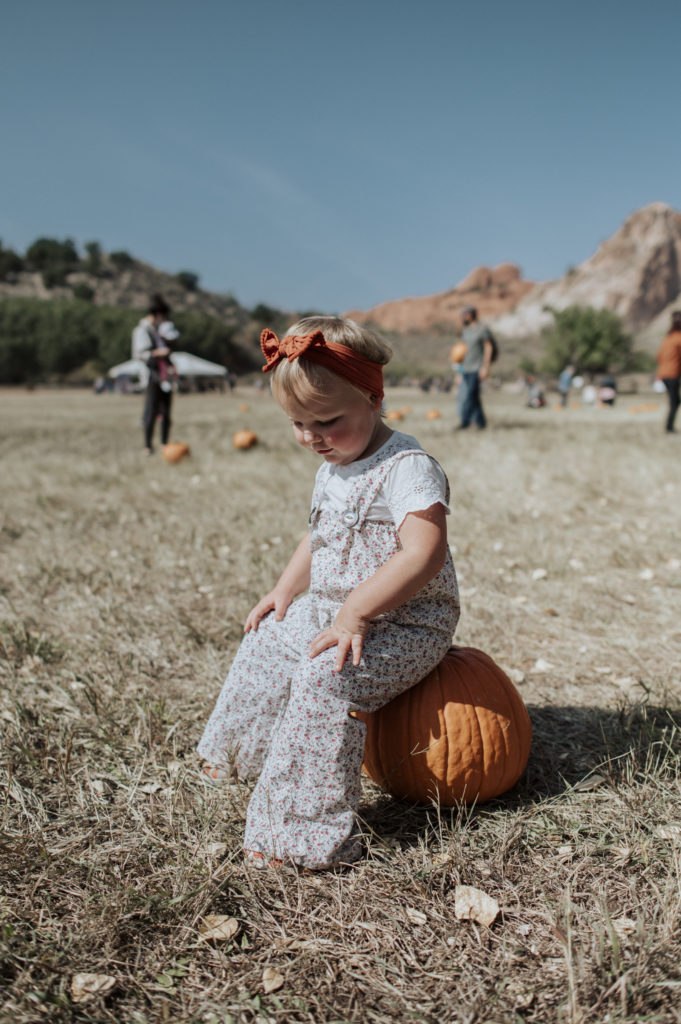 We're back at Rock Ledge Ranch for the pumpkin picking (2018, 2017)!! I've finally got it in my brain that this happens the first weekend of October so hopefully I'll stop planning trips over that weekend! 😉 Last year I was so bummed to miss it. It also was a crazy time (we were closing on this house!!) and I didn't think we would make it to a pumpkin patch at all – but we found this neighborhood harvest festival so I've got photos of one year old Hilde with the pumpkins!
With COVID and the general state of 2020, I had no idea if the date I had marked in the calendar was going to happen at all. As we've entered into the holiday season, I am trying to be realistic about my expectations. We're not going to get to do all our traditions this year and it will be okay (as disappointing as that is.) Awhile ago I shared an instagram post with my thoughts about our Millie Girl. I joke all the time that she is a quarentine baby but really, she has had such a differnt first year than Hilde. I know she is so young but they also grow so fast at this stage and I want all the memories and moments with her too!​​​​​​​​​​​​​​
I was so glad that Rock Ledge Ranch found a way to have their harvest festival this year. It didn't include all the things they normally do but we still were able to go and pick out a pumpkin! And heck, that is good enough for me!
PS: The Hilde on the pumpkin pose is all her!