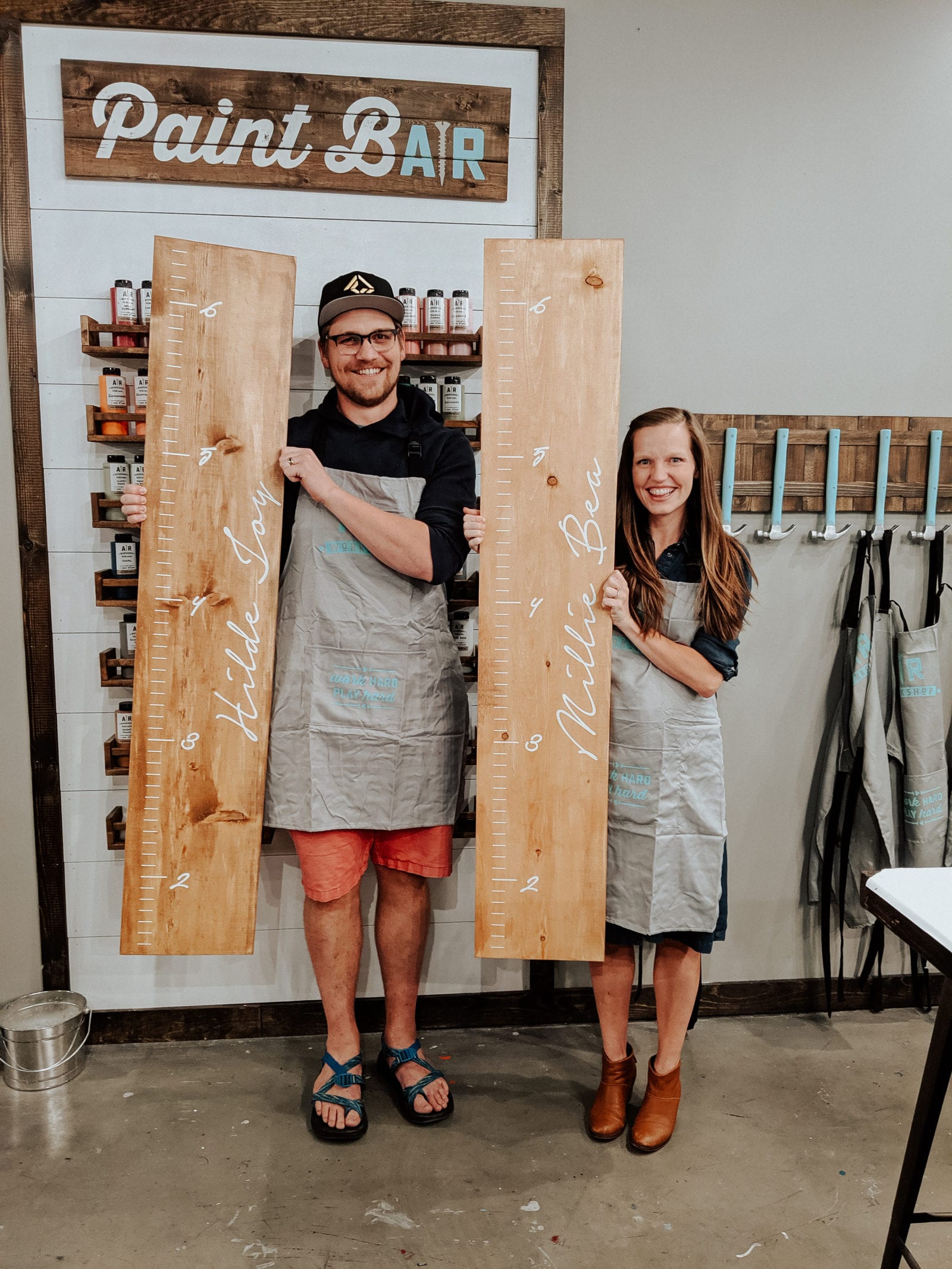 You guys keep asking for more marriage content so here it is! I guess for so long I felt too much like a newlywed to share advice on the topic. Or maybe I felt that marriage advice is the only type of marriage content to share on a blog. Either way, I'm inspired and ready to tackle marriage content here on Oak + Oats! 😉 Starting with a new series that will be once-a-month (ish) about our Date Nights!
We're on year 8 of marriage (which probably is no longer considered newlywed! haha!) and we both work from home. Before kids, we got so much time together without even trying. Nearly every night (or lunch) was date night. We could go to shows, eat out at our favorite restaurants, try new breweries, plan a game night with friends, and travel last minute. We always heard advice from others to make sure to plan a date night into the calendar but ours just happened so naturally. We didn't have schedules to work around or kids demanding our attention. Now we do. One adorable one-year-old and another on the way!
We operated the way we typically do as a team but instead we brought Hilde along with us everywhere. We only got a baby sitter for the occasional birthday party after bedtime or during the day so I could get work done! Bruce's parents kept pushing for us to plan something each month so they could watch Hilde and we could go out. We finally took them up on the offer and had so much fun getting out to the house kid free for no reason! lol. We love our little family and it is so easy for us to just do everything together but we didn't realize how much a date night for just the two of us what what we needed.
Now we plan for one each month and I'm going to share some of those with you along the way! My hope is to encourage you to not only get out with your husband once a month sans kids or responsibilities but to also inspire you to try new things!
We tried something new on our October date and that was the newly (hence new!) opened AR Workshop here in Colorado Springs. I had never heard of it before but they are a franchise that has lots of locations on the East-coast and in the South! Colorado just got three this year and it was so fun to experience! They remind me a lot of those paint and drink wine classes but you get to make whatever craft you want and there is a lot more variety! It is easier to make something personal and practical!
I signed Bruce and I up for growth charts for the girls! We initially thought they could just share one, but I'm a go big or go home kind of mama and I wanted to have their names on the side. Speaking of names, this isn't a name announcement per say, but Millie Bea is baby girl's name! Props to everyone who found that Easter Egg in our Instagram stories from our date night! I'll eventually get a blog post up on why we picked her name and all that went into it!
Since there were two of us, we both made one. We were at a table with some other couples on date night which was fun! All of us were making differnt crafts as well so it was cool to check in on everyone's progress! Everything comes ready for you. We had a template for painting that already included the measurements and names (because I cannot free hand like that!) all set out for us at our station. As we worked, our table leader would tell us the next step and clean up after us. It is like all the worst parts of crafting being taken care of for you! No prep work and no clean up! We just got to do the fun part!
Bruce also had a bunch of fun and told me he would do this again. So I might find another craft for us to do soon! They have a lot of Christmas things coming up (obvi) and I'm planning on going with some friends next month! If you live near something like this, it would be a fun new twist on a date night. You have all night to talk while also working on a project! It is a shared experience that you get to take home a souvenir from! Have you been to an AR Workshop?