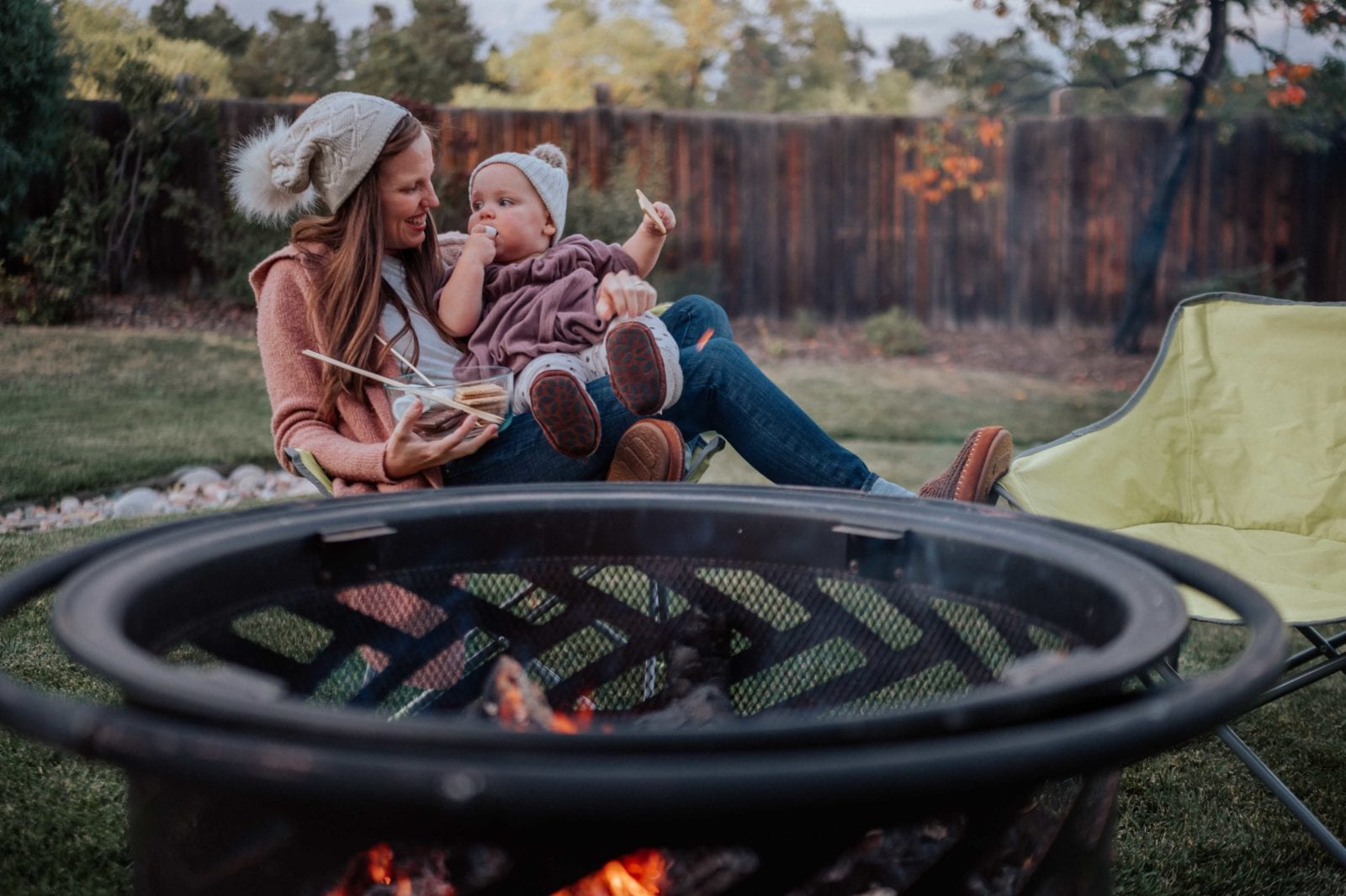 This post has been sponsored by Acorn. All thoughts and opinions are my own.
Family night was one of my favorite nights growing up. I loved having something to look forward to each week and I knew everyone was going to be together for it! I have this thing with togetherness. If we have people over, I want to all be playing the same game or in the same room. When we travel, I want to all go to the same restaurant and stay at the same hotel. I'm getting better at this because sometimes we don't all need to be doing the same thing at the same time, but there is a sweetness in togetherness—especially when it comes to your immediate family.
When it was just Bruce and I, it was all "date night." Then Hilde joined our family, making us have those family nights. However, it hasn't been until more recently that these times together feel more meaningful. We get to share in the excitement of making a fire and eating s'mores with our daughter (one of my Autumn Bucket List Items!) As a newborn, she wouldn't really have noticed what was going on, but as a one year old, she was so invested! Now, don't get me wrong, I am all about making memories at EVERY stage in life, but it is a sweet thing to see your kids start enjoying them, too.
The cool weather has made its way to Colorado and the fresh, crisp autumn air is perfect for fire pits and cozy clothes. Winter is coming and fall is here, so I picked up some Acorn slippers for all of us! Bruce and I got the Camden Recycled Moc Slippers in Men's and Women's accordingly. I am always a fan 100% recycled products, so I had to see if they were as cozy as they looked—they are! One of my main requirements for slippers is that they can be indoor & outdoor to keep my toes warm on walks to get the mail and evenings in the backyard. I love Acorn slippers for that reason. As for Hilde girl, I fell in love with these Easy Bootie Ragg Slippers. She looks adorable in them! You should have seen her toddling around the grass in them! She is getting so much braver about walking these days; I have to keep shoes on her feet to protect them when we are outside! Check out more of their products here and aprés-anything with your family (be it big or small!)
Hilde wasn't patient enough to eat a s'more roasted to perfection, but she did get her first bites of marshmallow and was very focused on trying to figure out how she could eat more of them! Haha. I enjoyed the company, the setting sun, and the autumn leaves. Sometimes slowing down and cozying up is all you need to reset your mind and your body.