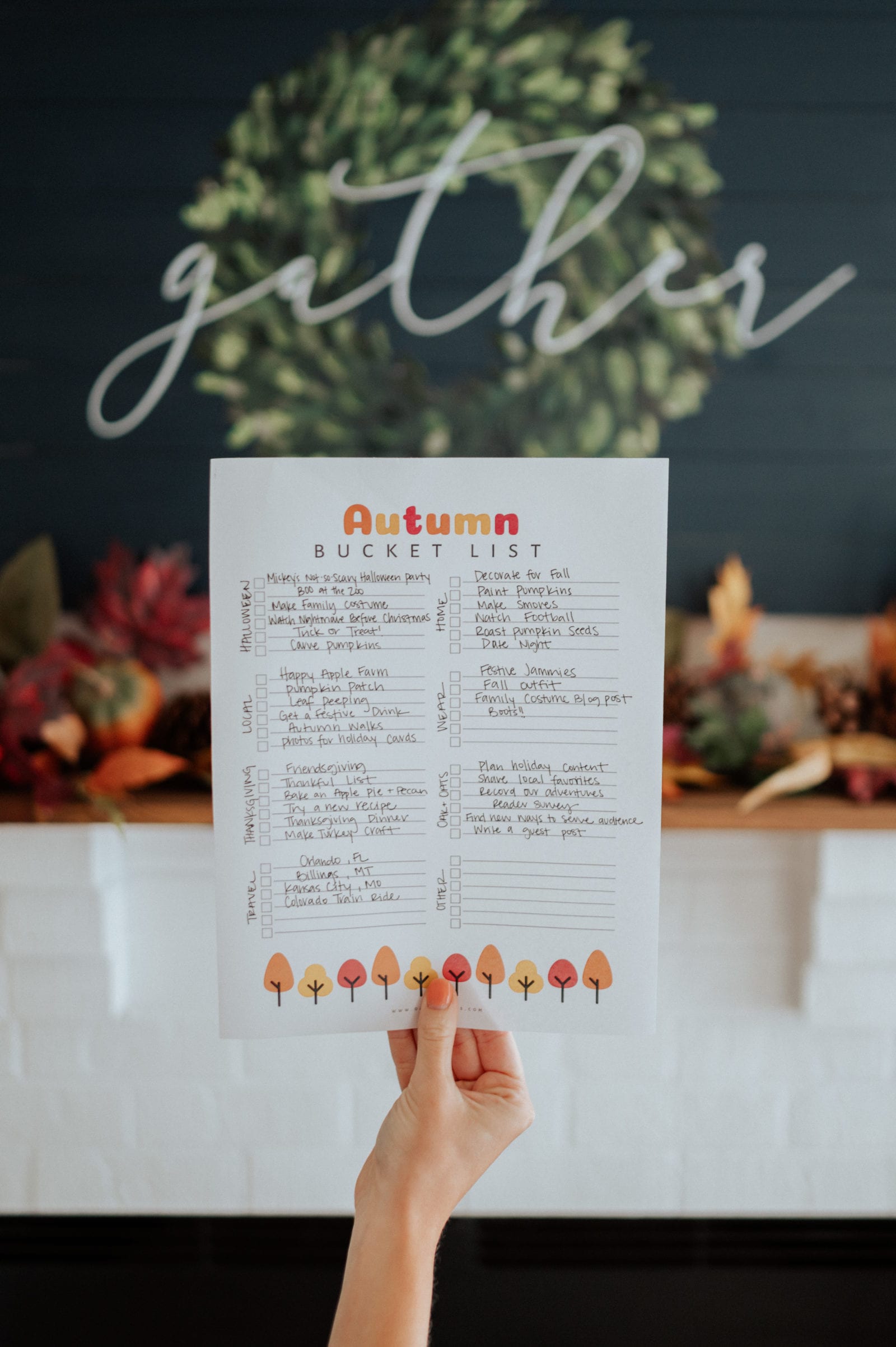 I did a thing! I made an Autumn Bucket List! Fall isn't even here yet and I already am afraid I'm going to miss it! I was just telling Bruce that we're two weekends into September and I need to get things on the calendar asap or it will be Winter before we know it! That is the ENFJ & Enneagram 7 in me! Being dramatic, wanting all the adventures, and needing to plan them to make sure they happen!
I am a list maker. I am currently sitting at my computer with a pile of sticky notes stacked next to me covered in lists. Some of them are ideas, some of them are work to-dos (like write this post), and some of them are life to-dos (like order groceries!) While totally outdated and crumpled from Hilde stealing them once or twice, I feel good about physically writing things down and crossing things off. So this year I made a list of all the things I want to do / get on the calendar so that I know I am making the most of my favorite season! ⁠
Do you want one too? Because I totally made it a PDF download so that I could share it with any other bucket list lovers out there! CLICK HERE to download it! The whole process was fun and exhilarating and I think I may have started another tradition in my life so don't be surprised when I make one of these again for Winter, and then Spring, and then Summer! Haha!
My Autumn Bucket List
Halloween:
Mickey's Not-So-Scary Halloween Party
Boo at the Zoo
Make a Family Costume
Watch Nightmare Before Christmas
Trick or Treat!
Carve Pumpkins
Local:
Happy Apple Farm
Pumpkin Patch
Leaf Peeping
Get a festive drink
Autumn Walks
Photos for Holiday Cards
Thanksgiving:
Friendsgiving
Thankful List
Bake an Apple Pie + a Pecan Pie
Try a new recipe
Thanksgiving Dinner
Make a Turkey Craft
Travel:
Orlando, FL
Billings, MT
Kansas City, MO
Colorado Train Ride
Home
Decorate for Fall
Paint Pumpkins
Make Smores
Watch Football
Roast Pumpkin Seeds
Date Night
Wear
Festive Jammies
Fall Outfit
Family Costume
Boots!
Oak + Oats
Plan Holiday Content
Share Local Favorites
Record Our Adventures
Reader Survey
Find new ways to Serve my Audience (that is YOU!)
Write a Guest Post
Other
I may still add more (I still have 9 blank spots to fill in if I want to be a completionist!) but this is it for now! Some of these things are kind of lofty so we will see how many actually get checked off. But I'll tell you what, it feels good to write it all down so I can start to plan for it!