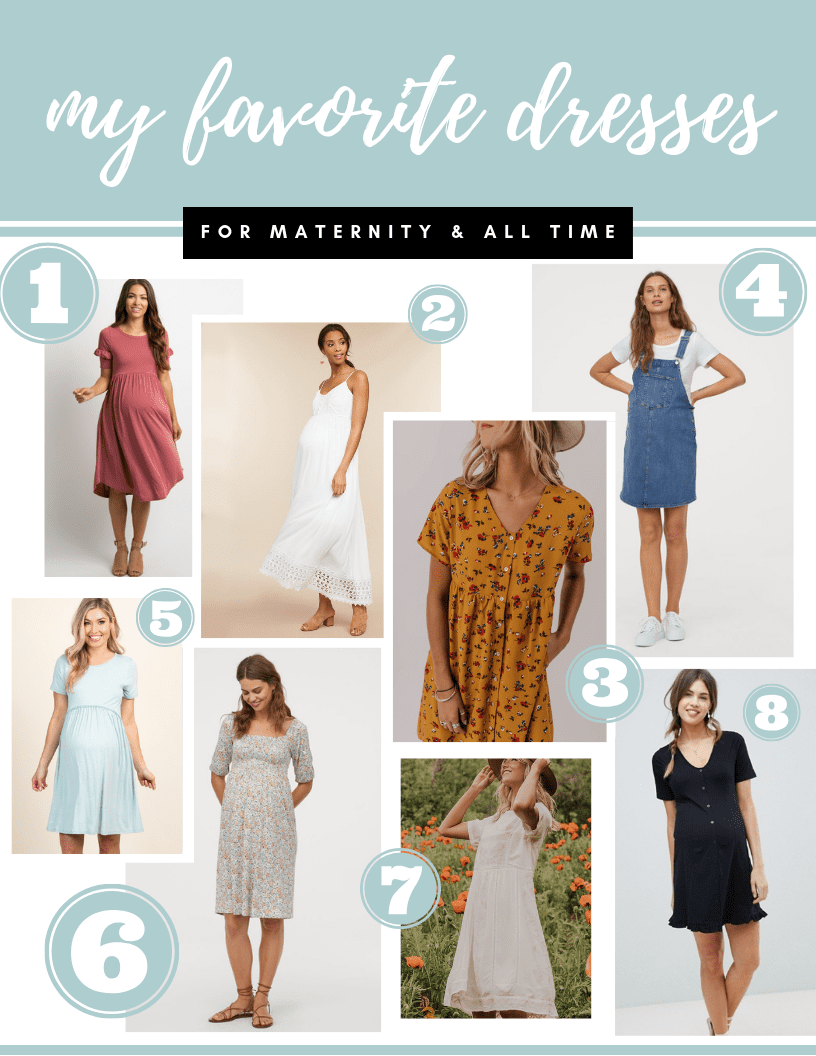 Ask Elizabeth: Where are your favorite places to buy dresses?? You always look so cute!
Ah! This comment is so sweet! I do love simple, easy dresses that you can throw on and go. I typically never take longer than 20 minutes to get ready and a dress always makes me feel more put together. Plus with a growing bump, it is one of the most comfortable options out there! A lot of these are great for after baby too. Some are more nursing friendly than others so just be aware if you are needing to nurse while you are out! Buttons and low cuts/ stretch are your friend when it comes to nursing on the go!
When I am looking for dresses, I look at GAP, Pink Blush, Roolee, H&M, Motherhood Maternity (when I am pregnant), Target, and Old Navy. Both Target and Old Navy can be hit or miss for me on quality and fit so I'm thankful for their simple return policies! Roolee dresses also run long so I keep in mind that I am shorter than the models to see if I would still want the dress. I don't love to spend tons of money on clothes so I always watch for sales or good deals. Sometimes I shop for occasion (like #6 I got for my little brother's wedding) but most of the time I just watch for good deals and pounce then!
1. Ruffle Sleeve Peplum Maternity Dress – $54 I got this one last summer when I was pregnant with Hilde and I loved it. I wore it all the time. Even post belly. Now that I am preggo again, I love throwing it on!
2. Crochet Detail Maxi Maternity Dress – $60 This is a new one that I tried on in my Instagram stories and fell in love with! I need to get it in some photos here soon!
3. Dainty Floral Dress – $52 I have the mommy and me in this one and it is so fun to match Hilde when we go out!
4. MAMA Denim Bib Overall Dress – $40 Got to love overalls! I love this easy dress and I keep wearing it this summer! So comfortable!
5. Mint Green Solid Crochet Trim Maternity Shift Dress – $22 This is a new one that I got because it is on sale! It is the same kind of cozy as the other Pink Blush Dress I love!
6. MAMA Smocked Dress – $30 This one I got for my brother's wedding and it was perfect! I love how simple yet fun it is!
7. Cute White Embroidered Dress – $72 Another Roolee one! I actually don't own this one yet but it is on my wish list! It also has a matching daughter one too!
8. Maternity Button through Tea Dress with Frill Hem – $21 I don't have this dress but I have a similar nursing/ maternity one that I wear all the time. I bought it last summer so they don't have it anymore but this one is really similar!