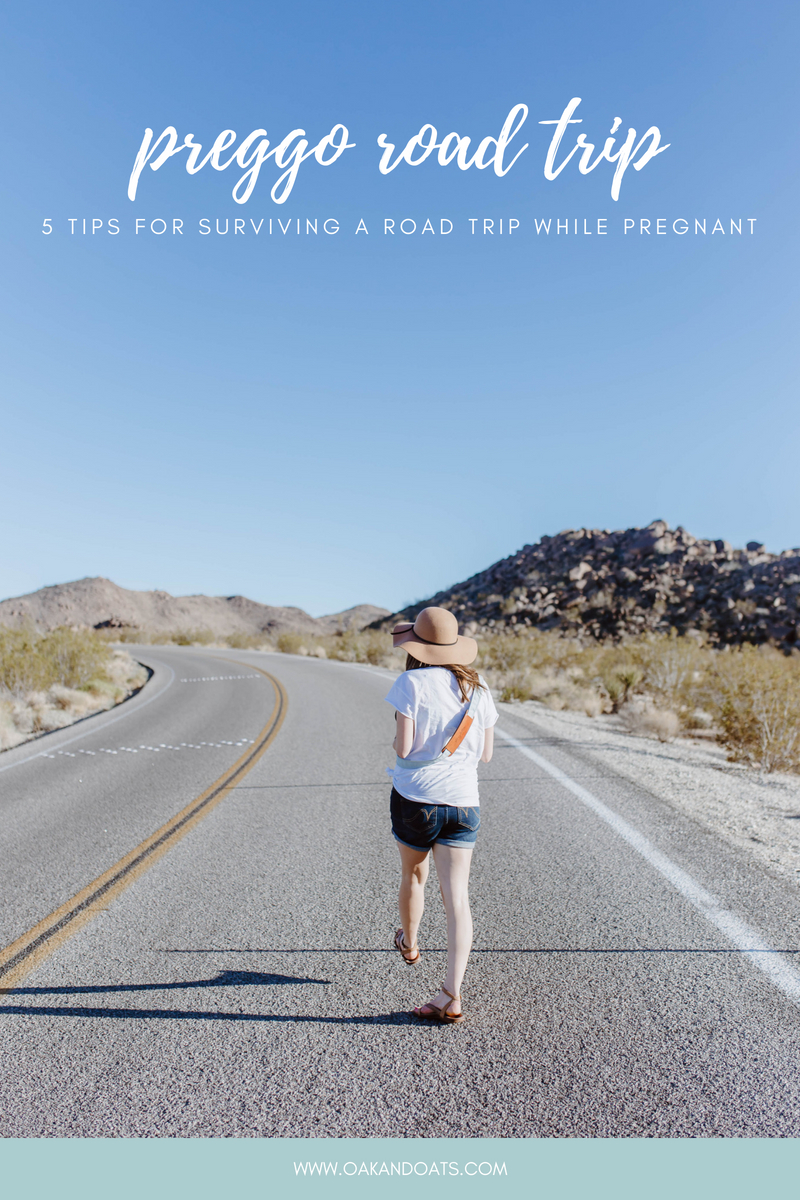 Ask Elizabeth: I love how adventurous you have been while being pregnant! I'm heading on a road trip and I would love to hear tips from your trips!
I talked about flying while pregnant a couple weeks ago and now here I am writing about road tripping while pregnant! The truth is I would much rather fly than drive any day. I love the idea of road trips – the photos, the play lists, the wind in my hair. But really I very much dislike being trapped in a car so long 😉 Also I feel WAY safer in an airplane than in a car on the highway. But alas, road trips are unavoidable since I cannot fly everywhere. We've gone on several overnights/ day trips that are only a couple hours away from home and also a road trip across the great state of Kansas to visit our best friends (who are also pregnant!) Because I like to plan ahead and because I am a bit of a worry wart, I did lost of research (and question asking) on traveling while pregnant and would love to share my road trip tips with you!
Drink Water
You will already have to pee more frequently so just make sure you are staying hydrated! It is healthiest for you and healthiest for baby. We had a cooler of La Croix to sip on while we drove and water bottles full of Colorado water (the best) to drink in the car. Staying hydrated will help you feel good all over – poor hydration is the cause of a lot of road trip annoyances like headaches, cramps, dry skin, heat exhaustion, etc.
Wear Compression Socks
One of the biggest concerns with traveling while pregnant is blood clots/ maintain blood flow. Buy a good pair of compression socks and wear them every time you travel. Not only will it help you feel better and keep that blood flowing, but it will also help ease your mind! Also feel free to kick your legs around and stretch while you are in the car (keeping that seat belt on.) I found that moving my sitting position around frequently helped me stay comfortable. This also helps with swelling so it keeps you more comfortable!
Take Breaks
When I went to Joshua Tree with Amy it was only a 3 hour trip but we stopped in the middle for lunch on the way there and back allowing for a potty break, stretching, and some food. When Bruce and I drove to Wichita, we planned a halfway point for lunch (Jimmy Johns!) and planned to stop halfway before that and halfway after that. Get out every time and go to the bathroom. Also walk around and stretch your legs as the gas finishes pumping. You should be stopping ever 90- 120 minutes for a stretch and potty break.
Feel Free to Overpack
This is the biggest upside of driving somewhere! Your suitcase just got a million times bigger. Do not feel bad about bringing a cooler full of La Croix and your Snoogle. I also packed a bunch of fresh fruit to eat while we drove because it is my favorite and I didn't want any of that terrible gas station food! Pack all the things that will make you comfortable as you drive and as you are on your trip!
Always wear your Seat Belt
This is a no brainier for me and I am obsessed with everyone following this rule but there is a myth out there that pregnant people shouldn't wear a seat belt and that is NOT OKAY. According to the National Highway Traffic Safety Administration, every pregnant lady (and just person in general) should buckle their seat belt. Wearing your seat belt may not always be comfortable but it is essential for the health of you and your baby. If you happen to get in any kind of crash (even a fender bender) go to the hospital to get checked out to make sure both you and your baby are okay!
Those are my tips! Any other preggo road trippers out there? What are some of the things you did/ do when road tripping pregnant?