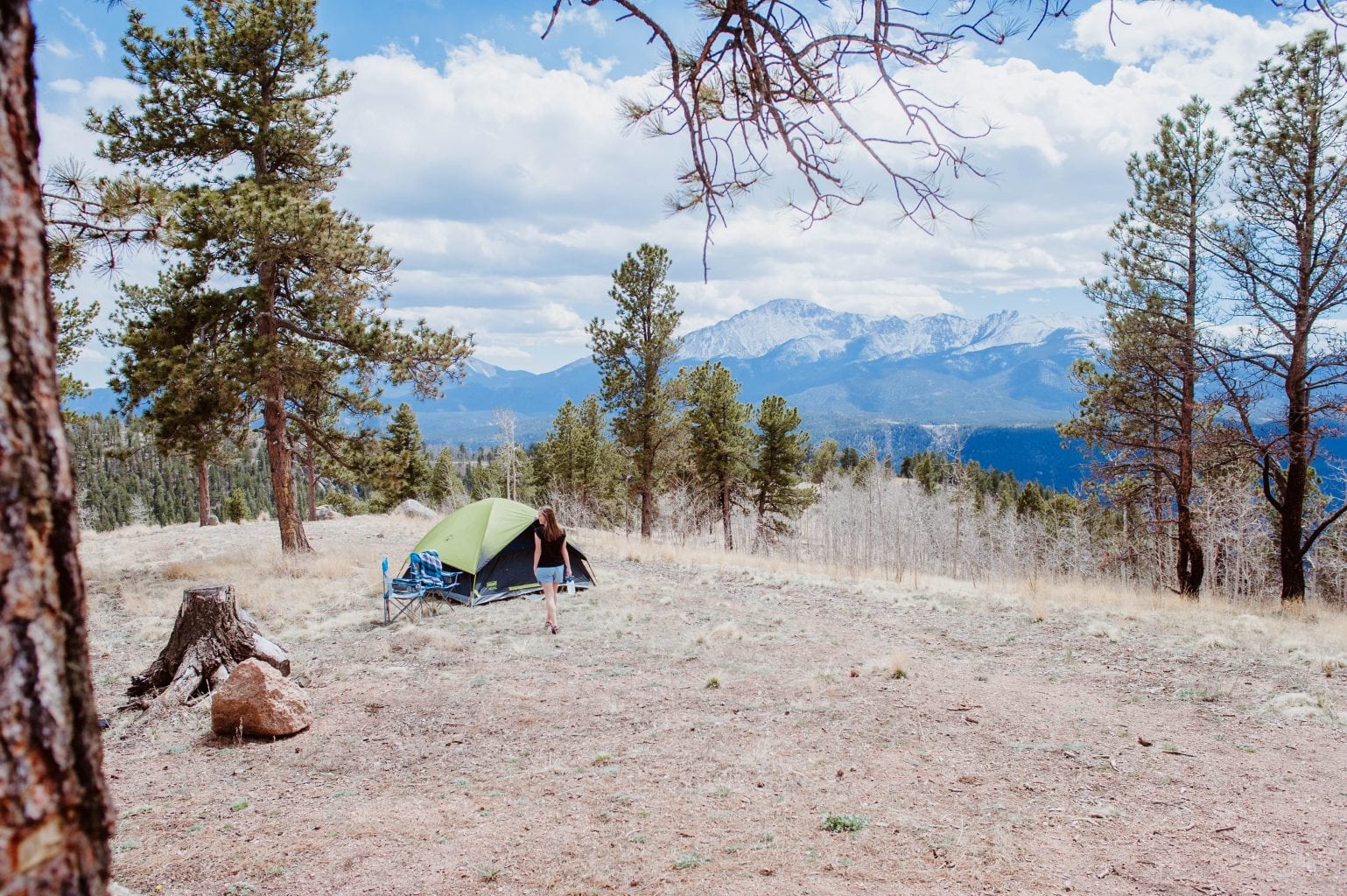 This post has been sponsored by Coleman®. All thoughts and opinions are my own.
Camping is honestly something Bruce and I LOVE. Getting away and outside is so life giving for both of our souls. Away from our computers and cell phone service, sleeping under the stars, and breathing fresh air. There is more time to talk and less distractions, more things to explore, and also more times to walk side by side in silence hearing only the sound of our feet on the trail & the birds in the sky. But just because we love it, doesn't mean we always make time for it. I'm sitting at my computer right now and looking outside at the mountains – it's a beautiful view and we are so blessed to live at the foot of Pikes Peak, but sometimes that tricks me into feeling like we don't need to get away; the mountains are with us! Getting outside is more than seeing beautiful views; it is also about letting go of the daily pressures and giving your heart, soul, mind, and body a refresh!
Sound like something you want? Me too! I think one of the biggest things that holds us back is the whole planning/packing/preparing for camping. So often we count ourselves out before we even try. I want to share with you some simple & practical ways to make camping easier and way more doable for you and your family this summer and share some fun photos from our first camping trip of the season (with baby girl!!)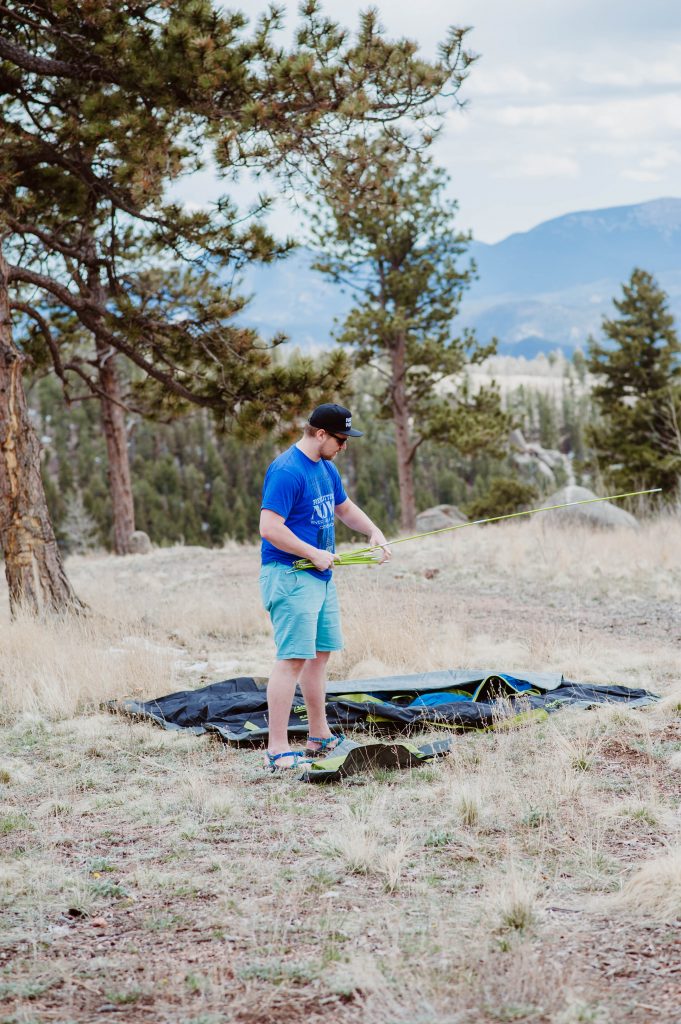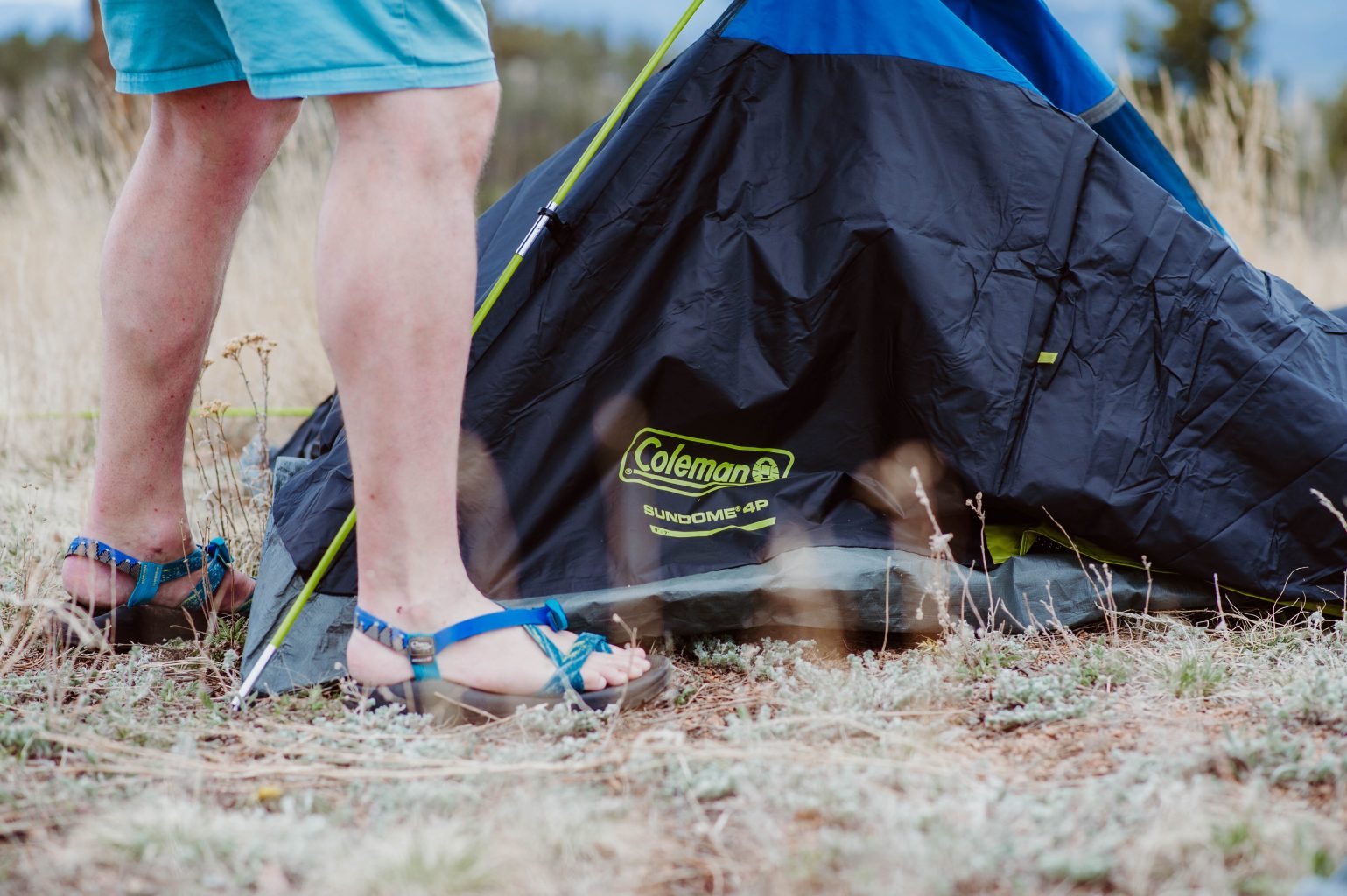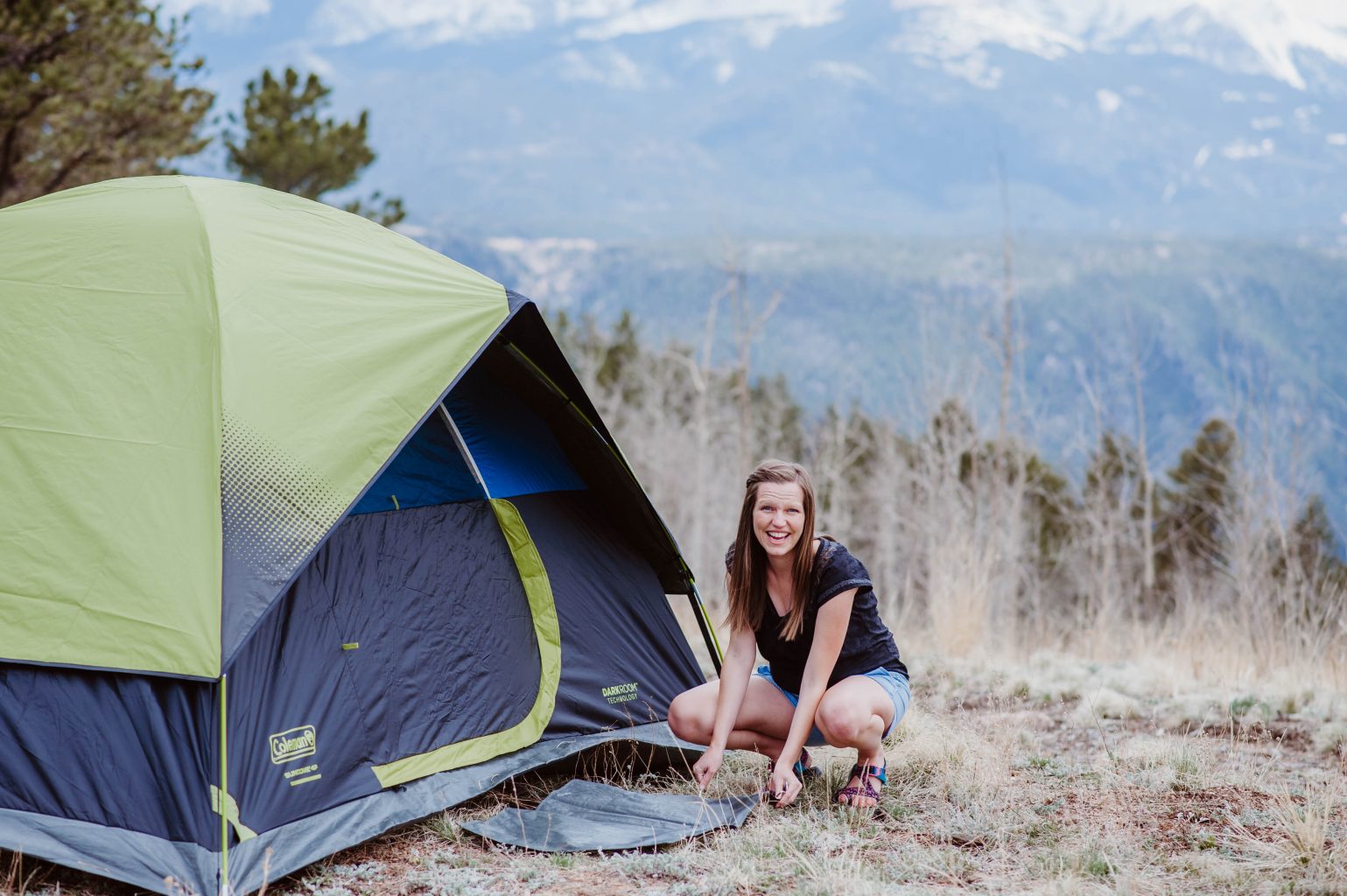 #1 Go Car Camping
You do not need to turn every camping trip into a backpacking adventure where you hike miles with everything you need & sleep in the middle of nowhere. Sometimes those are really fun trips but if you want to make camping easier and more doable for your family, go car camping! Car  camping is when you drive straight up to your campsite and are able to set up camp right away. This allows you to bring your air mattress & pregnancy pillow (say you have one too 😉 ) guilt free! You can also leave that heavy cooler & those water jugs in the car. There is less pressure to "pack perfectly" because you can just throw things into your car!
*Most state parks have car camping tent sites available! Call or go online a week or two before to make a reservation. Then you don't have to worry about "finding a spot" when you get there because you can already drive straight up to your site! Way less stressful to camp when you know exactly where to go!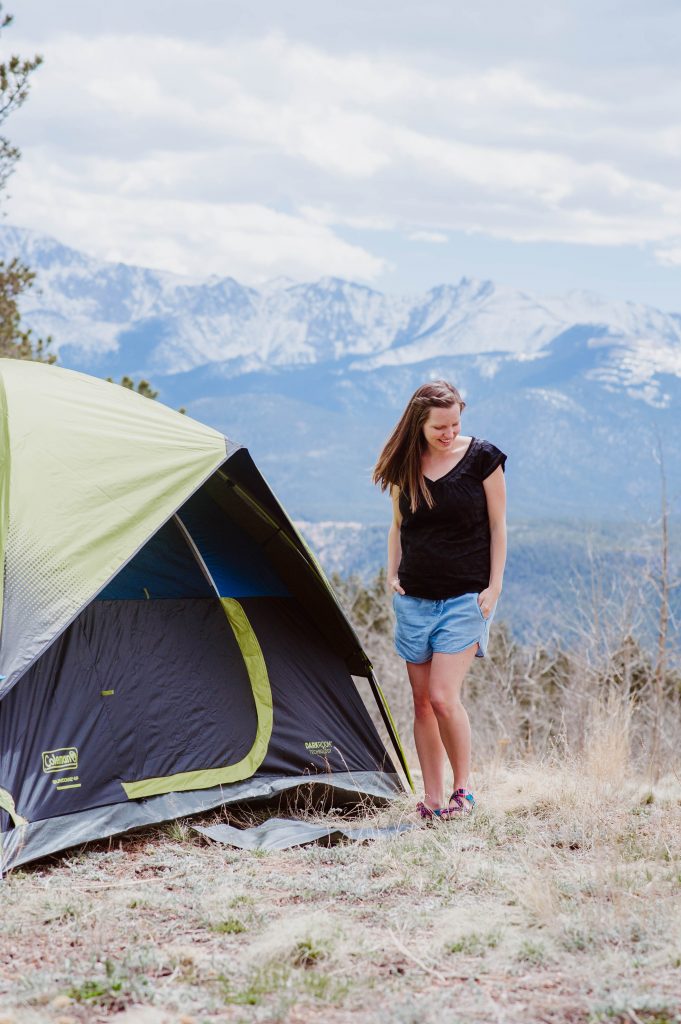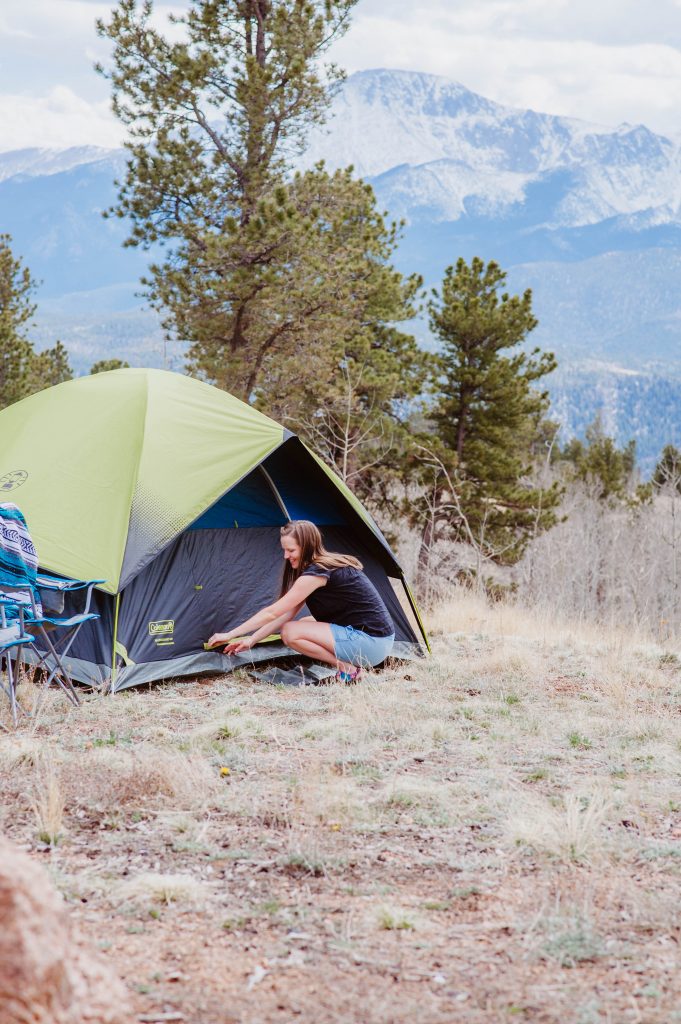 #2 Own Camping Basics (that are easy to use)
I know there are a million things it looks like you "need" to have a successful camping trip but I am telling you that you don't need all those things. Especially with car camping. A tent is however one of the basics you do need! I would also add camping chairs, a cooler, and sleeping bags. Coleman has all these products at Target and you can pick them up while you are picking up things you need for your camping tub & your food! Plus, you can get cash back when you purchase Coleman products at Target with this Ibotta rebate offer!
Side note, make sure your tent is super easy to set up. If you are still using that orange tent from the 80s with all the poles that results in a family fight every time you set it up, you are doing it wrong! You can buy the NEW Coleman® Dark Room Tent at Target for only $90. That pays for itself in no time. What I love about this tent is that it has what they call Dark Room Technology – AKA the tent blocks 90% of sunlight and reduces heat! This is perfect for us here in Colorado – the sun pelts the tent in early morning and heats it up fast! Having this allows for less sweaty mornings!
I just picked up the Coleman® Dark Room Tent at Target in the outdoor section because Bruce and I get sweaty (and whiny) in the mornings when our tent gets too hot too fast! Haha. I saw that this was a thing and texted Bruce right away! He was so down for a tent that kept things dark in the morning because we are the kind of people who like to sleep in when we camp! We also have the Coleman Mesh Quad Chairs and we use them all the time. Having the basics ready to go allows you to get out and get going without having to find a tent to borrow or find yourself just skipping another camping season entirely!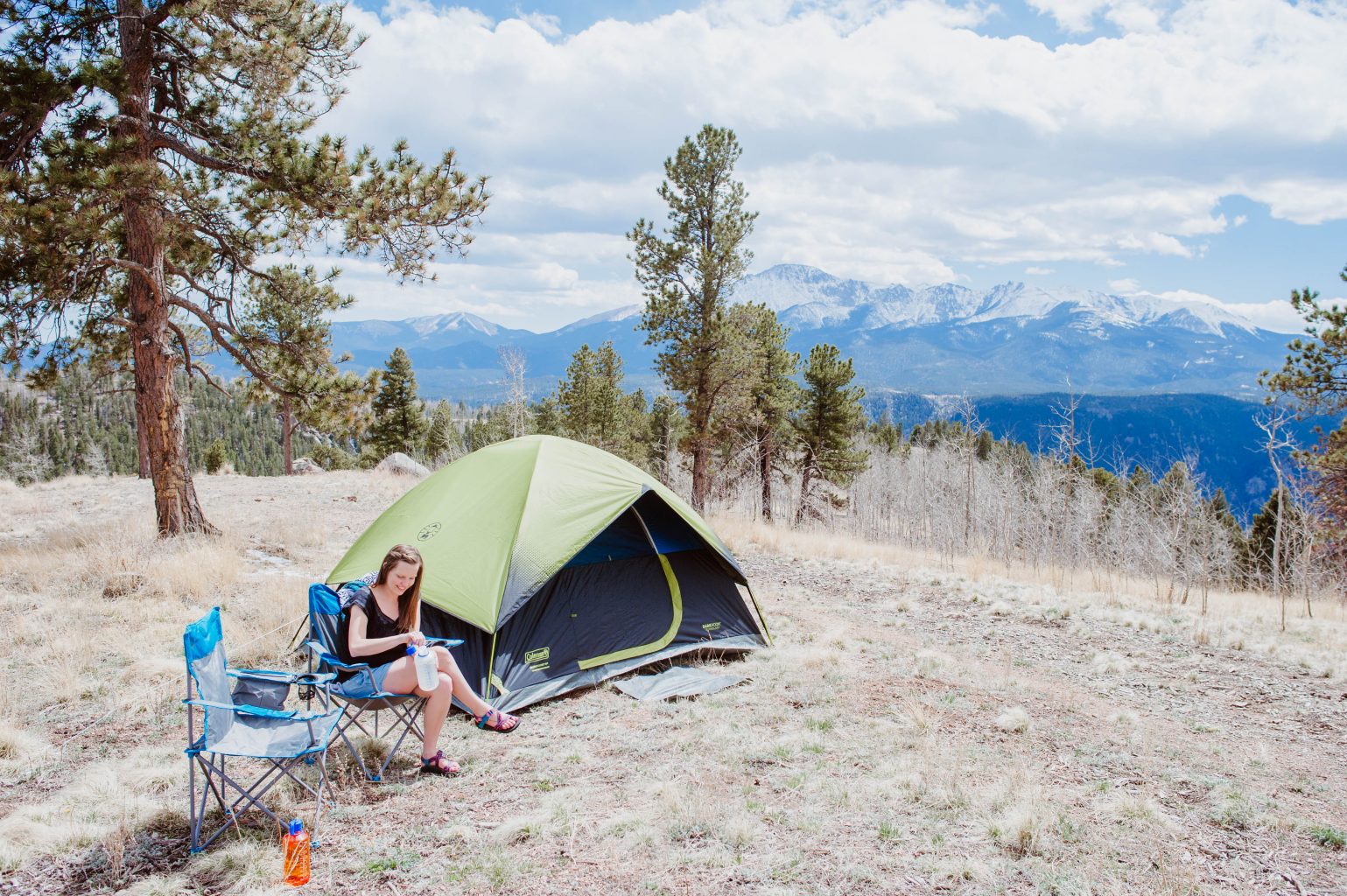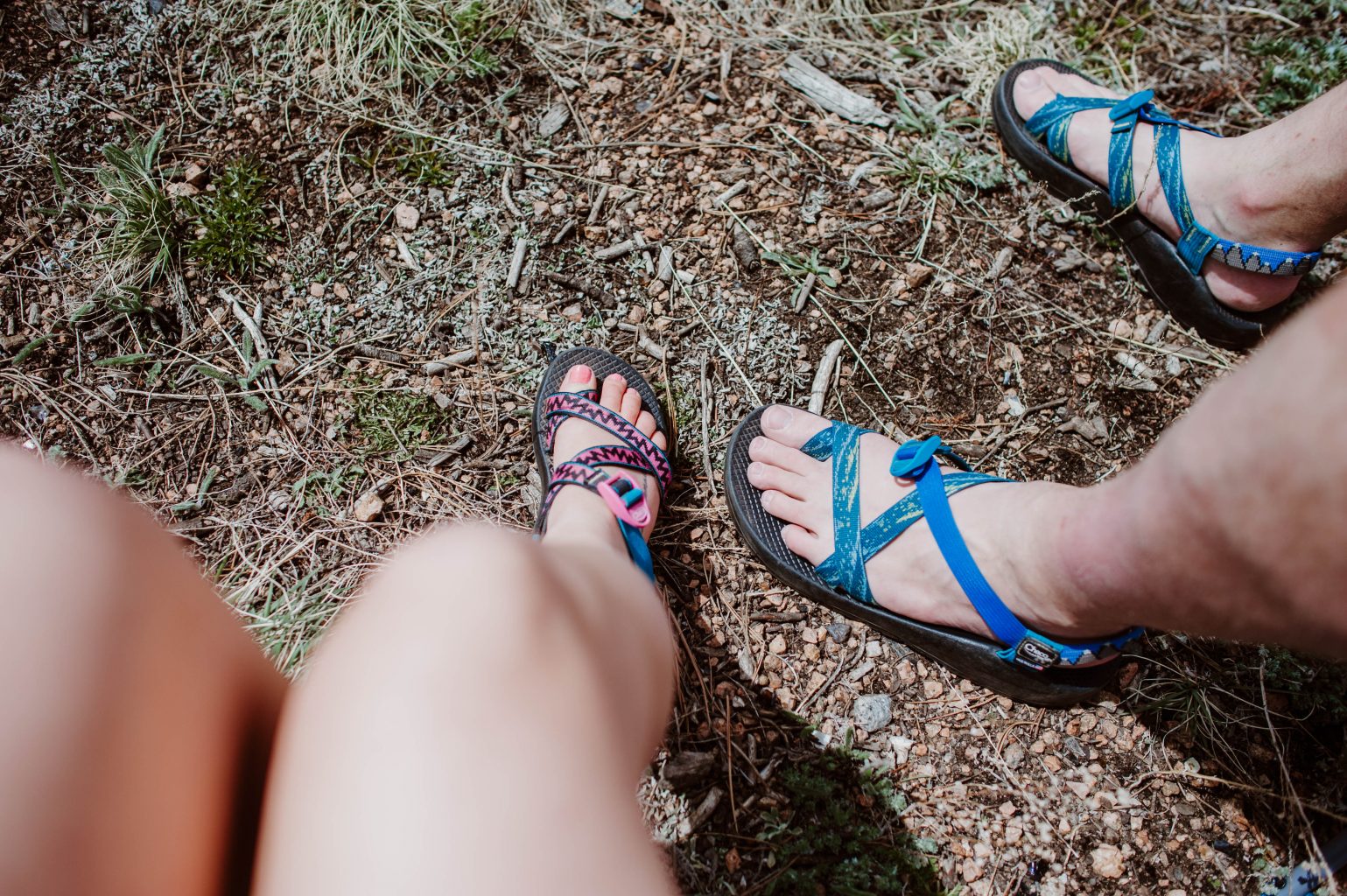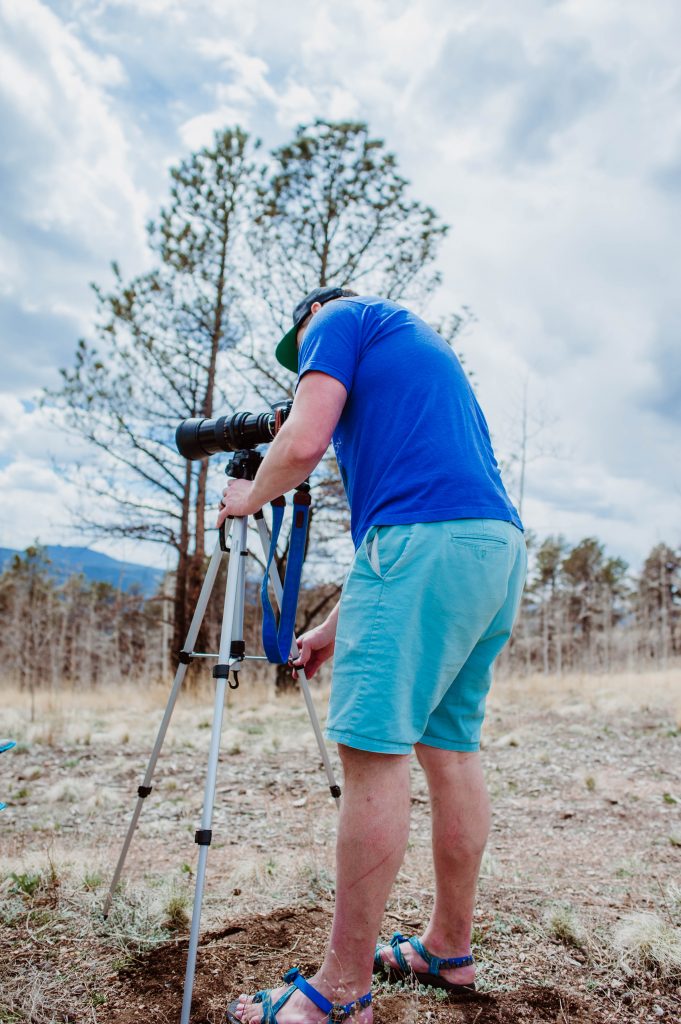 #3 Create a Camping Tub
You can store this in your garage (or your storage closet if you are like us and garage-less!) but I think to make camping easy & doable, having all this packed & ready helps so much! Here are some of the things in our tub:
Wet wipes & hand sanitizer
Toilet paper
Water jug (fill it up before you leave & keep it in the car!)
Lighter
Garbage bags (don't leave a mess, pack everything out!)
Lantern & headlamps
Plastic or camping silverware (we just throw these in the dishwasher after each trip)
Paper or plastic bowls, plates, and cups (we just throw these in the dishwasher after each trip)
Paper towels
#4 Bring easy to prepare/ already prepared food
Packing and thinking about food can be so overwhelming but drop the desire to go full-out Pinterest-worthy gourmet camping and just bring simple stuff!! Sandwiches work great for dinner, and instant oatmeal or yogurt & granola totally counts as breakfast. Add some fresh fruits, protein bars, and s'mores fixings, and you are good to go! Another great thing about car camping is being able to fill up that cooler and keep it in your car (no lugging around, no worrying about bears, etc)
Make sure you also drink a lot of water and bring your water bottle. It is fun to bring along other drinks sometimes, but really you only need water so feel free to fall back on just drinking water for the weekend!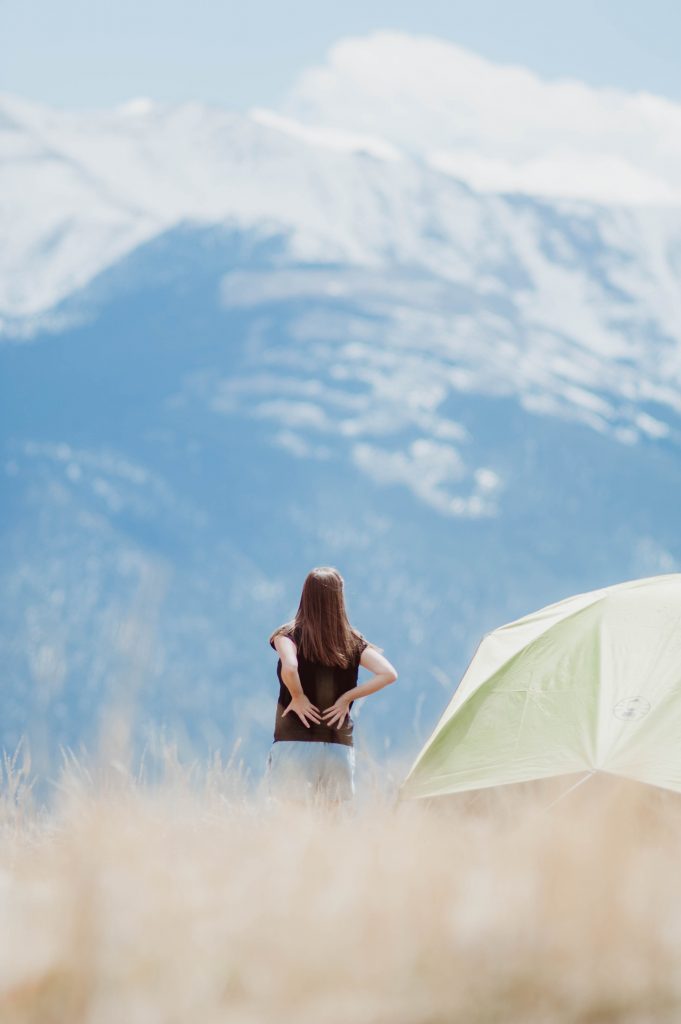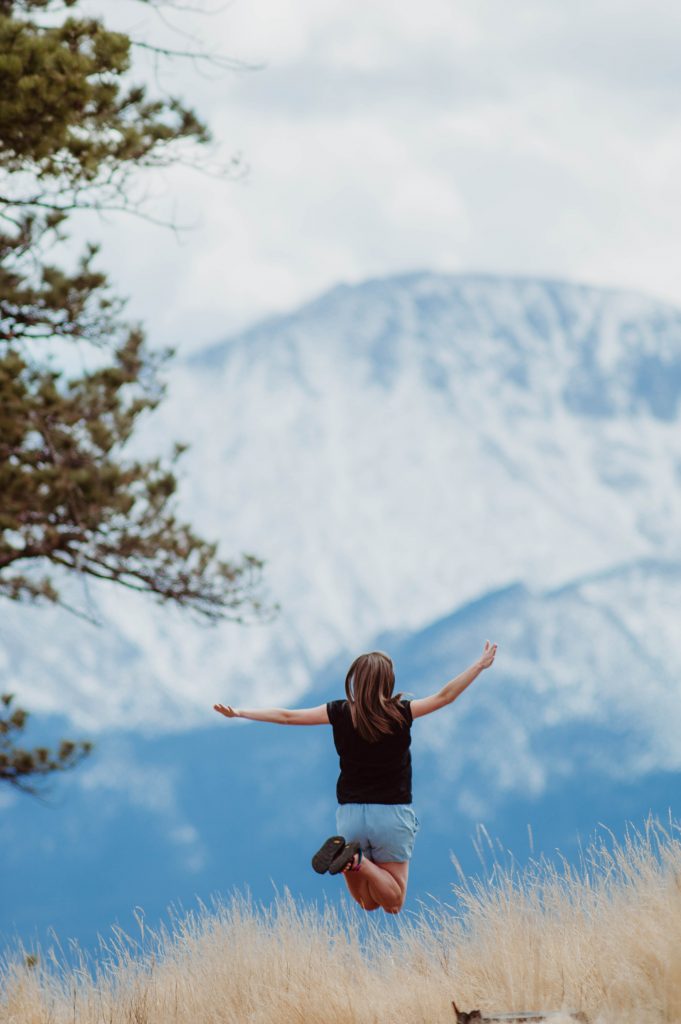 #5 Consider buying a State Parks pass and/or a National Parks pass
If you have one or both of these passes, you don't have to worry about extra fees when camping in National & State parks. Also, if you have a pass you will be more likely to use it and you'll find yourself booking out multiple weekends in new places to explore! I personally always look at purchasing passes as a donation – park passes help keep those outdoor spaces we love clean, natural, and protected! It's a win-win.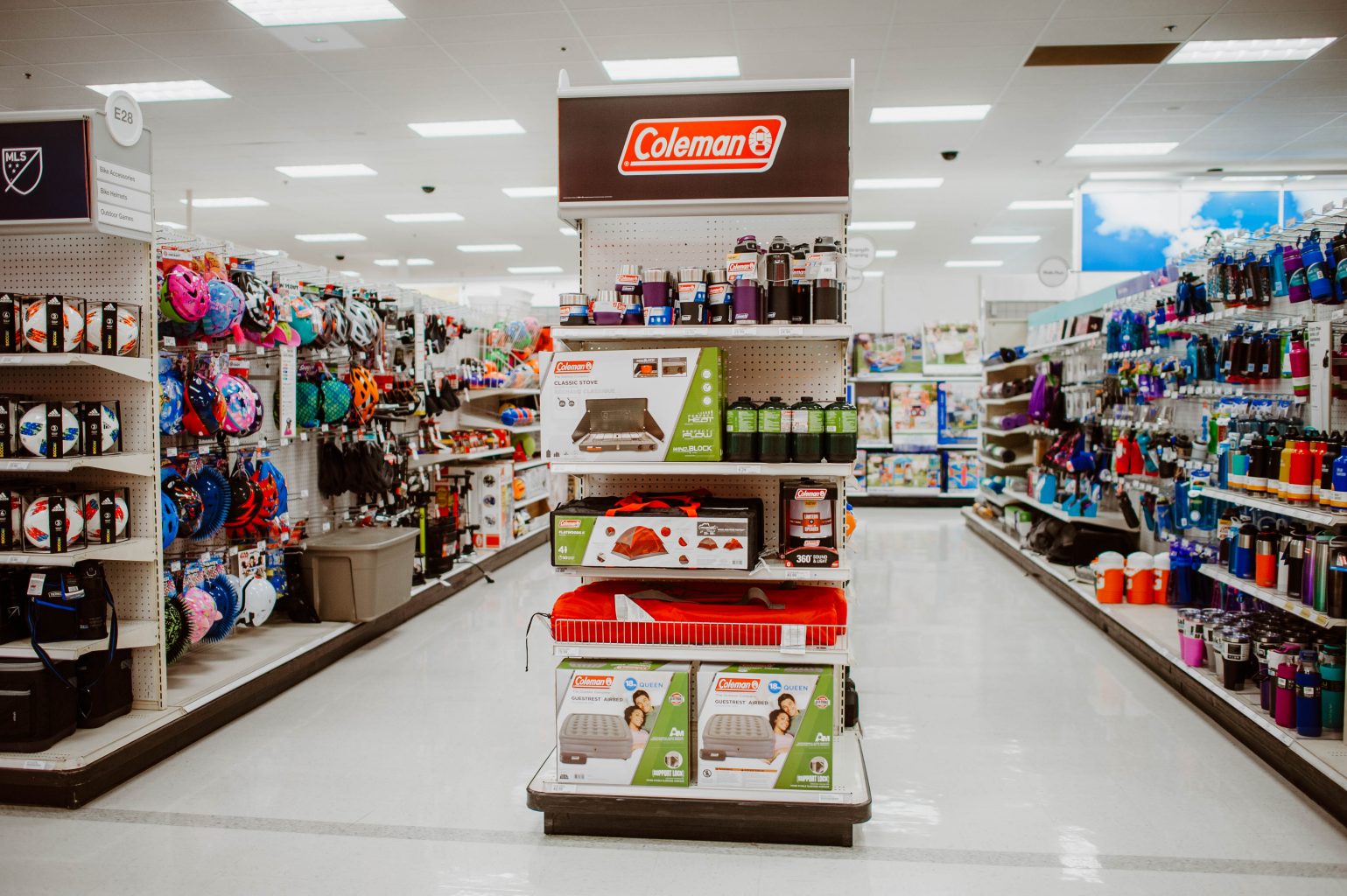 The moral of the story is that it is worth it! Bruce and I spent so many summers not going camping as much as we wanted for silly reasons (like not having the gear we needed & thinking it needed to be a big ordeal) but this year (even with baby girl in my tummy) we are making sure to get outside for the health of our marriage, our family, and our souls!