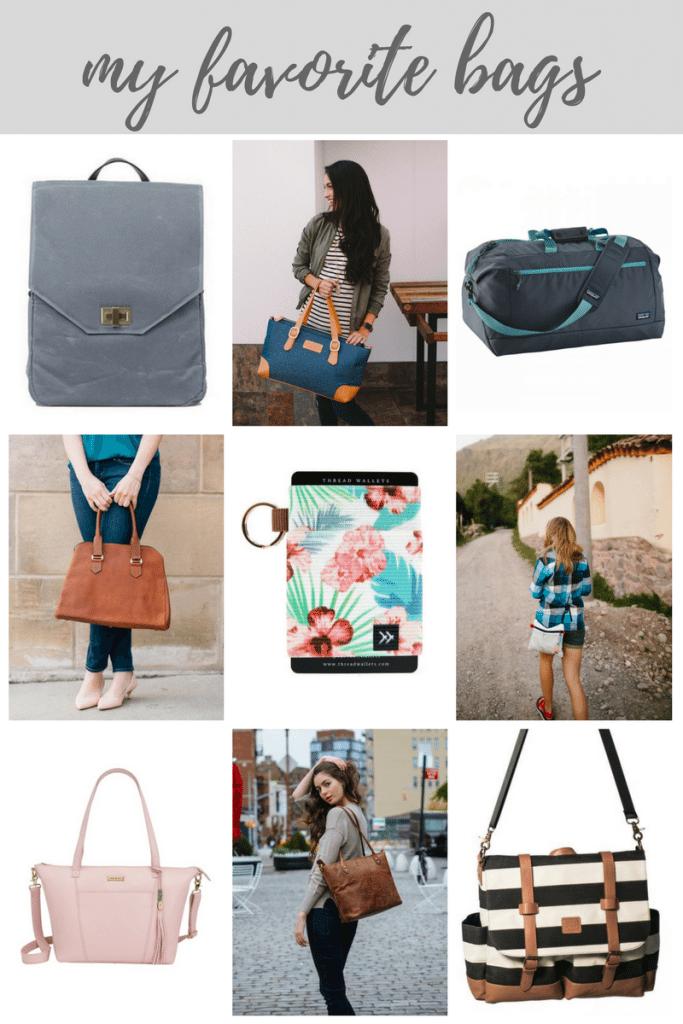 Today's Thursday Links is all about the bags! Because you know I'm all about that bags, 'Bout that bags, no treble! Just singing over here because I kind of am a bag lady. I asked the Instagram world via stories if it is okay to have more than one diaper bag and the vote was totally 50/50! Some were PASSIONATE about only having one bag while others were PASSIONATE about having ones for different settings! I got lots of opinions on that one and honestly loved it! It was so fun to read all the perspectives and all the different ways you mamas mom it!
I apparently am opting for the multiple bag thing. It is what I do with my camera bags and what I do with my purses, so I am used to it! You'll notice that little guy in the middle of all the bag photos – that is my thread wallet! It holds my credit card, my licence, and my Rocky Mountain Chocolate Factory caramel apple punch card – you know, all the important things 😉 I transfer that bad boy to whatever bag I chose to use that day – and sometimes even go bag-less by throwing it in my pocket!
All my other bags hang out with the necessities – lotion, chap-stick, gum, pens, etc. I just keep my bags stocked so that the only thing I need to move from bag to bag is my little wallet. I find this works so well for me. And it is kind of funny saying that out loud! hahah.
Anyways, without further adieu, nine of my favorite bags that I am carrying around these days:
MY FAVORITE BAGS
Jo Totes Bellbrook Camera & Laptop Bag – $199 || Austin Fowler Reagan Diaper Bag – $238 (USE CODE: OAKOATS20 for a 20% off discount through April 30th on any Austin Fowler bag!) || Patagonia Headway 70L Duffel Bag Smolder Blue – $127  || Yobel Market Kampala Bag – $180 || Thread Wallet – $15 || Topo Designs Accessory Shoulder Bag – $36 || Lily Jade Lorie Blush & Gold Diaper Bag (& Backpack) – $345 || ONA the Capri Leather Camera Tote Bag – $202 || Bodomint Striped Diaper Bag (& Backpack) – $150