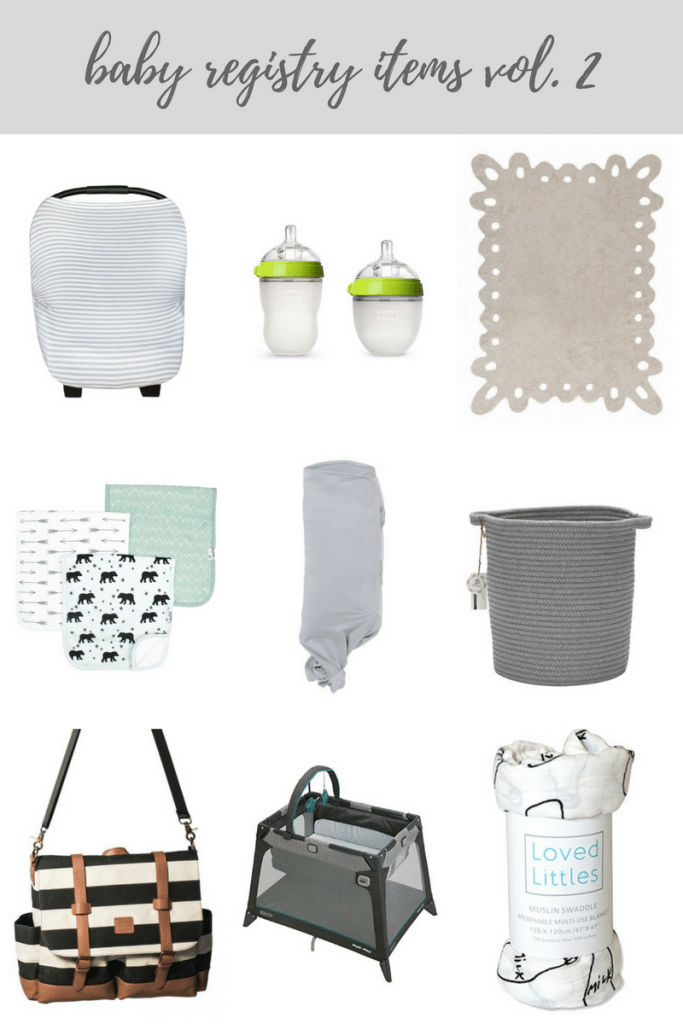 It is time for more Baby Registry items!! Turns out you need to register for a lot more than 9 items ( 😉 ) which is why today's Thursday Links builds off my Baby Registry Vol. 1! Last time I hung out with my mom she said I needed to stop getting things off my registry because I needed to leave things for my Baby Shower – rest assured mama, I've got PLENTY still on the registry! HAHA! While we now know we are having a baby girl, I am still trying to keep our baby basics pretty neutral, clean, and modern. This makes it easy for the next baby and also I don't want pink everything.
Soon I'll start getting posts up on the projects we are doing in the nursery but for now here are some more things from our baby registry that I've already gathered!
BABY REGISTRY ITEMS
I've always loved the covers that mama's can put over their car seats so their little ones can sleep! So I knew I needed to add one to my registry! This Copper Pearl one is so pretty & soft! I cannot wait to use it! It can also be used as a nursing cover which I am all about!
I really just like the style and design of these bottles. They are squishy – not like hard plastic or glass – which is really fun! Apparently all the babies and parents love them because they make all the top lists for registry items!
I love this beautiful rug and I cannot wait to put it in our little girls room! It is 100% cotton, Machine-washable, handmade, eco-friendly, and everything I could want in a rug! I am obsessed with the lace cutouts in the design!
I got these before we knew we were having a girl but I think they work for all little babies! The mountain design (believe it or not) is my favorite! The quality is so nice! I added a bunch more to my registry because I think you need several burp cloths for your collection!
This is another one I only heard GREAT things about. So many of my mama friends – like @laur.hin – said it was a must have for a new baby! I'm really excited about this swaddle because I think it looks easy to use and I think our little girl will love it too! I got two of the stone ones because if she loves them, I'll need to be able to have one in the wash at a time! haha.
I picked this up and I love it! I have no idea what I am going to put in it yet, but it will be cute! Maybe all the burp cloths… or swaddles… or toys! I'm all about an organize room and our nursery will be organized! I saw this on Amazon and had to add it to my cart!
This diaper bag has been a star over on Instagram! Love the pockets, love the style, love that it comes with a changing mat, and the price point is pretty affordable for a nice diaper bag!
Everyone needs a Pack N' Play! I really wanted something like this for traveling and being at other peoples houses. The probability of our little girl napping in other locations is high and so we wanted to be prepared. Plus, sometimes babies need to nap at our house and now we have something for them too! I was looking at a lot of these – because there are SO many options – but with the help of Wikibuy we found this one at a price we liked! Wikibuy matches you with the best prices of what you are looking for so you shop where it is cheapest!
I think this pattern is adorable so I bought it for some photos! Haha. It is so cute and large and I feel like there will be many uses for this!
PS: I promise not every Thursday's Links will be Pregnancy/ Baby related 😉 but it is kinda a big thing in my life right now! Feel free to leave notes in the comments about things you want to see in a Thursday's links!! Because YOU inspire me!