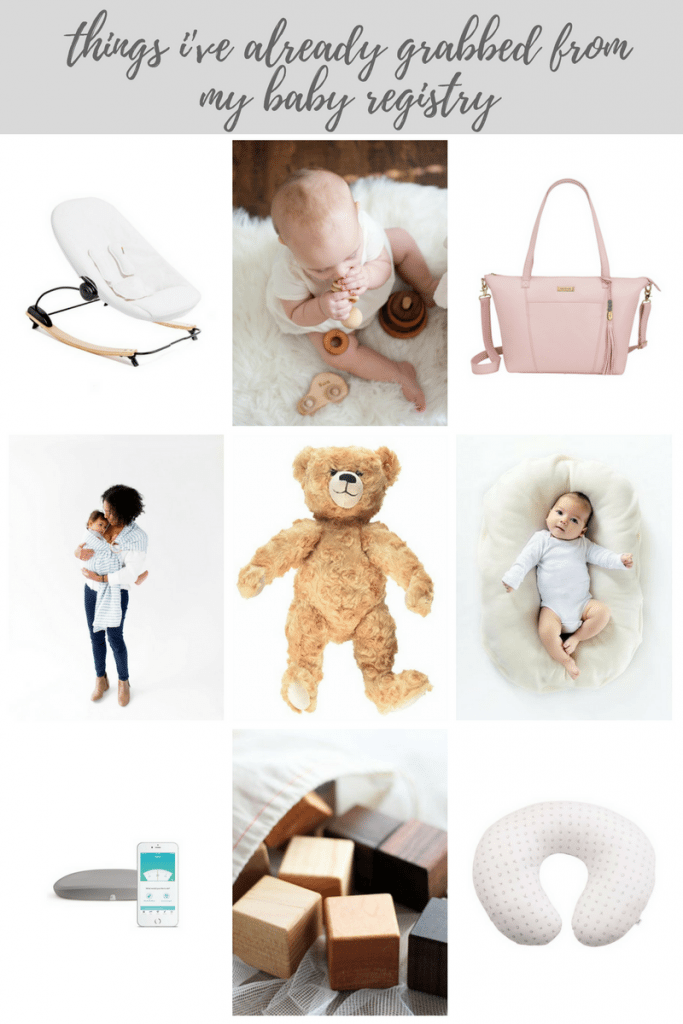 It's time for another Thursday Links. I'm actually really loving this series! It is a great way to share with you some things I've been loving, buying, using, etc! In fact, if you look at my "most popular posts" in the sidebar, you'll see that these are some of your favorites!! I never know how long series will last but three weeks in and I'm still in! haha.
Today I am sharing with you some Baby Registry items we've already started gathering in the baby's room! You can check out our Babylist registry HERE. We've been chatting with all our friends & family who have gone before us about what things we need to add to the registry and getting ready for baby! We're 19 weeks this week so nearly half way there! It is all so crazy but feeling more & more real with each item we check off our list!
One thing you'll notice in what we've gathered so far is neutral colors! We don't know if we are having a boy or girl yet and with the big things, I really don't want to be tempted by knowing! I want to avoid pink cribs and blue highchairs. Since we want more kids at this point, I want to have a lot of neutral items to pass on. Also, I am all about the minimalist look – where the color & personality comes through in the details.
BABY REGISTRY ITEMS
Believe it or not, I feel in love with the look of this bouncer. Compared to so many others out there, this one was clean, simple, and neutral. Plus I loved the 3-in-1 functionality! Bouncers are pretty hit or miss when it comes to kids – some parents swear by them while others don't think they are as needed. As first time parents, I don't know what will keep my kiddo happy & not crying so I'm trying the bouncer! haha. This was the first thing I made Bruce put together for the baby and for both of us, it made everything more real. We are people who put together baby things now!
This adorable rattle from Bannor Toys is everything. I don't want tons of toys in our baby room but I know our baby needs some! I discovered Bannor Toys and fell in love with the style of everything they create! The natural, organic rattle is perfect for baby and also safe. Plus it can be passed on to the next kid too!
This Lorie Blush & Gold bag was on my list from day one. I asked Bruce if I had to wait to see if we were having a boy or girl before I could get a pink diaper bag. He wisely told me that the bag was for me and not the baby so I should get what ever bag I want regardless of the baby's gender! It's got plenty of room for all things baby plus things for me as well! I've already been using it without the insert for my computer, camera, and other things! It is such a well crafted bag and I can use it for so many other things that just baby!
Baby wearing is where it is at! All my friends keep recommending baby wearing. Not only is it great for mom & baby connection, but it also helps free up moms hands! The WildBird Sling kept getting so many votes that I quickly added them to the list! I got the Lazulie Double Chambray style with the rose gold ring! You had me at rose gold! I cannot wait to snuggle our little in this! Right now it is currently just sitting in their room!
When I went to Germany way back in college, we went to the Steiff Teddy Bear museum. It was one of my favorite things! I just love the classic teddy bear look and think every kid needs one. The have Steiff Bears in Germany in Epcot so my Sister & Brother-in-Law who live there, picked one up this one for the baby!! It's so classic and special to me!
This is another fan favorite that I added to my list! Made in the USA and organic, this baby snuggler makes baby feel secure and happy! I'm all about that.
When my husband opened this box he was pumped! This changing pad is smart so it connects with an app on your phone and tracks baby's weight, feedings, and diaper changes! Bruce is sure that a Mayberry baby won't have any problem gaining weight but we'll see! Haha. Either way, this is so helpful for knowing where baby is at! It is a peace of mind thing for us first time parents and I can't wait to use it! Plus it can easily be wiped down since it is water proof!
I love these blocks from Bannor Toys! Also clean, classic, and organic – these blocks are perfect for any kid room! I love the way they look as decor and our kiddo will love to play with them! The best of both worlds!
This got so many votes (I mean it makes it onto every baby registry I've seen!) so we added it too! So many friends say it is so helpful for breast feeding and I'll take all the help I can get 😉
YAY! So those are 9 things we registered for and have already received! All of them are waiting in the baby room for this one to come in August! Right now we haven't started putting together the room but I am excited for our reveal… sometime in July probably! haha. You'll see all these things and more and I cannot wait!
PS: I have an Amazon page where I've started to share all the tings we've been buying. Currently there is a lot of baby & natural products (because that is what I have been buying lately) but you can always check it out to see what I recommend and buy!