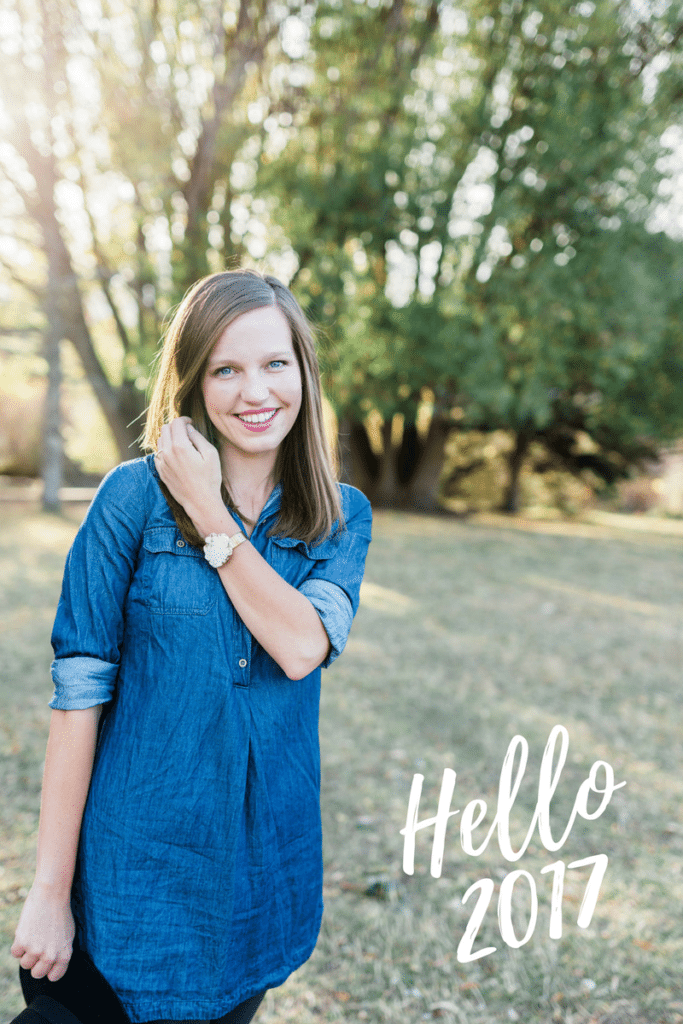 I took down Christmas this weekend. It was sad and liberating at the same time. My family room feels much larger without the tree taking up so much space, and my current decorations feel less cluttered and well, more fresh. Fresh in the new year. In eleven months I'll be setting up for Christmas again, and the thrill of pulling out boxes out of storage and moving furniture for the tree will bring me so much joy. It is a cycle – a journey. By the way, eleven months is not long at all. When you look at a year as 12 months made of four seasons three months long, it is no wonder the days and years go by so quickly. I was just here last year sharing my hope for 2016 and too soon I'll be sharing dreams for 2018.
As so many of us are, I'm excited to jump head first into 2017. In just days I'll be heading to the beach to stand with my youngest sister as she marries her best friend, and that is just the beginning. Dreams to be had, goals to reach, milestones to pass, and celebrations to be made. But all of the future is made by days and all those days from the past impact each one. 2016 may have been strange but it was also so sweet. It molded me, this place, and our world. Whether good or bad, 2016 marks us as we go into 2017. And because I took a huge leap in 2016, 2017 will be the first year I'm self employed (yeee!!)
The last couple years I've taken time to think about goals, a word, or a verse for the year (2011, 2012, 2013, 2014, 2015, 2016). And I guess by "last couple years" I mean 6 years – how have I even been able to celebrate that many New Years with Oak + Oats?! Each year it looks a little different because I guess I change a lot in 12 months 😉 I felt slightly more pressure to get this one right because it is not only for me but for Oak + Oats and in a way bigger than ever before. But more and more I felt a calling to people, to memories, to adventures and "planning time" got pushed to the side. As I sat down to do my quiet times the other morning, a verse stood out to me and although it looks different than the words and verses I've been drawn to in the past, it really stuck out to me for 2017. I didn't need 8 hours alone in a coffee shop to find this one, I just needed a cup of coffee and time with Jesus in the morning.
Wisdom cries aloud in the street,
in the markets she raises her voice;
at the head of the noisy streets she cries out;
at the entrance of the city gates she speaks:

How long, O simple ones, will you love being simple?
How long will scoffers delight in their scoffing
and fools hate knowledge?
If you turn at my reproof,
behold, I will pour out my spirit to you;
I will make my words known to you.

– Proverbs 1:20-23
This year I want to lay down stresses, perfection, burdens, expectations, all for wisdom. I don't want to continue loving being simple – caught up in the everyday struggles of worry, pride, fear, selfishness. I don't want to delight in my scoffing any longer or live in the lie that I'm constantly letting everyone down or simply not good enough. I want to listen to wisdom, love knowledge, and turn to the cross daily. I want to live a spirit lead life not a simple one. Fools despise wisdom and knowledge and I want no part in that. I want my heart, my life, my marriage, my friendships, and my business to be guided by wisdom and by knowledge and not by expectations. No matter what is in store for 2017 I know that I don't need to know it all because I know and trust the one who does. 2017 will be exciting because it is another year. Another year to grow, love, learn, experience, and be. It is another year to trust, to seek the Lord, and to be the light.
What does 2017 mean to you? Do you have exciting celebrations in store? Big dreams? Articulated goals? Inspirational words? Please share what is on your heart for 2017 in the comments below. Because if High School Musical ever taught me anything, it is that we're all in this together!
Photo Credit: Kaylee Sorrells Photography