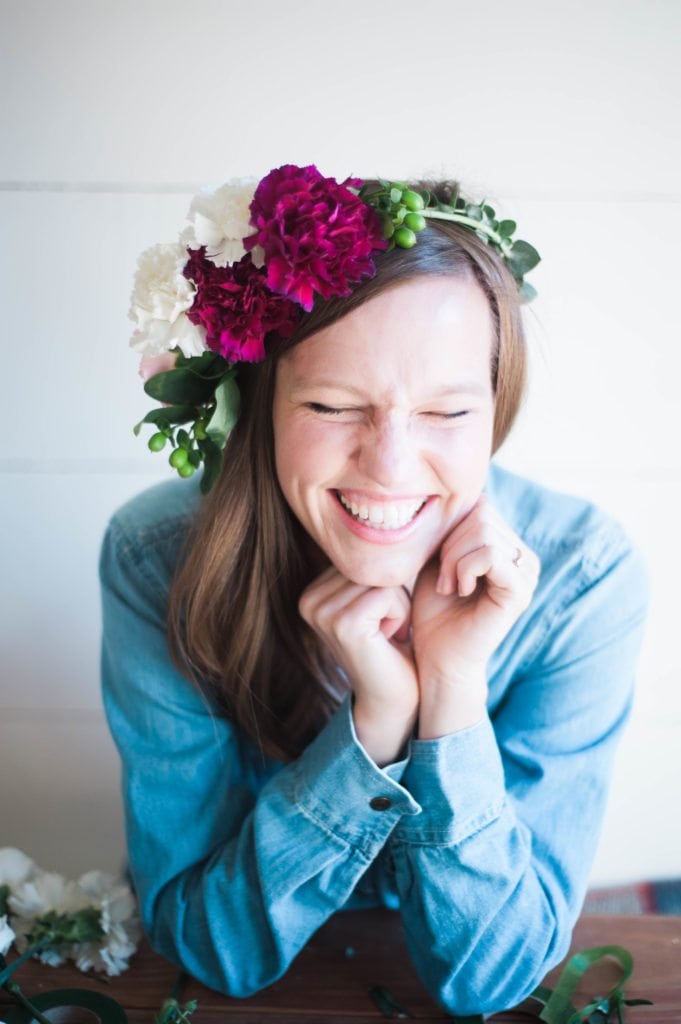 Thank you to Kroger for sponsoring this post. All thoughts & opinions are my own.
Just like that it is a New Year. The entirety of 2016 lies in our past and nearly all of 2017 awaits us. Before we know it Valentine's Day will be knocking on the door. Valentine's day is associated with many types of feelings that often are polarized – some people love it, some people hate it, and most of us find ourselves somewhere in the middle depending on how we feel that year. I've always been a fan of Valentine's day for the most part because it was never about "having a Valentine" growing up. My family made it about family and giving, friendship, candy, and really just lots of pink (which I LOVE!)
As an adult, I miss making Valentine's Day boxes for school and writing Valentines for everyone in the class to pass out, so each year I try to celebrate a little bit and share the love with my friends. I've been wanting to try to make flower crowns ever since they started making their rounds across Pinterest but I never had a reason to (I suppose just because I wanted to would have counted 😉 ) but Valentine's Day (or Galentine's Day) this year seemed like the perfect time to hit up Kroger's Floral Department and load up on pink carnations and pretty greenery.
I invited a sweet friend of mine (Ashlee) and her little girls to have a Valentine's party consisting of making floral crowns together. It would be fun, chill, and a way to celebrate the beauty in all of us by wearing princess floral crowns. We got together and made a mess but had such a blast making the crowns. Of course the adults did much of the cutting and twisting, but the girls had a great eye for all the flowers they wanted included and spent a large majority of the time smelling & re-smelling all the pretty flowers.
What I love about throwing a party like this is that it can be for girls of all ages and all amounts of people. As long as you have enough adults around to balance out the littles, this can be such a fun activity for everyone. All you need to throw a party like this is a table, flower crown fixings (I'm sharing the how to below), and some girls you just want to laugh and celebrate beauty with! Take out the pressure of perfection and replace it with the joy of community and the power of friendship!
WHAT YOU NEED:
– Flowers: I picked up these stunning Carnations for our crowns because not only are they festive, but January is Carnation month so they are in full bloom in the floral department!
– Greenery: You will also want some greenery to weave in with the flowers. I made sure it matched the Carnations I picked out and was enough for filling in and also wrapping around our heads.
– Floral Tape
– Floral Wire
– Wire Cutters & Floral Shears
HOW TO:
1. Start by measuring around your head with the floral wire and twist it together. This will be the base of your crown.
2. After that you have a ridiculous amount of freedom as you create! We started by wrapping greenery around the entirety of the loop securing it with floral tape.
3. Then we started adding flowers. To do so, cut the stems near the top and add to your crown by wrapping floral tape or wiring to secure it. If you have extra stem still hanging off, feel free to trim it!
4. Keep attaching flowers to your liking.
5. Wear them and enjoy them!
Fresh Flower crowns don't have a lifespan of forever so make sure you get out and enjoy them! Take fun pictures of everyone at your party holding and wearing their crowns. This is a day to have fun dressing up and celebrating together! Have a blast feeling princess like in your crowns! Share the love this Valentine's Day!