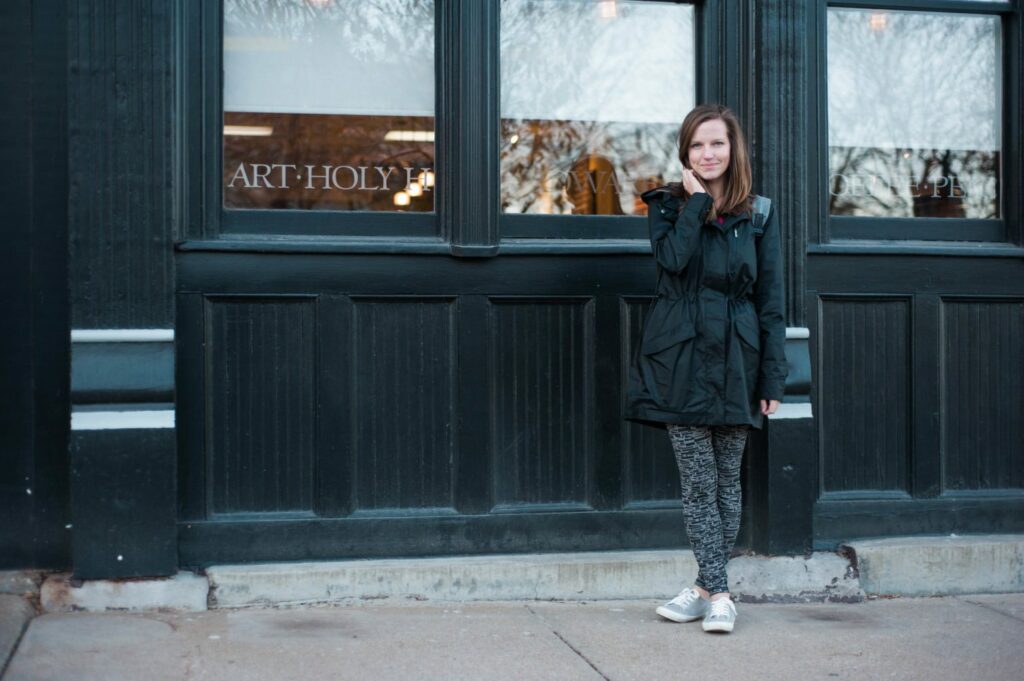 LOCATION: Omaha, Nebraska – Old Market
OUTFIT DETAILS: Studio Hatha Legging || Mat To Meeting Jacket || Effortless Ease Long Sleeve
Thank you lucy Activewear for sponsoring this post! All content and opinions expressed here are my own. #giftsthatworkout
The holiday season is upon us, and cheer is in the air! One of my favorite parts about the holiday season is carefully selecting and wrapping Christmas gifts for my family and loved ones. Not frantically trying to figure out what to buy at the last minute or obsessing over budgets and spending – but simply finding and giving gifts. I feel like this whole giving season can turn into such a obligatory, hectic task, when really it should be a gift given out of the heart. It doesn't need to be so complex. In the hustle and bustle we sometimes forget about the people, including ourselves, and shove self-care in the closet until January when we make our New Year's resolutions.
I've already started working on my Christmas list: reading gift guides, watching game reviews on YouTube, asking around, and ordering things. Giving intentional gifts is so important to me – not just for Christmas but all year long. Bruce and I just recently got back from a weekend away for his birthday. It was really fun to make memories and share an adventure for his 28th birthday celebration. We were in for a pretty adventurous day, so I wore lucy Activewear so that I could stay cute, cozy, and flexible with all the adventures our day threw at us. Investing in clothes that fit well, are top quality, and allow for adventure are valuable to me – they are intentional gifts I can give myself. They are gifts that workout!
Lucy Activewear is based out of California and prides itself on exemplary design and top quality fit. Their design team, made up of seven ladies, looks to empower women by creating high performance, luxurious athletic wear. I love quality businesses that are dedicated to what they do. It always shines through their product. lucy Activewear is a great gift to give your strong BFF, your active mamma, young women of all shapes and sizes (they carry XS-­3X), and all girls in general, whether they're a dedicated gym goer or just looking to get started. Not just that, but lucy also makes a great gift to give yourself this year. Because you are worth intentionally investing in, too.
I love lucy Activewear from my workouts to the street and I would love to give you the opportunity to win TWO $100 gift cards (one for YOU and one for a friend!) To enter use the Rafflecopter below! Good Luck! XOXO