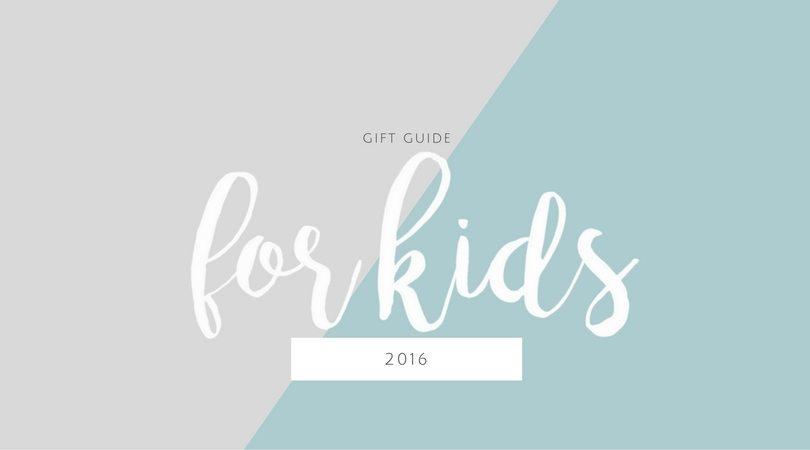 A lot of us have kiddos on our Christmas lists. Whether they are our own, our nieces & nephews, or the kids of those people we love most,  it is really fun to give kid gifts! Kids truly light up when you give them a Christmas gift and that is such a fun thing to be a part of . I know toy piles can get a little out of hand so I like to gift with a little bit of practicality and intentionally. But just because something is more practical doesn't mean it can't be fun. I like to splurge a bit on fun clothes, great shoes, fun games, and things that will fill a need in a fun way! Parents don't always get to buy $30 sweaters for their kids but aunts can!
Adorable and practical. Kids need clothes. Gift them with adorable Baby Gap outfits!
We picked this game up for our niece and it looks like so much fun! I think games are a great investment because they promote group play (family, siblings, friends) and also help kids grow in their strategizing skills!
Practical and cute. All kids need water bottles at all times (especially if you live in Colorado!) This is such a fun and personal water bottle to give as a gift!
Again with the mega cute but also super practical gifts! Kids are always in need of quality shoes so make your little your mini me with some toddler Converse! You can pick these up at Rack Room Shoes for a great price! I've got a pair wrapped up under the tree for one of my favorite toddlers! #nospoilers
Continuing the Patagonia vest love. I've talked so much about how we are vest lovers in this family! Spoil your little with a fashionable & practical vest for the winter season!
If you have a new mamma (or a soon to be mamma) on your list this year, the Solly Baby Wrap is a great gift for both mom & baby! It is a way that mom can get some things done while baby gets in some much needed cuddle time!
These books are the best and I've been gifting them to friends for Birthdays, Baby Showers, and Christmas ever since I discovered them. There are so many great ones and all the kids love them! These are great books to get – any of them.
I'm a huge beliver in ornaments! I think they make a great gift because they are practical (again) yet totally fun! I still have ALL my childhood ornaments and they mean so much to me. It is fun to put them up year after year. Getting an ornament for Christmas every year growing up was something I always looked forward to!
Get a game that you can play with those kids you love! Mario Kart is so fun because really anyone over 5 or 6 can play it. Maybe not as great as you but they still can have so much fun! It is also so fun to watch people play as a group – this is a fun group activity!
It is Gap, it is Disney, and it sparkles. Need I say more?! I really wish they had this is my size. Like really really!