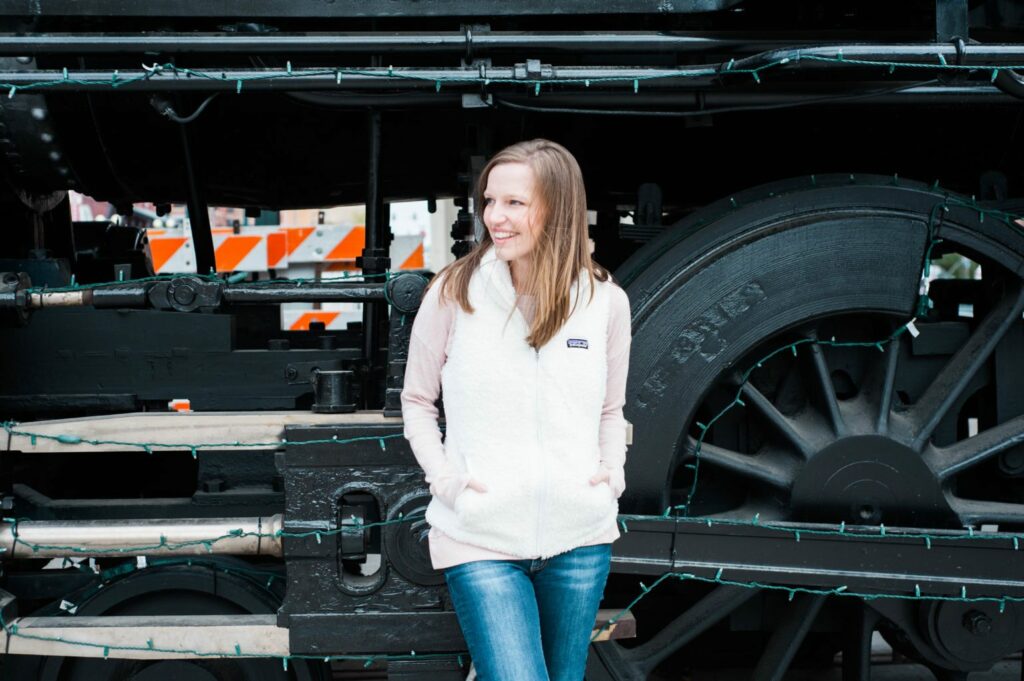 LOCATION: Lincoln, Nebraska – Haymarket
OUTFIT DETAILS: Patagonia Los Gatos Fleece Vest || Gap Skinnies || Chaco Barbary Boot || Softspun knit hi-lo top
I have multiple vests and I brought three of the five that I own on this trip. Vests (the cozy kind) are a really magical invention. They add just enough layer to warm your core but prevent you from over heating when you go inside or while walking around. This benefit saves you from carting around your coat and putting it on, taking it off, putting it on, taking it off. Vests are such a happy medium.
My love for vests runs deep and when I saw this fuzzy vest from Patagonia (that I already own a version of in the sweater) I was sold! How could you not stay cozy in this vest?! It was so perfect for the bitter, windy day that we spent exploring Lincoln, Nebraska. When I am walking around and discovering new places I try to carry as little as possible. I don't want my arms/ back to start hurting from all my gear plus I like keeping things organized so I am not losing things all over a new town. This is why vests are so great. Plus fleece lined pockets kept my hands cozy when we were walking around – pockets are always a favorite of mine!
While we were in Lincoln we went to Lazlos to grab a beer and happened upon Happy Hour so we got to try a couple of their brews and load up on some fun appetizers. We also walked around the old train station, in a couple shops & book stores, and even stopped into a candy store. If you know anything about us, you know we didn't leave that candy store without a little to-go bag of our own! It was fun to spend an afternoon in Nebraska's capital!