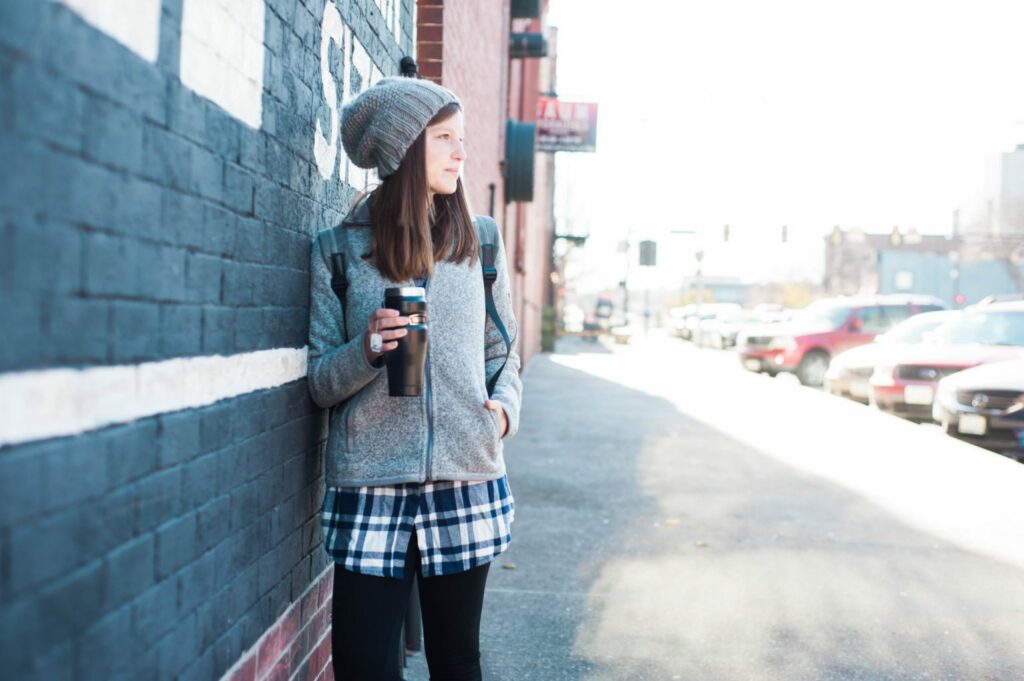 LOCATION: Omaha, Nebraska – Old Market
OUTFIT DETAILS: Patagonia Better Sweater || Flannel Shirtdress || Fleece Leggings || Gray Tennies || Thermos Brand Mug || Gray Bellbrook Camera Backpack || Knit Hat
This post is sponsored by Thermos L.L.C. but the content and opinions expressed here are my own.
We just got back from a weekend trip to Omaha, Nebraska where we enjoyed a little birthday getaway for Bruce's 28th birthday. Bruce and I had never been to Nebraska before so we didn't know what to expect. It was pretty chilly but we found no shortage of eateries, breweries, and coffee shops. The food scene is happening here and we were soaking it up. On one of our mornings, we got up and started walking around Old Market. We never really adventured that much outside of Old Market (where we stayed) but we liked it that way! There was so much to do within walking distance that made so fun.
I brought along my Thermos Brand Mug so that I could make hot tea in the hotel and carry it around with me as we went sightseeing. It was really cold while we were there so layers and hot tea were a must to keeping us happy as we explored. My mug was perfect for adding in the hot water, sugar, and Earl Gray tee and even fit in coffee maker in our hotel room.  Bruce and I have a joke that everything we own clothing wise is either blue or gray because I buy all the clothes for both of us. It is funny because it is true – I'm obviously drawn to the blue and gray colors. I just love how they match almost everything and fit well together. I think it also has to do with the fact that I love the colors of winter! Even my tea of choice is Earl Gray 😉
I threw on this knit hat at the last minute because I was afraid the wind was going to make it feel cooler – I was right and it was one of the best decisions I made! I used to be so anti-hat especially with a normal outfit. Hats in my mind were reserved for snowboarding, snowshoeing, or playing in the snow. I am realizing that they not only are practical in other situations but they also can look really cute and complete an outfit, so they are growing on me!
When on vacation or simply walking around a lot with my camera, I love the Bellbrook Camera Backpack from Johanna Totes. It is seriously a life saver for my back – holding a giant camera bag purse gets tiring real fast. Also, this bag is cute yet manly enough that Bruce can also wear it! This was one of my first trips with my bag and it was so nice for our travels! It fit everything I needed to hold and I didn't have to worry about a thing. Most of the time I forgot it was on my back – that is a huge plus in my book. It also conveniently matches my outfit as it is (you guessed it!) gray!
We walked to the Lewis & Clark landing at the Missouri River, the pedestrian bridge (to say hello to Iowa,) up and down the cobblestone streets of Old Market, happy hour at breweries, and the Durham Museum where I was enthralled in the Prohibition exhibit (SO INTERESTING!) A day in Omaha well spent!
Bonus: Here is a recipe for the best tea around –
Depending on your mood, pick tea of choice. Earl Gray is a favorite of mine for mornings!
Heat water and add tea bag.
Add just a dash of sugar to sweeten things up.
Enjoy wherever you go by putting it in a Thermos Brand Mug!