We switched our master bedroom with our office awhile back. Since then we've been slowly trying to make our office feel more officey & our bedroom feel more bedroomy. I feel like it always takes us awhile to work on projects like these. We make progress but still have things left to do to the room. In fact, I'm kinda laughing right now because if I think about it, I don't think we have one room in our house that is fully completed. Maybe that is living in a house. Or maybe it is a symptom of taking on too many rooms at once. We don't really have the cash to tackle one whole room in one weekend so I'm content with the little projects. It is the fun little things that add personality and make this place our home.
Our latest project was hanging up curtains in our new bedroom. We love the industrial & sleek yet homey feel of these galvanized curtain rods and have been putting them all around our house over time. You can find them at West Elm here but we prefer the cheaper cost & the added memories of making them ourselves!
WHAT YOU NEED:
2 Elbow joints size 1/2 in
2 Steel (galvanized) Pipes with Threading 1/2 in
2 Floor/Wall flanges 1/2 in
1 Electrical conduit in length of your preference 1/2 in thick
Wall Screws
Hack saw (if you need to adjust the length of the pipe)
Drill
Level
HOW TO:
Start by picking out your dream curtains. I found mine at Minted (Yes! They make beautifully designed curtains now!!) and order them. You'll need them in your position before you get everything set up.
Make a trip to Home Depot (or supply store of your choice) to gather the items.
Clean! When you get the pipes they are kinda grimy so you might want to wipe them down with a rag or else your fingers will get black (and your curtains and your walls…)
Measure how long you want the conduit to be, mark it, and cut with a hack saw.
Measure again (we don't want crooked curtains!) and drill holes into the studs on your wall (or use wall anchors). Use the flanges to measure where holes are needed and mark with a pen.
Attach one side.
Slide your curtains onto the rod & place it together.
Finish attaching the other side.
PS: The Phil 1:6 canvas is Naptime Diaries & the Amazing Grace wall hang is from Jenny Highsmith Lettering. Laundry Basket is here at Target & Bedding is from Urban Outfitters. Oh! And the Beautiful Mess shirt is here at Beloved Clothing Co.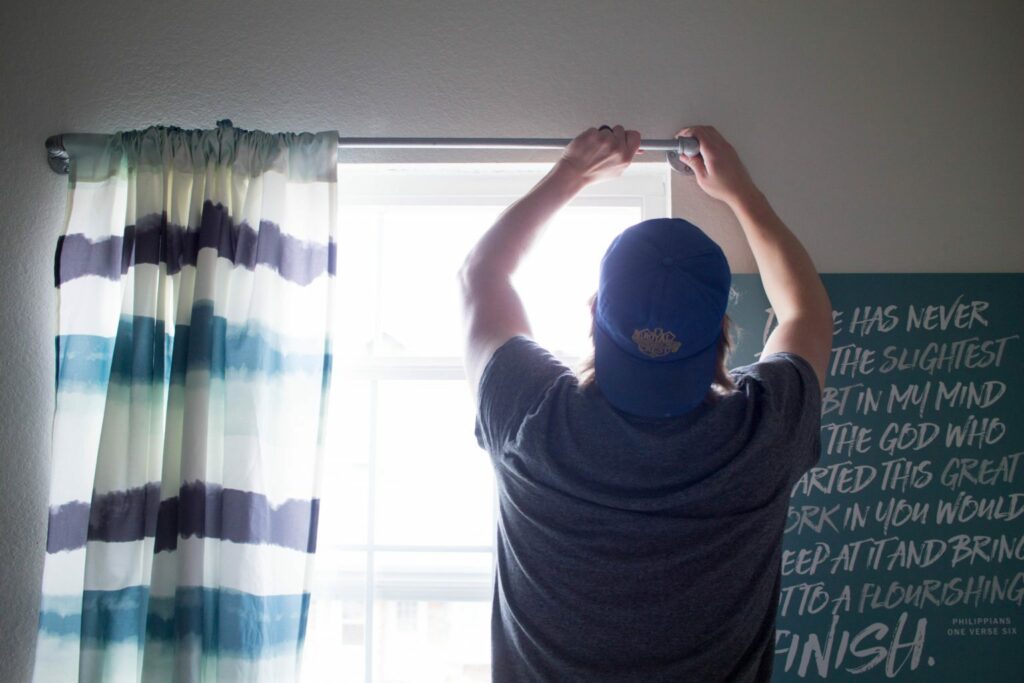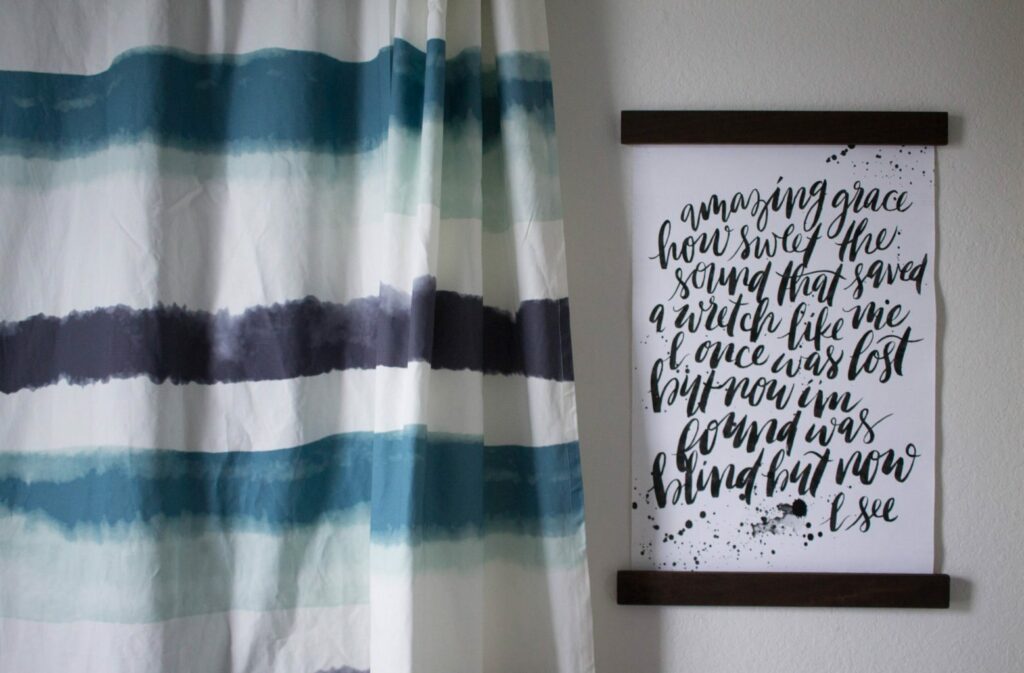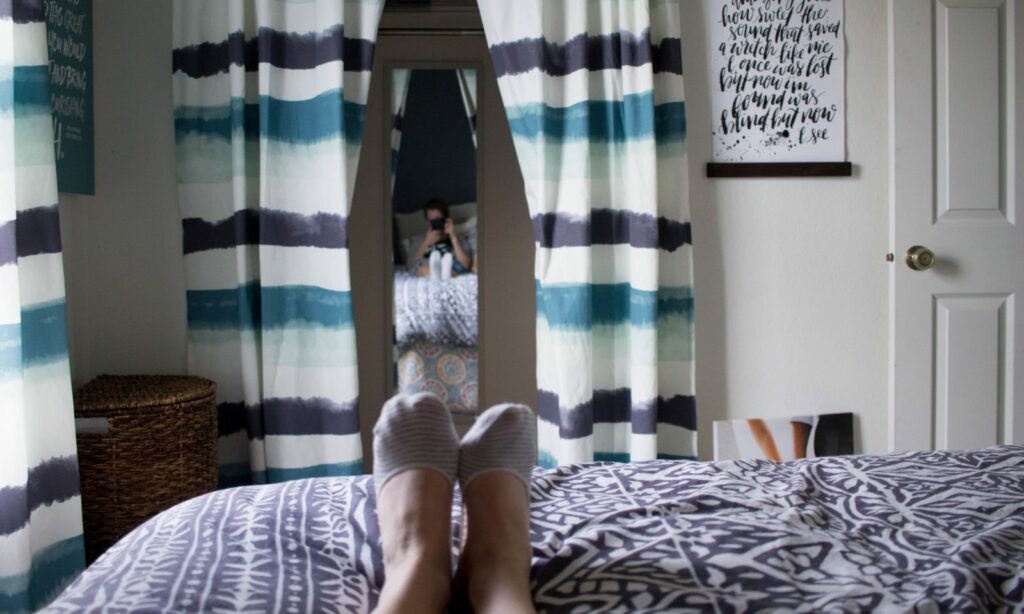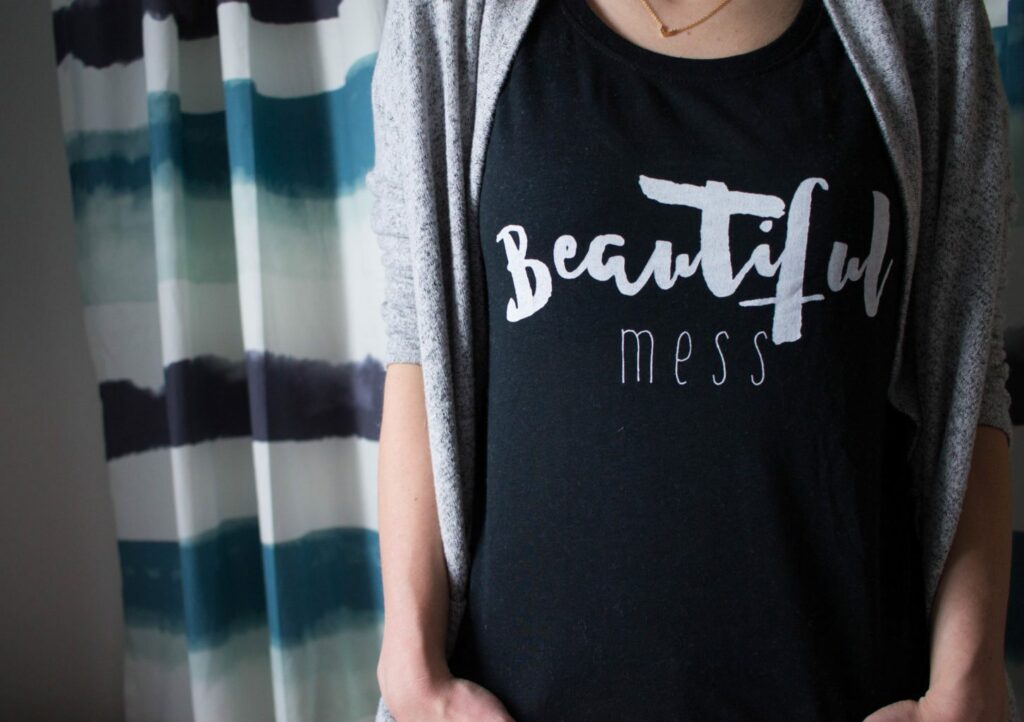 xoxo, Elizabeth