Alright my loves, it is time for a heart to heart on the upcoming holiday. Valentine's Day is coming up this weekend and that gets a mixture of groans, squeals, and silence. I've always been a bit thrown off by the negative reactions. Even after 23 years of dateless Valentine's Days I never once hated it or participated in a "singles awareness day." It never made sense to me because it never was only about romantic love. It was about family dinners, decorating boxes, writing notes to EVERYONE (not just one person), pink glitter, and candy. It was (and to me still is) the happy version of Halloween. Even when Bruce and I got together we never made a huge thing of it – I always made Valentine's for coworkers, had parties with my girls, and celebrated friendship. Let's take a quick stroll down memory lane:
"If we take a step back, we can see that Valentine's day is a fun reason to wear red/pink, spend time with family, friends, people you love, eat candy, and send fun cards – right? Everyone can do that regardless of relationship status! YAY!" – Elizabeth 2015
"Girls, it is okay that you do not have man for valentine's day! Some of my favorite ever valentine's day have been before I was with Bruce. Even as a married lady I give valentine's to my friends because I love them. And everyone loves notes & candy! It is a fun, silly, holiday. enjoy it!" – Elizabeth 2014 
"SPEAKING OF LOVE, I sent my valentines day cards out. Sending love in the mail – that's always got to be a good thing even if the love doesn't arrive on time, right?" – Elizabeth 2013
After three conversations today of me trying to convince people that Valentine's Day is not terrible, I realized that a lot of people don't view the holiday like me. I almost gave up. So many people missed out on the fun memories of creating the shoe boxes and writing everyone names in your classroom on the Valentine's you made. So many people grew up with (and around) people who had high expectations of the day and were always disappointed. So many people have had negative experiences on this silly holiday. So many people feel alone because they only see couples showing off. Too many people spend too much money trying to impress. And frankly, too many people feel the heavy weight of singleness instead of seeing how loved they are by all the people around them.
I had initially planed on sharing how fun this holiday can be, how great the colors & candy are, and how this year I bought store bought cards for all my friends but they are still pretty great because they are Disney Princess & Star Wars (and they are freaking adorable / come with candy & tattoos.) But now I feel like I can't. I feel this weird pressure about how I shouldn't talk about the holiday because it is insensitive to my non-married friends. I feel as though since I am in a relationship I'm automatically on the other side. As if for one day (and maybe all the days leading up to it) it is singles vs. relationships – it's war. We need separate holidays, separate activities, and separate social medias while we are at it. It breaks my heart.
I've always thought of myself as compassionate, understanding, and not the kind of person who likes to rub things in your face. I feel like I understand what it is like to not have a Valentine, I may be married now but I wasn't always. But I guess I don't really know. I know my story and all the good experiences that I associated with Valentine's day. But I don't know everyone's story. I don't know what every Feb 14th felt to them as they were growing up. I don't know what they are feeling when the holiday is days away. And all that makes me afraid. It makes me afraid to be "the other side" the person "who doesn't get it" the friend who giggles about princess Valentine's too much.
After the last conversation today I finished with " well I just have to change the message – I have to change the world!" That seems unbelievably daunting & impossible to me. It makes me want to give up. Quit the holiday, picket with my friends just to show them I'm on their side. But I can't friendship is too important (and sweet tart hearts 😉 ) I still celebrate St. Patty's Day & Halloween but not always in the way everyone else does. I think that can be the same with Valentine's day too. I think the world may put so much pressure on some aspects of holidays but that doesn't mean I have to watch scary movies (Halloween,) drink too much beer (St. Patty's Day,) or make a huge deal about romantic love.
On Valentine's day I celebrate friendship, family, my favorite colors, candy, and YOU (whether or not you are in a relationship.) I pray that this year February  14th won't twist a knife in your heart. I pray you will laugh, giggle, celebrate, and enjoy the people around you. I hope you buy silly cards at the grocery store that say things like "You're BB Gr-8!" to give to your friends and I hope you know deep down that your value does not and will never come from a relationship status. It comes from Jesus who has called you by name. (and I know you already know all that, I just had to say it.)
"Fear not, for I have redeemed you; I have called you by name, you are mine. When you pass through the waters, I will be with you; and through the rivers, they shall not overwhelm you; when you walk through fire you shall not be burned, and the flame shall not consume you. For I am the Lord your God, the Holy One of Israel, your Savior. I give Egypt as your ransom, Cush and Seba in exchange for you. Because you are precious in my eyes, and honored, and I love you." – Isaiah 43: 1-4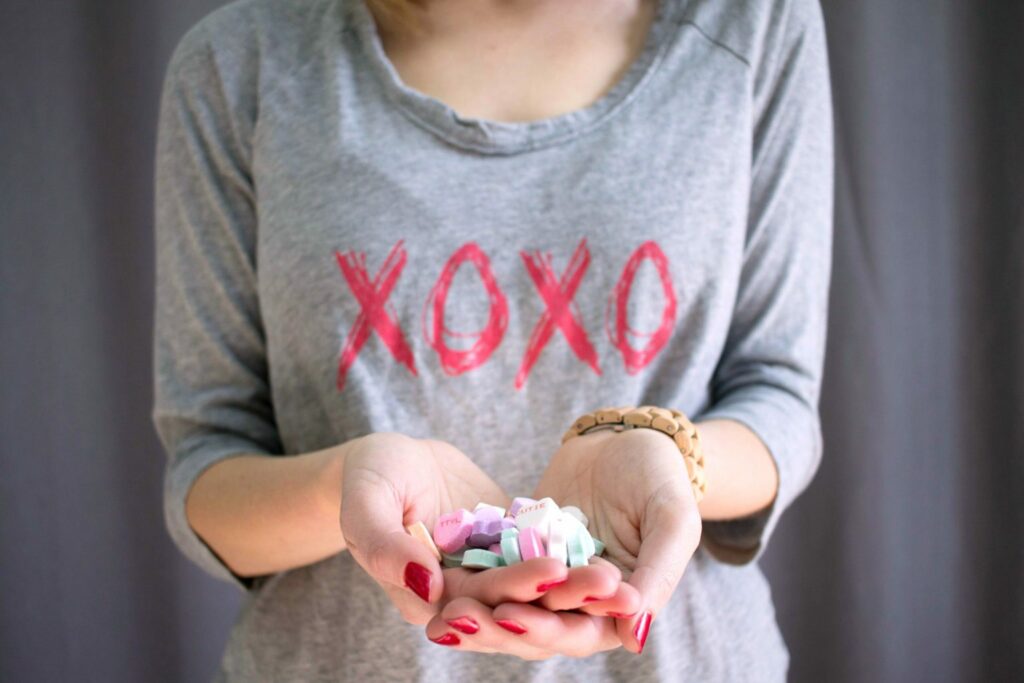 xoxo, elizabeth