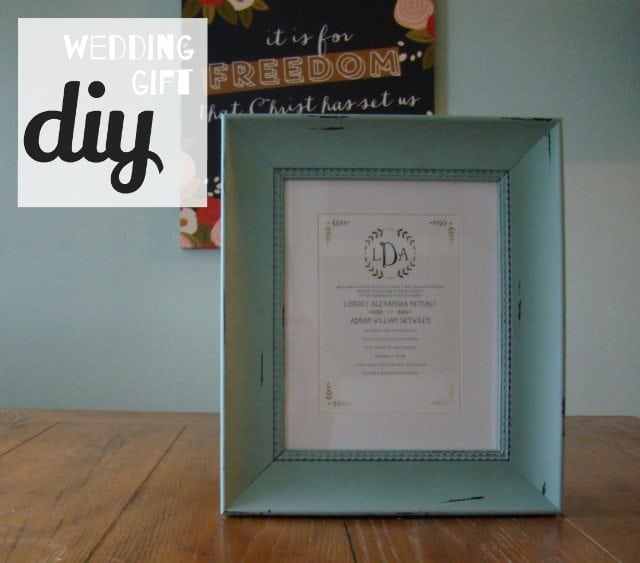 one of my favorite decorations in our home is our wedding invitation. i framed it just after we got married because i found a left over invitation in the midst of opening all the wedding gifts when we got back from our honeymoon. over the last couple years i have received so many comments on it. people love it. they love the sweet memory and they love what it represents. i have also had so many people say that they wished they had saved an invitation themselves.
so i thought that we could do it! we could save an invitation, put it in a frame, and add it to the wedding gift table. maybe they will love it or maybe they will replace the invitation with a photo from their wedding. but i think they will love it and love the memory because in the midst of sending out 300 wedding invitations you rarely think to save one for yourself and keep that memory close.
it is a wonderful gift to whip up especially if you are traveling far to be at the wedding and cannot afford to buy a nice gift from the registry. this is pretty inexpensive and super thoughtful!
it also happens to be remarkably easy.
WHAT YOU NEED:
– fun frame. i love picking mine up from Hobby Lobby when they have their frames 50% off
– the wedding invitation (the one of your fridge that you are going to throw away next month)
– a matte. this is optional but i think that a larger frame with a nice matte makes a fun statement. you can chose a frame the size of the invitation if you want.
HOW TO:
1. assemble
2. add bow, card, or decoration for the gift table.
3. consider signing the back of the frame. maybe add a verse or some wedding wisdom!