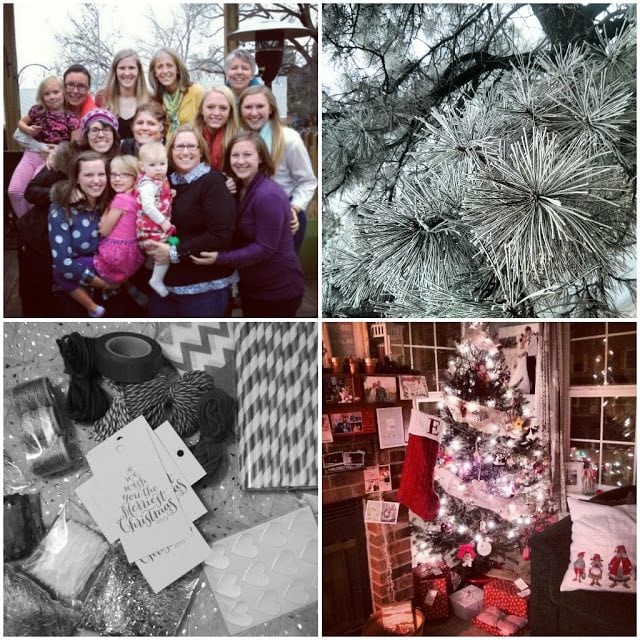 SNAPSHOTS:
1. the 1st annual Christmas Cookie Exchange: this group is so special to me. it is the ladies, the daughters, the daughters-in-law, and granddaughters of the original Bible Study. 20+ years ago four of these ladies and their husbands started meeting each week to walk through life together! their kids grew up together and now are having kids of their own. i married into this group and i know firsthand how valuable growing up in this environment was for Bruce. we are still all friends, all these years later. and this is the first of many Christmas Cookie exchanges that we all will gather together!
2. frosty, foggy, Colorado beauty: it just feels more like Christmas time with white winter frost!
3. the wrapping begins: with the help of lots of Thatch & Thistle goodies some Christmas tags from Minted. all gifts are wrapped and we are ready to spend Christmas with both sides of the family! as well as have a little Christmas morning to ourselves!
4. Christmas Tree: i've been watching all the Christmas movies Netflix has and enjoying our Christmas decorations! Bruce was eager & excited to stuff my stocking so…. we filled them a couple days ago. now they are just waiting to be opened.
OTHER FAVORITES:
– Hobbit Desolation of Smaug!! in high frame rate. it is wonderful!
– celebrating my brother-in-law's 30th birthday!
– games with friends
– hot peppermint tea
YOU MAY HAVE MISSED:
a whole lot
post office madness
my stitch fix fix 
word of a nerd birthday giveaway 
Q & A: all time favorites