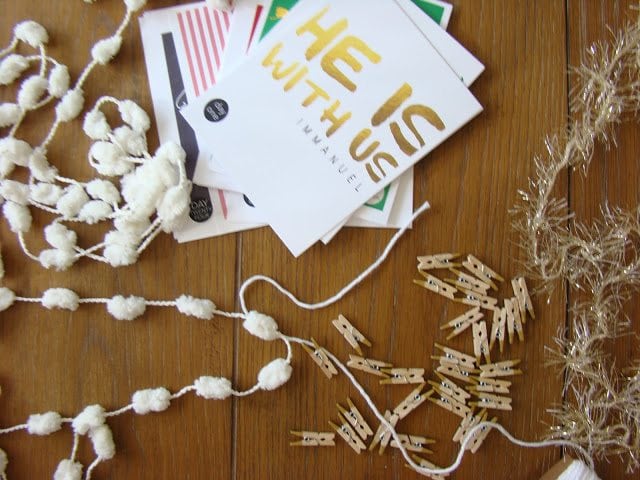 DAY ONE
Isaiah 7:14 "…Therefore The Lord Himself will give you a sign… and shall call His name Immanuel"
The Christmas season is full of gifts that are desired. Some you won't receive, some you will receive and not like. As you prepare your heart for the Christmas season, remember two things: we celebrate the gift of "God with us" as Jesus came to earth for you and I. Secondly, that gift came straight from God. The Lord Himself gave you the most precious gift of all, His son.  – Naptime Diaries 
i set up my advent calendar along with my Christmas decorations this year. i almost didn't buy it but that little tug in my heart told me to – also my husband told me to just buy it! each year Christmas comes and goes. it is always over before i know it. i try to hold onto each day but pretty soon it is Christmas Eve and then Christmas day and then the world starts going back to normal. i wanted something more. and not just more days of "Christmasy things" but a clear and constant reminder what this holiday really is all about.
today on the first day of advent i challenge you to read the passage and quote above. what does that mean to you? what does it mean to you to have God with you. with YOU. what a gift. i am blown away. yet so often i forget about this gift – i have never experienced, known, understood God not with me. Jesus coming to the earth, living among us, dying for our debts, rising again, and giving us the Holy Spirit to be with us at all times – i have only known the post Christmas story. but what a story. what a gift. think on that today. i pray the Lord would make His presence known to you and you would experience the joy of that gift.
and may that gift fuel you and sustain you in this season – masked with materialism and gimmicks – so that you reflect a life that has been changed by the Christmas story. may you give out of your heart, open your doors, serve your neighbors, and live out the Gospel.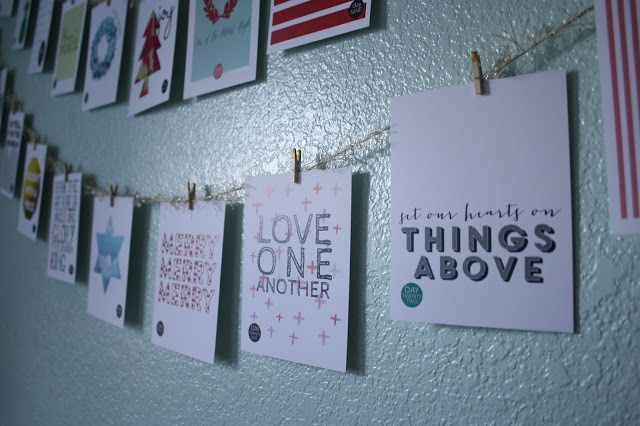 HOW TO CREATE THIS IN YOUR HOME:
calendar cards: Naptime Diaries (use code OATSGIFTGUIDE2013 for 15% off)
twine, clips, and all cute decorating agents: Thatch & Thistle (use code OATSGIFTGUIDE2013 for 15% off $20 or more)
Glee Christmas: youtube
gold star: Dollar Store