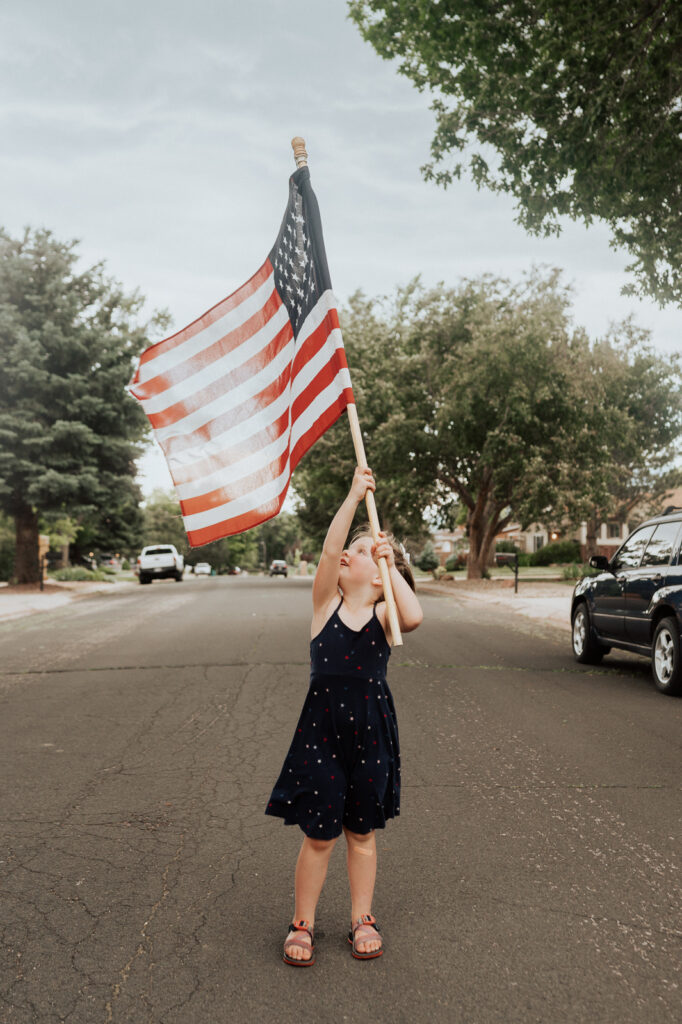 I'm still missing the 4th of Julys we spent in Kansas with fireworks and pretty sparkler photos, but I'm loving our Colorado celebrations with our ever growing family. I think we celebrated Independence Day the longest this year which also made the whole holiday even more fun. We even went all out on the flags and the kids took ownership over the waving! The girls are now big enough to ask questions and learn more about "why" we do things. We read books, made crafts, told stories, and celebrated American Independence for a good week! It is one of my favorite things about homeschooling – the ability to go all out on the holidays and dig in deeper!
On the actual 4th of July, we went back to Rock Ledge Ranch. We went there for the first time last year and decided it was a very fun and festive way to celebrate the holiday! This year we brought the whole (well almost) family along – Grandpa & Grandma, Uncle Blake & Aunt Sarah, and Uncle Matt & Aunt Becca & cousins! With everyone in Red, White, and Blue, you cannot help but get good pictures of family together.
When writing this post, I took the time to glance at 4th of Julys past. Children grow so darn fast. I am in awe of how much they change in a year. Even Thorin only makes his first – very chunky- appearance this year. Last year he was all in that big belly of mine!
Holidays will do that to you. They mark the time annually and allow you to reflect on what you were doing exactly one year ago. They make you sentimental, reflective, emotional – all the good things 😉 And maybe it was the crowds of people in the same colors waving flags or the giggles of my kids and their cousins as they ran around, but I was – and am – so thankful to be an American! Our country isn't perfect (as we are all very aware of) and there are many things in history and in politics I would change if I could, but I don't ever want to take for granted the opportunity, protection, freedom we have because we are born in America. Of course God's grace is over the whole Earth and He is generous and good to all mankind, but America was founded uniquely on different ideals and government and that gives us things that not every country can offer. So as we sang the National Anthem with a crowd around us and a beautiful orchestration of brass instruments keeping us in time, tears welled in my eyes. The land of the free and the home of the brave. Thank you Lord for these good things, help me to share the biggest freedom that is found in you! Happy Independence Day!