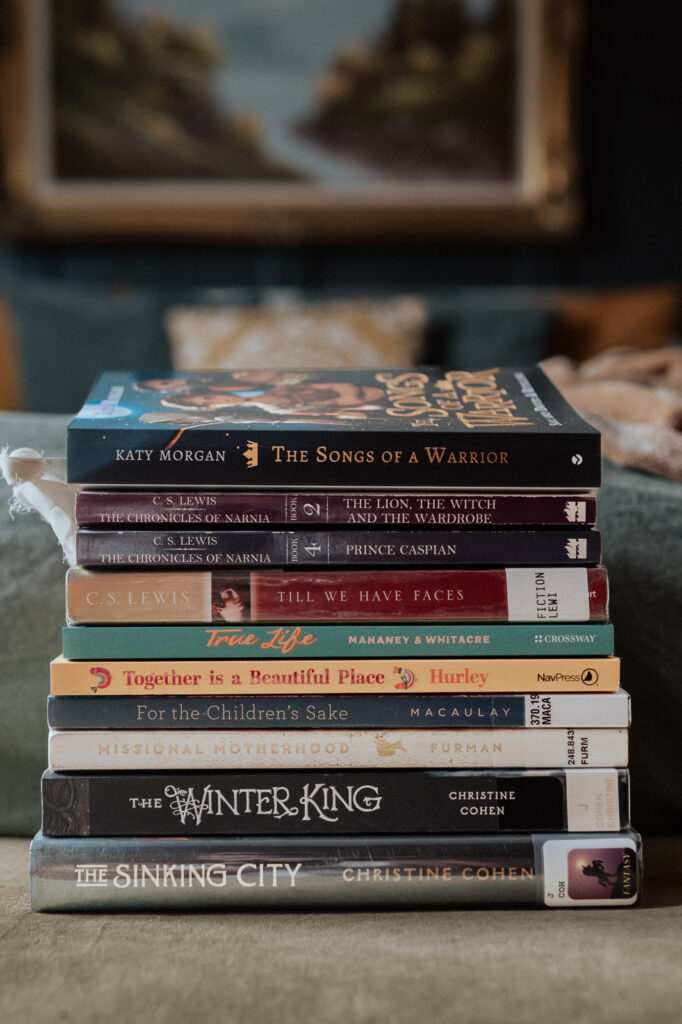 Ten books! Well guys, there is honestly a good chance that the shortest month of the year will also be the month I read the most books! This is 100% due to the fact that I discovered audiobooks this month. Obviously I have heard of them (I'm not a luddite) but I've never listened to them because I like real books (and I cannot lie ;)) But then a bought an audiobook that was on sale for $2 (For the Children's Sake) and Bruce got me set up to listen to it (and others if I so wished.) It was then that I discovered just how much more I could read just by listening while driving in the car, washing dishes, picking up the house, nursing my baby in the middle of the night, grocery shopping alone with one pod in, etc. The books simply just added up! Most all the books this month got five stars but one did get only two from me (spoiler alert it was Missional Motherhood – see loooooooong review below!) With only one bad apple in the bunch, I'll say it was a good month of reading! Enjoy!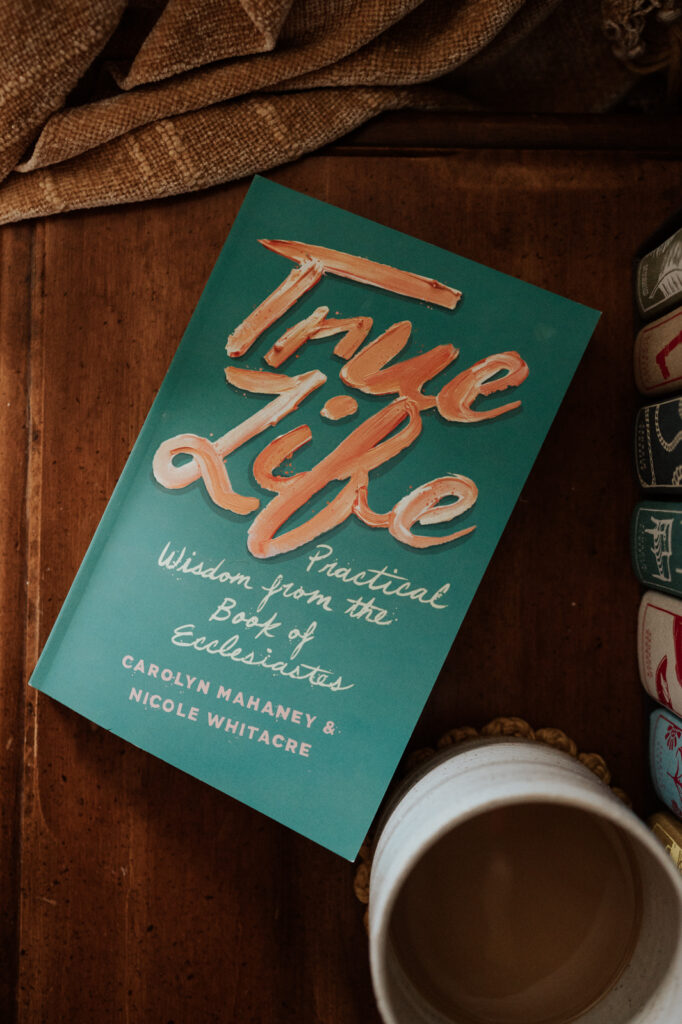 I did not expect to love this book as much as I did – it was so encouraging and challenging! Honestly, perfect for the stage of life I find myself in as a mom of 3 under 4! Everything is vanity (oh I can feel that) yet everything is a gift from God that we can find joy in. We don't need to worry, stress, work our life away – but instead faithfully do the work the Lord has given us each day because that is where joy is found. That is the gift! I underlined too many quotes and I'll have to reread this book again, but it gave me new eyes and fresh perspective on Ecclesiastes and hope for all these mundane motherhood moments. Everyone should read this book – it speaks to all the seasons of life – for there is a season for everything 😉
4.5 stars (but rounded up) only because the formatting of the questions in the chapters was not my favorite. Often they broke up sentences and were not at stopping points so I would have to keep reading (sometimes turning the page) before the paragraph ended and I could go back to the text box. I don't know why they didn't at least wait for the end of the paragraph to add the journaling prompts or put them at the end of the chapter entirely. I also wish the authors didn't have to talk about themselves in 3rd person. Every time they added a personal story it drew me out of the conversation I felt like I was having with someone while reading, since they couldn't use personal pronouns like "When my kids were little we did this…" they instead had to say "When Carolyn's kids were little…" but I guess it is what you have to do when you have two authors. Beyond that, the content is all spot on! (4.5 stars)
* I received this book for free from Crossway in exchange for an honest review.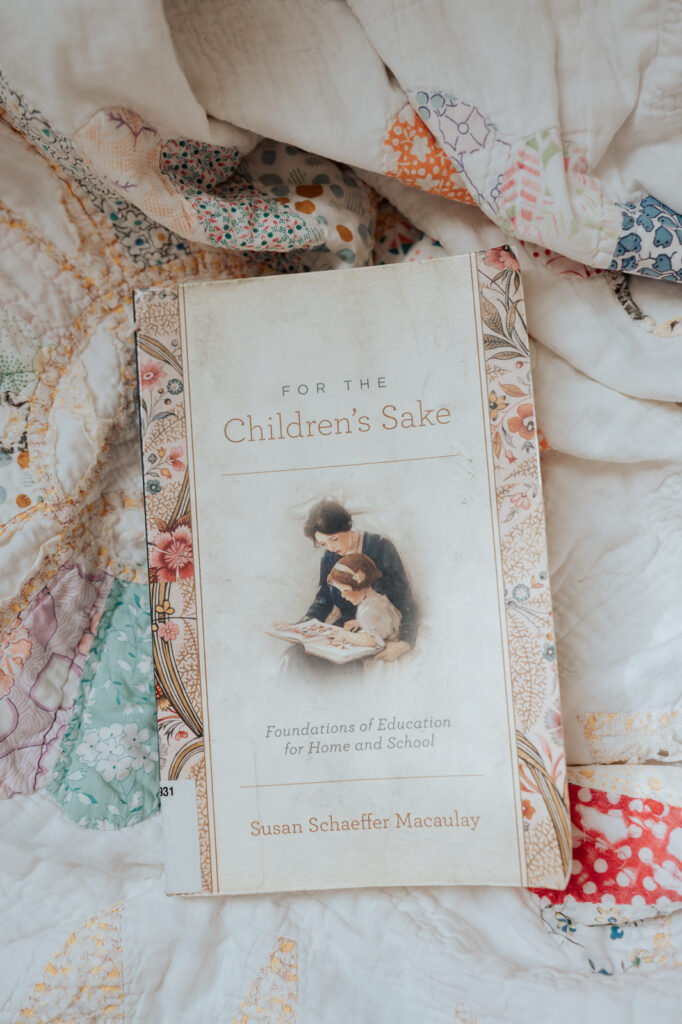 I listened to this book while running errands and nursing babies to sleep which didn't allow for underlining and dwelling on all the things, but that was good for me! I gave myself permission to soak in what I could (what I needed) and move on to the next chapter. This book is packed not only with ideas and methods of training children but also practical advice! I knew a little about Charlotte Mason before reading this, mostly from the toddler/ homeschool curriculum I have been drawn to, but I didn't know much. This book was a great overview of her work and beliefs when it comes to the education of our children.
I personally think this is a great book for any Christian parent to read – not just homeschooling parents – because it talks about educating our children in general and picking school situations that will be best for them. It did encourage me to homeschool and helped inspire some of the schedule changes I am making to our day-to-day life! I found myself clarifying some thoughts and methods for teaching my kids with a huge emphasis on reading good books, getting outside, free play, and personal relationship.
I also loved the Biblical foundation and worldview behind this book and educational philosophy. Seeing our children as people created by God with His image worthy of intention & exposure to beautiful things and our role as parents to train our kids in the way they should go. Gentle, intentional parenting/ education to help our kids learn and grow into adults who love the Lord and value learning/ wisdom. (5 stars)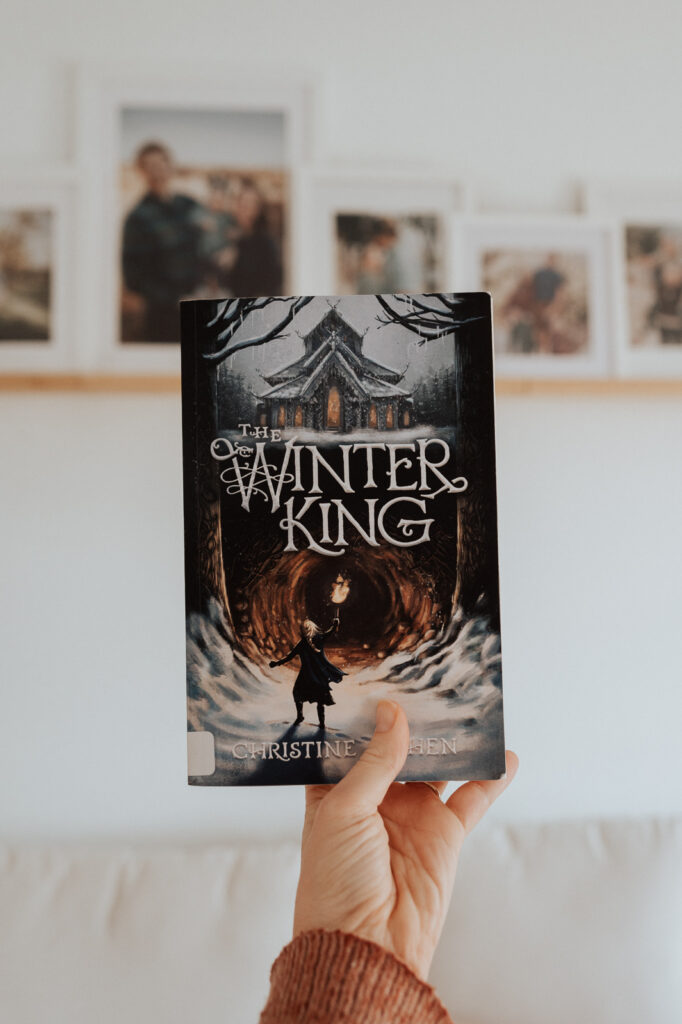 Hands down, five stars and comes with my sincere recommendation! It has been awhile since I enjoyed a book this much and I found myself wishing it was part of a series so that the world and story could continue. Gratefully, the ending was a satisfying one even if I don't get more books.
This book is somehow mythical, historical, and dystopian all at the same time. Taking place during a Nordic winter, winter may be the best season to cuddle up and read this book – watching the snow fall outside my window only made the story feel more enchanting (and possibly more terrifying!) It has the Village meets the Medieval church meets Hunger Games meets Greek mythology meets Frozen vibes and it blends perfectly in it's own world. I can't explain just how much my heart loved the historic yet fantastical setting & storyline but it was brilliant. It's a captivating story that has you begging for justice and wondering how things will turn out.
I started Christine Cohen's other book (The Sinking City) as soon as this one ended, but I'll be dreaming of these characters, and possibly White Wolves, tonight! (5 stars)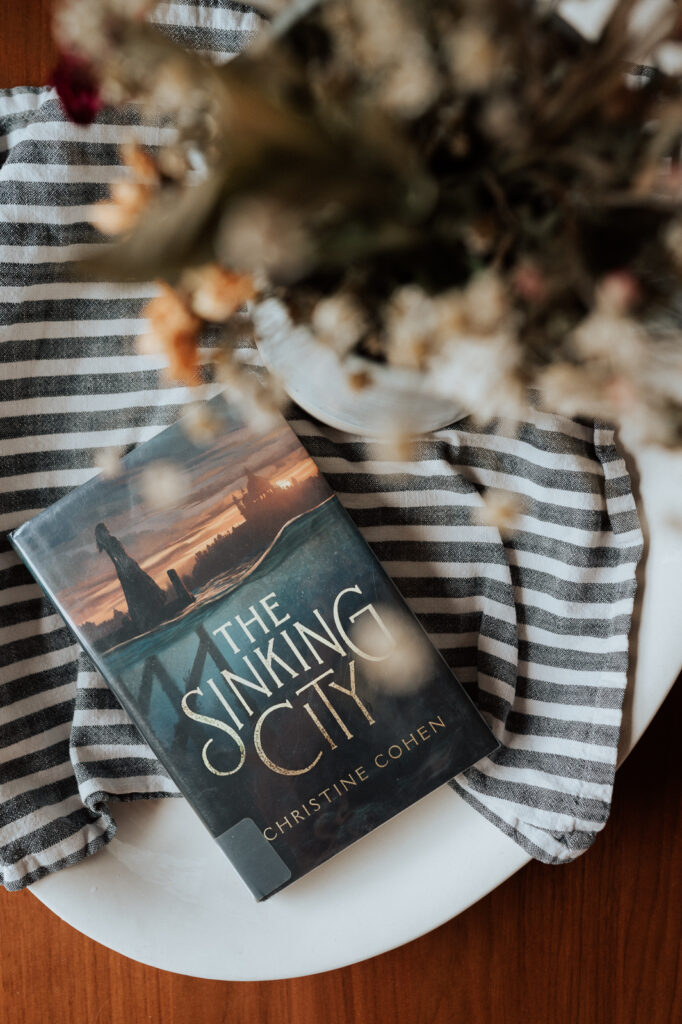 I *think* I liked this book better than her first (The Winter King) however they were both set in such distinctly different worlds with totally separate characters, motivations, and themes – it is hard to say which was better!
I will say that I loved this book (as the 5 star rating would imply) and highly recommend it! The Sinking City takes place in a magical, historical Renaissance Venice. It feels a bit like Harry Potter with magical elements (like magic & creatures) being part of the physical/ historical world but this book took it in new & different directions. I feel like Christine Cohen's takes & description on magic were really intriguing and convincing – as were the characters and storyline! I also was mesmerized with the historical elements or Venice woven through. I didn't know what was going to happen or how things were going to play out but I was rooting for closure and growth and redemption the whole time. At times I was frustrated with the main character's choices, but when I remembered the fact that she was a 16-year-old, I had a bit more grace. I'm always wary to spoil things in my reviews but I will say that I'm a big fan of the love story woven through – it isn't in your face but really helps give the story life and, obviously, an ending that I love! I'm a big fan of these fantastical yet historical novels and I want MORE! (5 stars)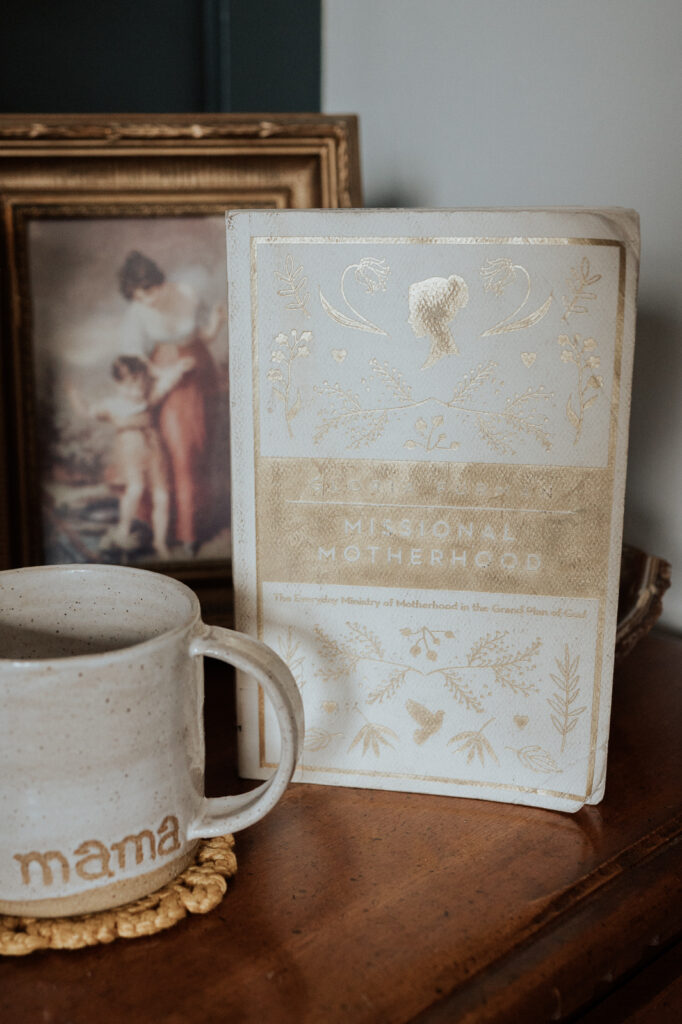 About halfway into the book I told my husband that the best rating this book could get from me would be three stars if somehow the book redeemed itself in the last chapters. The only reason I finished it was because I have a personal conviction to only review books I have read entirely and I HAD to write a review! It did get better at the end, but I couldn't help feel like if first half of the book was skipped, the second half (that was actually about missional motherhood) would have had space to go deeper & be better. She even said things like "we don't have space to talk about that here" which we would have if she didn't spend so much of the first part of the book talking about the wrong thing. Here are some of my issues (many of that I scribbled down while reading just trying to figure out what was going on with this book):
Part one feels like it is in the wrong book: To be clear for anyone who hasn't already read (or tried to read) this book, there are two parts. Part One is the gospel story and an overview of the whole Bible and how it points to Jesus – essentially like the Jesus storybook Bible. And Part Two is about motherhood (ish because it isn't really). She apparently feels the burden to tell us the whole Bible because it is essential to Biblical motherhood. While the later is true, I feel like she is missing her audience. People who are buying a book called "Missional Motherhood" have either read the whole Bible or at least know the gospel/ key points in the Old Testament. She didn't need to spend over half of her book recapping it. It is (mostly) well-written and Truthful however it is not about motherhood and I felt (until I got to part 2) that the title was completely misleading. The only thing that connects motherhood to the first part of the book is when she says things like "that is stretching it like maternity pants" or something weird like that.
Misleading Title: If you only read half of the book, the title would be completely misleading. but even if you read the whole thing, you may also feel this way. That is because when she talks about "motherhood" she actually means womanhood. She says all women are called to make disciples. If she is trying to write for all women not just moms (like she instantly says when she means motherhood) she is missing her audience. I don't know any non-mom that would pick up a book called "Missional Motherhood" and expect it to be relevant to her. It is almost as if Gloria thinks including "motherhood" in the title of a book will make sell more copies.
Awkward Formatting: Besides the formatting of the book being clearly awkward in the part one/ part two division. She spends so much time telling the reader about what she is doing… "We will talk about that later" "We will get to that in part two" " But we cannot talk about that now" "We're getting ahead of ourselves" "But how can we mother according to God's voice? We will answer that later. "No time for that now!" How about instead of trying to justify the weird organization of your book, just have a more organized book that naturally makes sense to the reader. I feel like this all should have been caught and fixed by the editor. It doesn't feel personal, just scattered.
Flowery Language & Forced Examples: The language can be pretty flowery at times and some sentences sound good but go nowhere and don't make sense to the paragraph. I felt like this happened so often I stopped trying to figure out what she was trying to say. She also included examples to make things more personal (I guess) but they felt so weird. Like when she said that the building of the Tabernacle was not like camping (which she would never do by the way ) where you get to decide to put your food in a tree or the car but instead God's people had to follow instructions exactly. Like what? Your best example to make the story of the Tabernacle more personal and relatable is to say it's not like an activity that you don't like to do where there are elements of personal choice? – pick a better example.
There are TONS of Biblical books on motherhood to encourage moms for the good work God has planned for them, read one of those and skip this one. It isn't worth the time. (2 stars)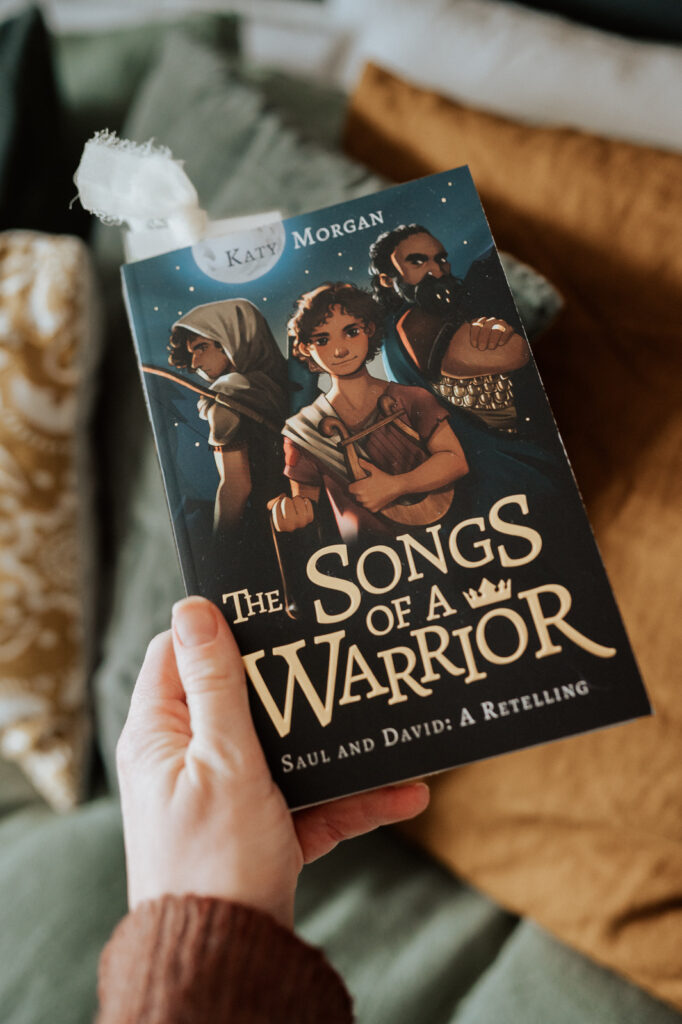 Knowing this book was a middle grade read, I wasn't expecting to get so caught up in the story! This book brings the Biblical story of David to life in a new way – and not just the same parts we hear all the time (aka Bathsheba.) I loved following the story of David, Jonathan, and Saul all before David became king. It was honestly insightful and encouraging in my walk with the Lord as well a bit hard to read in points already knowing the Biblical narrative (Saul's downfall & Johnathan's death.) I especially loved the chapter by chapter explanation in the back with Biblical and historical references for the story as well as the included Bible reading plan to point readers back to the word of God! This would be a great read aloud to my preschool/ early elementary kids and I would feel confident giving it to any reader! It was like Francine Rivers without all the romance! (4.5 stars)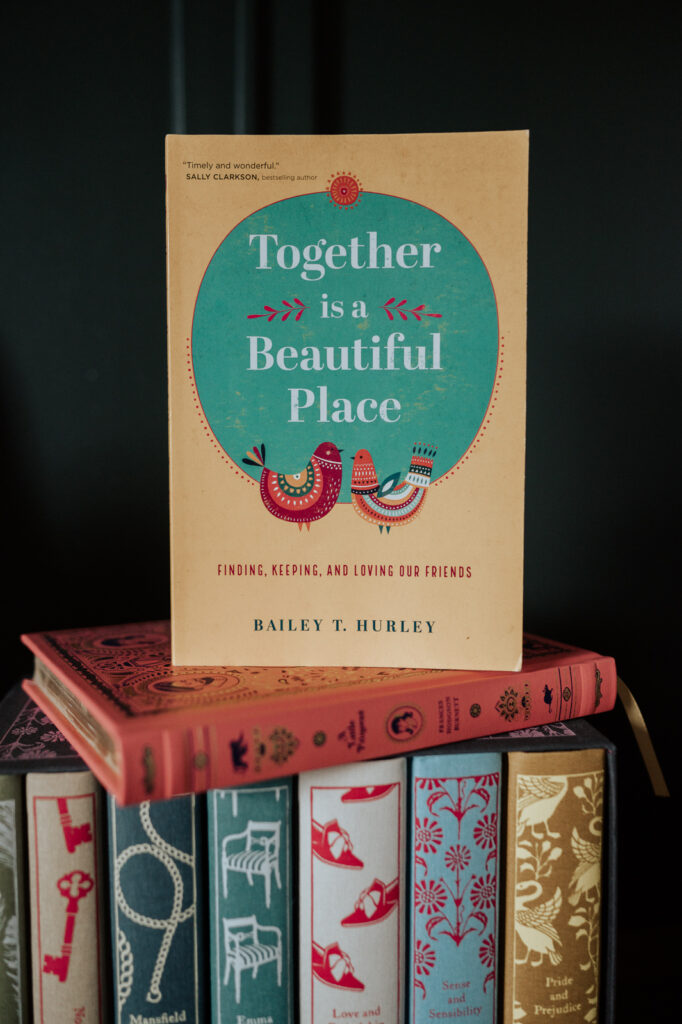 An easy, engaging, insightful, practical, encouraging, and (most importantly) Biblical book on friendship! In a time when we have a loneliness epidemic, this book is the tool so many need! God loves us and so we can love others! We don't need to look to our friends to complete us or sustain us or save us – God does that. Bailey has filled this book not only with the why, but also the how! It's a call for us all – no matter how many "friends" we have – to prioritize friendship, love our neighbors, and share the love of Christ though friendship. A great read for anyone looking to invest in friendship. (4.5 stars)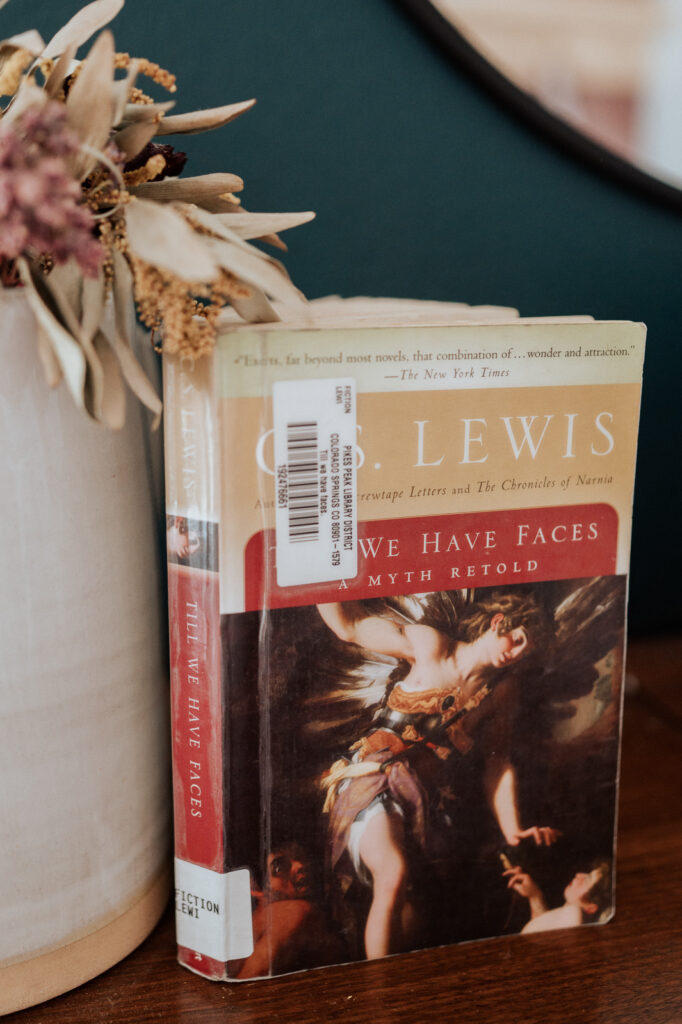 It has been a long time since I felt like I needed to write an essay upon completing a book! This book reads like those on an English class syllabus and I feel smarter just having read it. I listened to it as an audiobook (sometimes coming back to the pages in the book) and I found it so refreshing. I couldn't stop to reread each sentence & paragraph trying to analyze where things were going or decipher the deeper meaning lying behind each word. Instead I soaked up the whole thing as a full story – listening to Orual (I mean the narrator) as she told her story – being pulled through the length of the book.
Knowing it was a retelling of Cupid & Psyche but not remembering the storyline (& honestly assuming tragedy), I was pleasantly surprised by the path the story took! Orual is both endearing & frustrating. The kingdom of Glome feels like both a place in history & and place of myths. Life brings Orual misfortune and misery but some of it is also at her hand – begging the question who is to blame? TWHF is a novel that can be dissected & analyzed, philosophized & rationalized, dismissed & celebrated, but it can also just be read.
"I saw well why the gods do not speak to us openly, nor let us answer. Till that word can be dug out of us, why should they hear the babble that we think we mean? How can they meet us face to face till we have faces? " (p.249) (4.5 stars)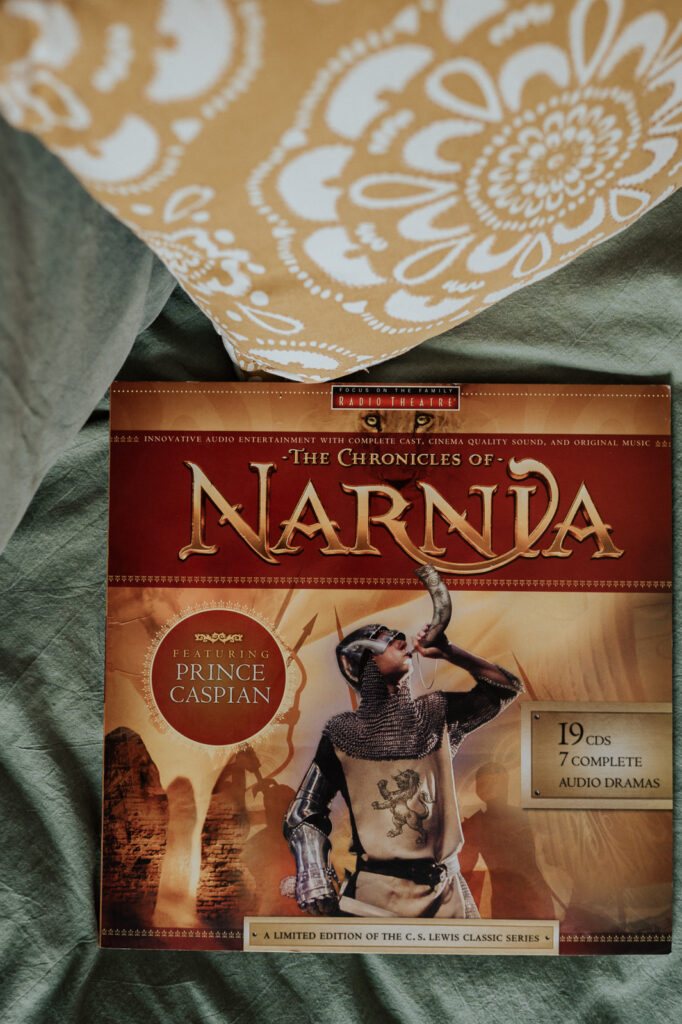 While technically not a read aloud of the book, these Radio Theatre (by Focus on the Family) dramatizations of the Chronicles of Narnia are SO GOOD! We listened to this one in the car with the family and both my 4-year-old and 3-year-old were very engaged. Obviously this story is five stars, but this radio drama is also 5 stars! All the voices and sound effects really add to the listening experience. Often we would have to sit in the driveway to get to a good stopping point because the girls were not ready to stop listening and I'd also have to pause so my daughter could ask why Lucy & Susan were sad or why the White Witch was mean. It was fun to see how they were soaking it all up & engaging with the story. My husband and I too were very invested which makes it a great family friendly listen for road trips or just driving around town! (5 Stars)
Another wonderfully done radio theatre book! Every time we got in the car the girls (aged 4 and 3) asked to listen to our story! I teared up several times – like when Lucy was the only one who could see Aslan, when Caspian was being tempted to use dark magic to win the war, and at the end when the first man walked through the portal. It's a great read and a great listen! (5 stars)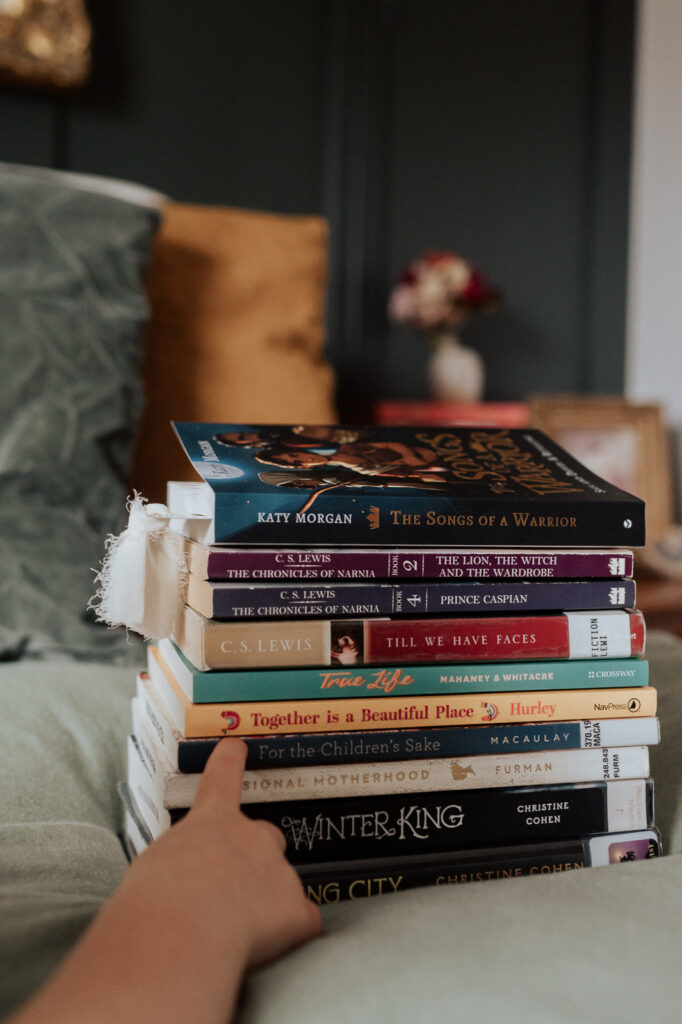 Note: Books marked with * are those I listened to on audiobook. Find me on Goodreads HERE and check out my progress toward my 2023 reading goal below! Please always give me book recommendations in the comments 🙂

Elizabeth
has read 10 books toward her goal of 23 books.