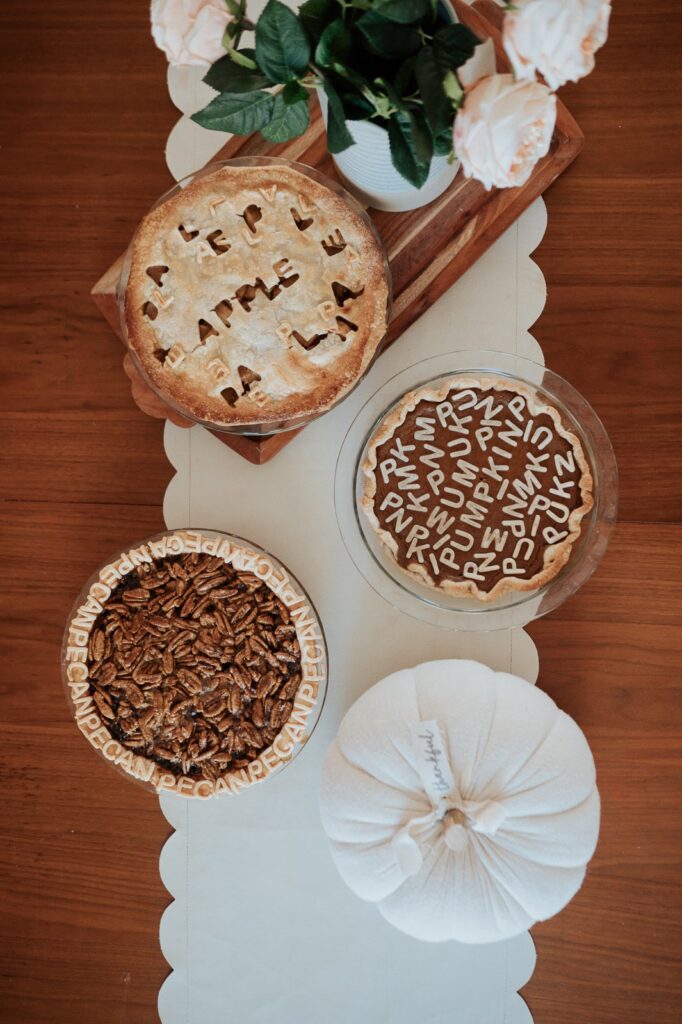 "Do you want to hear some life-changing news?" I asked Bruce one year ago today as he stood over the kitchen sick with a hand full of dishes. We had just got the girls to bed after a long & full day celebrating Thanksgiving with family. Assuming I was talking about another house project, he said "what's up" and glanced my way.
"I think I'm pregnant."
I went on to share how after dinner as we were all sitting around the living room laughing & chatting, I had a thought that it has been some time since my last period. I did a little brainstorming and digging in my calendar to see just when I thought my last period was and realized, if my memory was correct, I was several weeks late.
In the morning, after a quick run to the neighborhood grocery store, my suspicions were confirmed. "Pregnant!" the stick read as it changed before my eyes.
That was last year. This Thanksgiving I hold my nearly four month old son in my arms – even more to be thankful for!
Life-changing? Yes. Unexpected? A bit. But cherished , loved, and heart-bursting? Oh you betcha!
As much of a planner I am, most of my life is unknown. I had no idea when I was baking pies last year that this year I would do so between nursing sessions and naptimes. I didn't know that all the work I did slimming down the grocery budget last year would be eaten by inflation this year. Or that my hardest pregnancy would make me (finally) get off Instagram and quit my job as an "influencer."
But God did.
…
"When will I die?" my 4-year-old asks me as I wipe down the table after lunch. I don't know I reply trying not to be caught off guard by such a morbid question "but God does. The bible tells us that he numbered our days before even one of them came to be. He holds our lives in His hands so we don't have to worry."
"Oh cool!" Her little voice chimes in.
"And remember, if we love Jesus and confess with our months that Jesus is Lord and believe with our hearts that God raised him from the dead, we will be saved and we will get to live with him forever, even after we die here on earth."
"That's the coolest!" she replies before bouncing through the kitchen off to exclaim the good news of the gospel to her little sister who also responds just as enthusiastically – even more to be thankful for!
…
The house is filled again with sounds from the playroom – giggles, make believe, and the occasional toddler tiffs over sharing (or the lack there of). I'm working on the next thing – making dinner one-handed as my grumpy (for lack of a better word) infant refuses to be put down. My mind however is still ruminating on Psalm 139. I memorized it in high school and all that work is paying off dividends as the versus run through my mind. This psalm is packed with the beauty of God's intentional creation. Kitting us together, thinking of us with precious thoughts that out number the grains of sand, numbering our days. We are truly known and we are truly seen. His Spirit is always with us – his hand guiding us and holding us fast. God knows our days, our paths, our moments even though we don't, and he has got us!
Even more to be thankful for.
"Search me, God, and know my heart; test me and know my anxious thoughts. See if there is any offensive way in me, and lead me in the way everlasting."
…
I don't know where you're at this Thanksgiving. I do know I could easily make a list of things in my life & in the world around me that are hard. Things I don't like. Things that I wish would change. Things that wouldn't necessarily grace the list of a Thanksgiving "Things I am Thankful For" list.
But I know that with Christ there's even more to be thankful for. And my prayer each day is for eyes to see the riches (and richness) found in Him. I pray that for you too.
Happy Thanksgiving!