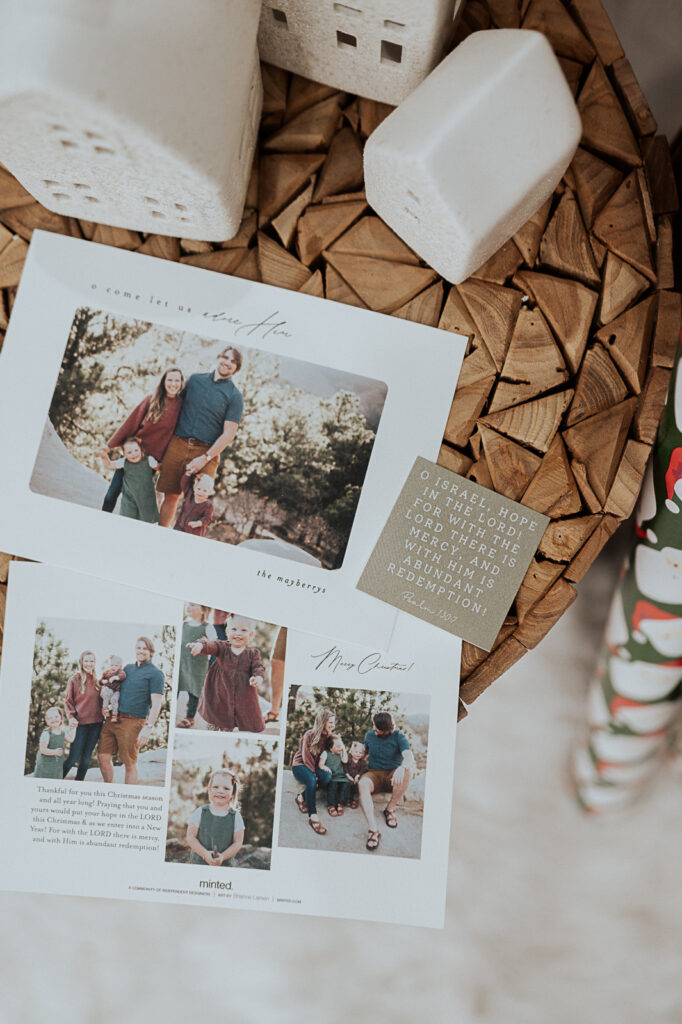 Have you mailed your Christmas cards yet? It is not too late to order them and send them in the mail! In fact, Minted's addressing service can really help you get those cards out in a jiffy! That sure ame in handy for us this year! HAHA!
Today I wanted to share with you how we got about making our Christmas Card each year! It is one of my favorite traditions and I cherish all my cards! I even save one for myself each year to display the holiday history of my family each year!
This year we chose Minted for our cards (a tried & true favorite) and I am so excited to share with you how it all came together!
Picking the Perfect Photo
When it comes to picking out the photo for my Christmas Cards I have a quick list I run through my head when I start looking through our photos to pick the one for our card:
Is everyone in it?
Does it feel like us?
Is everyone looking? Or Smiling?
My personal preference for Christmas Cards is that the whole family is in it! I know people like to do just the kids or sometimes dad doesn't like to be in photos, but for me everyone must be in it. I just value the family photo and love watching the progression of our growing family.
It is also important that it feels like us! It doesn't need to be perfect or overly posed – but just our little family in this season.
Lastly is everyone looking or smiling? This doesn't have to be a yes for both or either really but I do like to think of it. If there is one I love of us smiling but not necessarily looking at the camera, that could still be the winner, but I do love if everyone is looking at the camera and smiling naturally!
The best way I have found to do Christmas cards is to have a family photo session within the last couple months. Megan Klackner took our photos this year so I used the ones from this session for the photos! I love having this option because it feels a bit more intentional than a phone shot from a stranger on the beach while you were on vacation and it also is really cohesive if you end up using multiple photos on the card. But sometimes you do have to look through your memories for a family photo, and that is okay too! Just try to find one with everyone!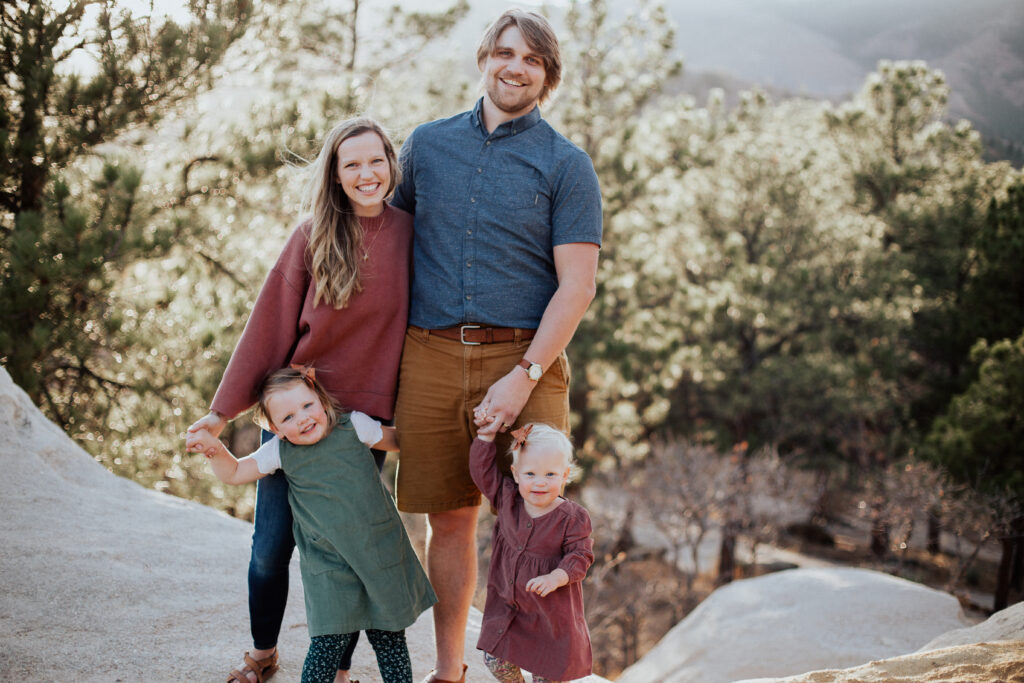 Picking the Perfect Card
Now that you have the photo, you have to find the card! There are so many options these days but I love how Minted let's you add your photo into the previews of all the cards as you search! I inserted my photo to help me look for the perfect card! You can also add filters like "one photo" "minimalist" and "horizontal photo" that helps narrow things down for you!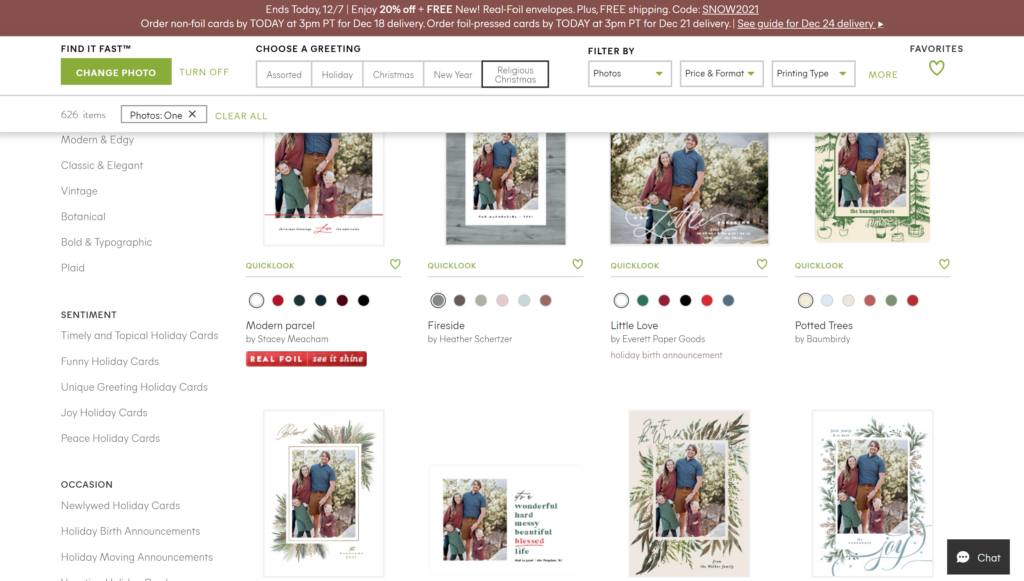 The perfect card for me shares our heart for the season and is typically (although not always) more modern and simple in design. I also make sure that no one gets covered or cut off by text. Some cards look super cute but they don't work with the photo I have. Minted has tons of options so I always still find one I love!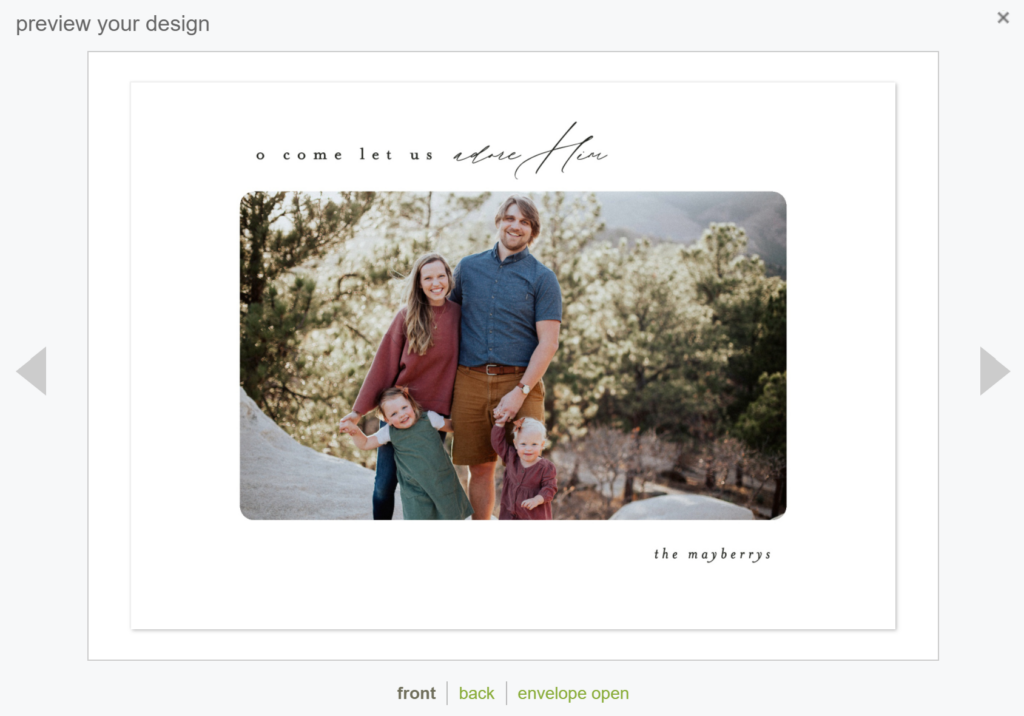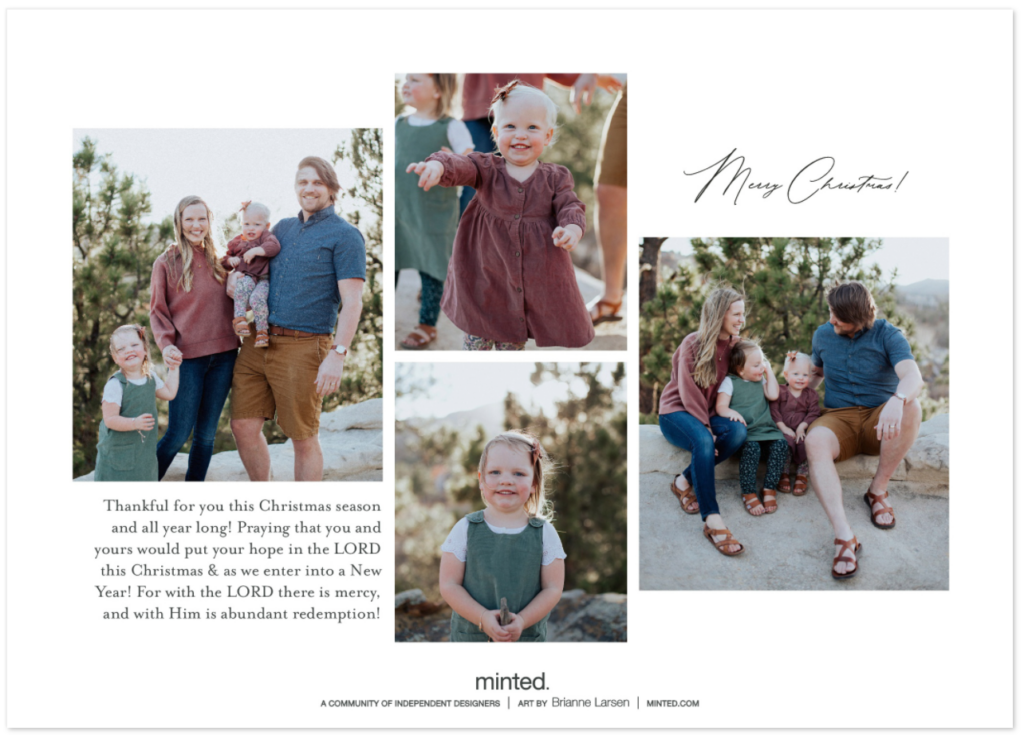 Once you have found one you like, you can click in to customize them! I always make sure to look at the preview to make sure I like how it is all coming together! Notice something that you would like to change? Submit a design request and the Minted team will change it for you for free! I wanted to make sure that the "adore Him" and "Merry Christmas" on the front and back were the same font and they made sure to do that for me!
Once you have everything finalized, you can connect your Christmas card spreadsheet and let Minted do all the addressing for you! They will give you blank cards for the extra cards above your list. This is perfect for the last minute additions and addresses you are still waiting on!
You may also notice that we added verse cards to our cards this year! I made them with Minted's business cards and they came out great! Last year we were unable to add a verse to the back of our card so we added a verse card. They turned out to be such great hits with our friends and family who kept them up year round, that we decided to make it a tradition too!
Happy Christmas Carding!! and a Merry Christmas to you and yours!