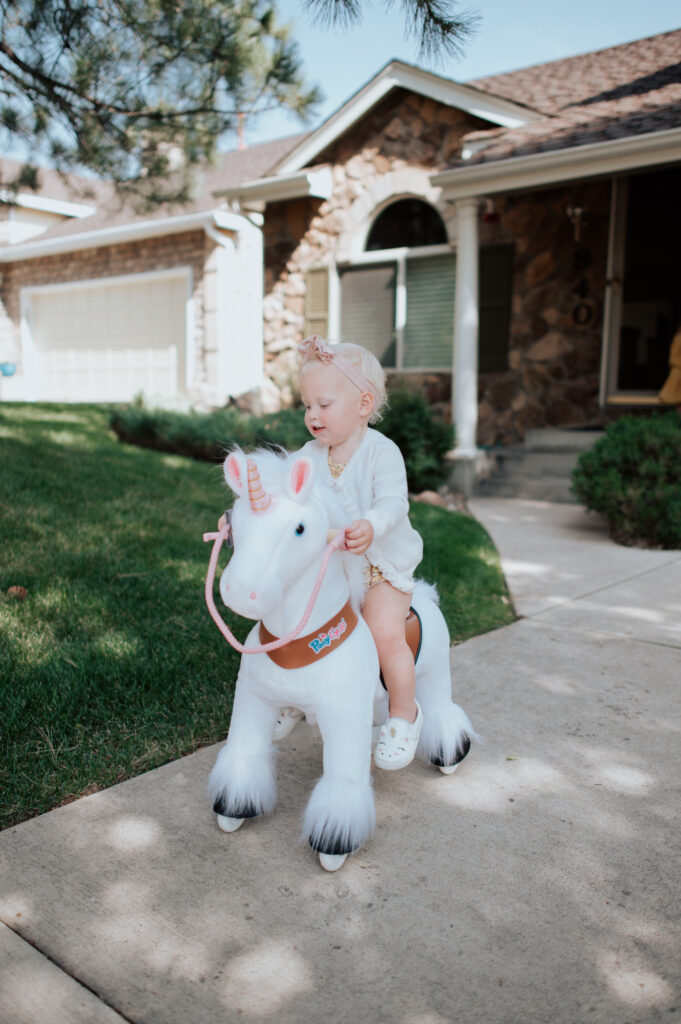 May I introduce the newest member of our family, our very own unicorn! In honor of Hilde's birthday, the girls opened a big box that arrived on our friend porch and discovered a pony inside! In music class we sing a song called "Riding on a Pony" and ever since the girls got their unicorn pony from PonyCycle®, they have been singing that song on repeat!
The girls have been riding it in circles around our house on the wood floors but our driveway isn't the most friendly for this activity so we loaded it up in the car with the girl's and went over to Grandma's House (and Grandpa's too! 😉 )
What is really fun about this ride on horse is that it gallops! It rides almost like a horse when you push up and down on the petals! Hilde has it down but it isn't as easy for Millie yet! Hilde however is the sweetest big sister and loves using the rein to pull her around. IT also comes with a break if they get going a little too fast – but my girls haven't figured that out yet! HAHA!
PonyCycle has several different colors and styles but we had to go with the white unicorn with pink accessories! It is just a little more magical to ride around on a unicorn! Please also notice the girls' matching unicorn shoes – they have to wear them when they ride the pony! HAHA!
Childhood is such a fun season. I love watching them play together, use their imaginations, sing songs, and just have fun. I'm in no rush for them to grow up!