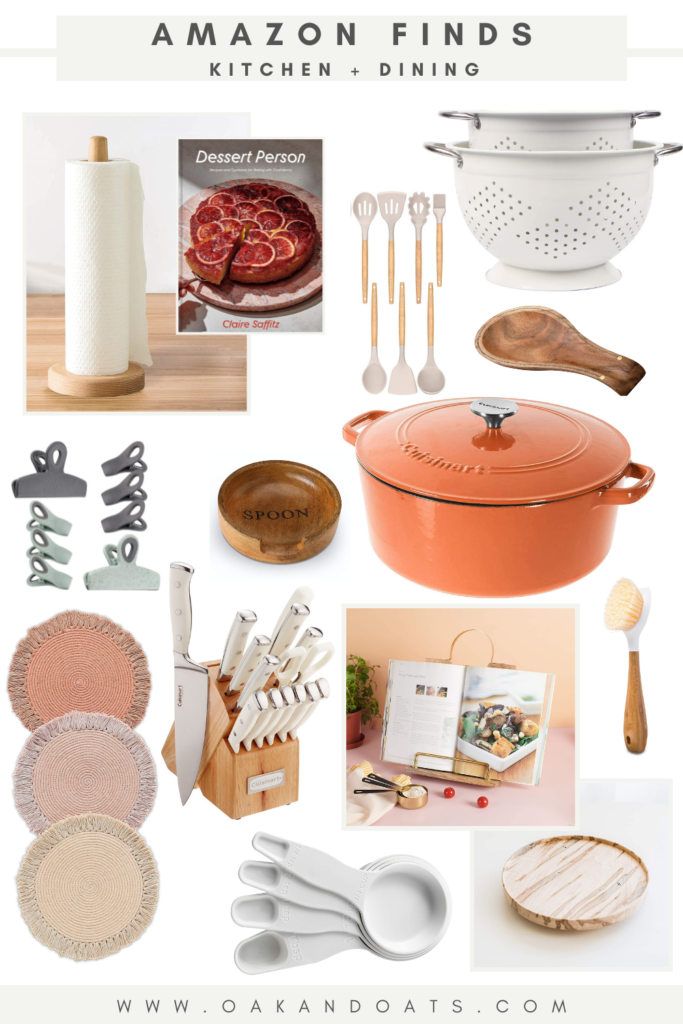 We're still in the middle of our kitchen renovation, but our dining room is practically done! I am toying with the idea of adding fun + bold window treatments but I haven't bit the bullet on that yet 😉 One day I know we will have a finished kitchen but until then, I am making it homey and on brand as we go. I finally feel like I have a style that flows through the whole house and as I need to replace things, I'm making sure they feel on brand. Here are some things I am loving from Amazon these days for the kitchen!
Paper Towel Holder – $10 || Dessert Person – $23 || Kitchen Utensils – $25 || Colander Set – $34 || Spoon Holder – $15 || Chip Clips – $10 || Spoon Holder – $15 || Cast Iron Casserole Dish – $90 || Pot Holders – $15 || Knives – $100 ||Cookbook Holder – $35 || Dish Brush – $9 || Measuring Cups – $11 || Handmade Lazy Susan – $80
I just bought the measuring cups (I love that they are plastic, simple, and practical), the chip clips (they are cute & work!), the paper towel holder, and potholders. Bruce got me Dessert Person for Christmas and now that we have a working stove/ oven (after nearly a year and a half!) I can finally use it! And we already have and love the dish brush! It's a great brand, holds up well, and looks good even when left out!