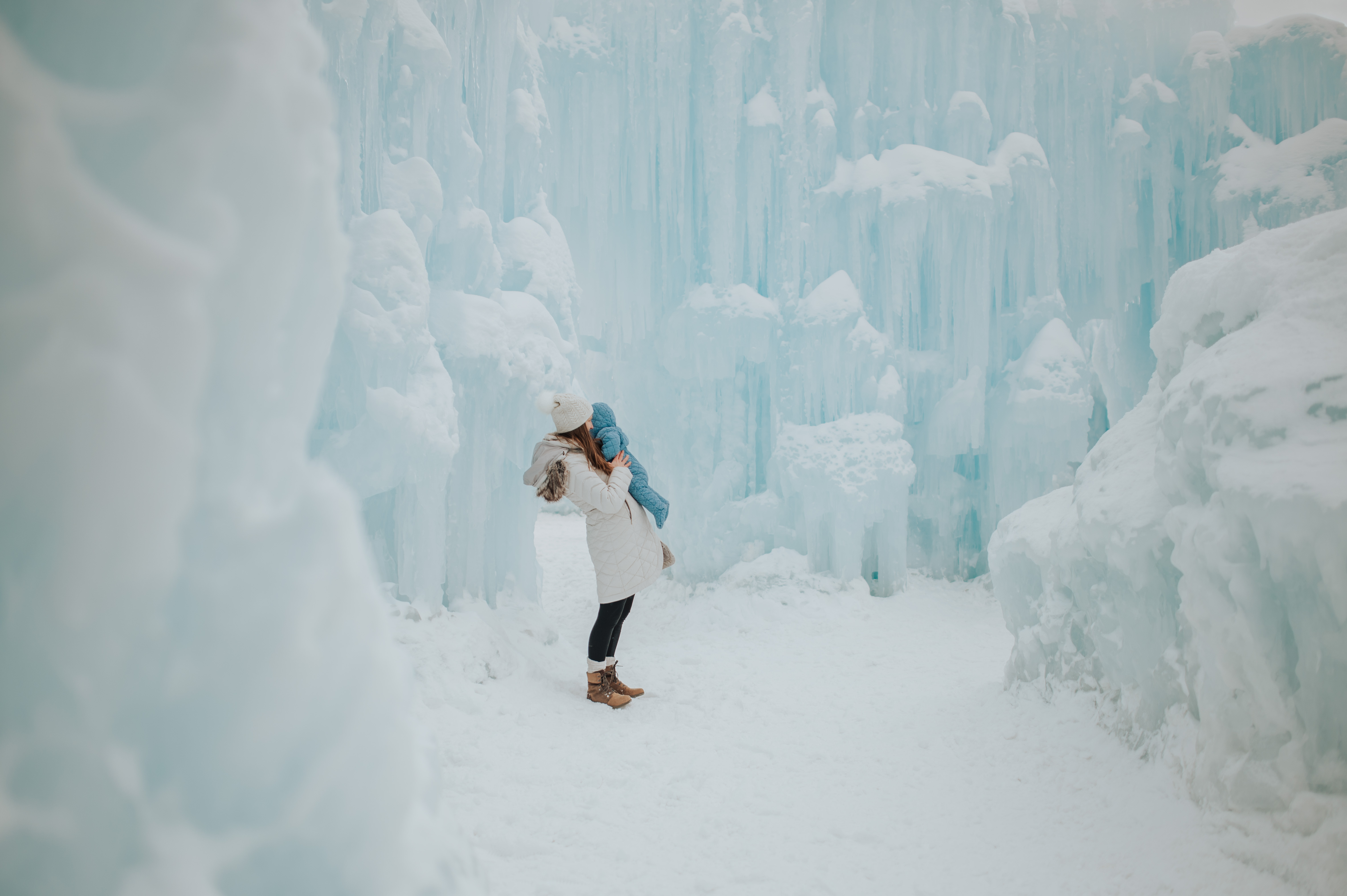 I discovered the Ice Castles on Instagram two years ago. By that time, the Ice Castles in Dillon (the closest ones to us) were already closed. I made a note to go the next year. 2018 rolled around and I was SO morning sick the entire time the Ice Castles were here. I think about December and January of last year and it was such a blur. Hilde is obviously SO worth it, but I did nothing for a good 8 weeks besides eat saltines and sleep. haha. I tried to talk Bruce into going, but we both knew I would be carsick the whole 2 hour drive and  wouldn't have the energy to really enjoy the day trip. He encouraged me by saying we could go the following year with our child. We didn't know at that time our child would be Hilde – let alone a girl!
And honestly too quickly, January came around again and the Ice Castles were open in Dillon Colorado! It was finally our time. Being that I had been dreaming about going for years, I started getting nervous that they wouldn't be as impressive as I wanted. Don't worry, they were just as magical as I had hoped and we took plenty of photos (and video!!) to prove it! We invited my little brother Chris and his fiance Julie to join us! We love having family near by and want them to be as involved in Hilde's life as they can!
We couldn't get one smile out of Hilde the whole time we were there but the rest of us loved it! We've discovered Hilde is a warm weather girl! She was content as a clam our entire Florida trip but the moment we got off our plane back in chilly Colorado she was not thrilled 😉 Despite being bothered by the cold (the cold does bother her anyways) we got a million cute photos! We did head back to the car before Chris & Julie and so we missed the whole Star Wars photo shoot! My brother took some photos and let me share them here with you! It was like the planet Hoth and totally made it feel like Disney World 😉
We loved it and had a blast. Defiantly something to add to your winter in Colorado list! They also have 5 other locations so you can see if there is one near you!
Some Tips:
Get tickets online before you go and try to get the first time slot of the day. This makes it less crowded and gives you more opportunity to get photos without people.
Dress warm! It is a castle made of ice (ice is my life 😉 ) so snow boots, gloves, and hats will benefit you!
You can't bring a stroller but you can bring a sled for older kiddos to pull around. You can either carry your baby around like we did or use a carrier to carry them.
There are tunnels and slides that older kids would love playing in! Put your kids in snowsuits so they can play in the snow while you are there!