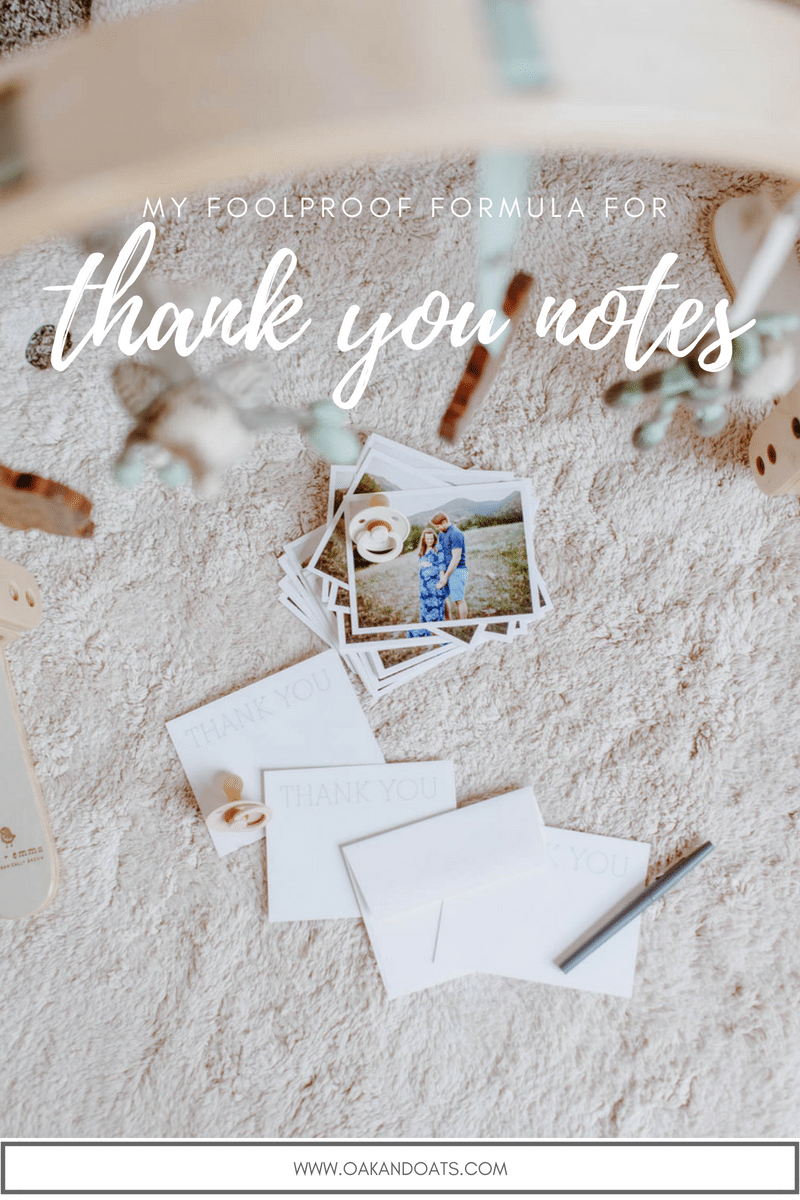 Ask Elizabeth: Are you planning on sending Thank You cards for all your baby showers and gifts you are getting? I am torn about it. I feel like becoming a new mom will already be so overwhelming to me and I hopefully was able to say thank you to most people in person, but I don't want to be rude. Also, I just don't know the expectations anymore. 
This is a great question! (PS: Remember you can ask me questions at any point by filling out the box on the right side of my blog or leaving a comment or sending an email.) I was actually excited when I saw this one come through because I had been thinking about it and decided that yes, I was going to send out thank you cards! I did them for my wedding  and I wanted to do them for my baby as well!
My rule of thumb is send them if you can and when you can!
Especially if you were not able to say thank you in person (like for a mailed birthday gift or all the wedding gifts you don't open until after the honeymoon!) People are honestly all over the board with this. Some people expect thank you notes and others are surprised to get one in the mail. When it comes to sending thank you notes, I say keep it from you heart and not out of obligation! A forced thank you note to win others approval misses the point. I like to send thank yous because it is a way that I can spend a couple minutes thinking about the gift giver and letting them know how much they mean to me!
All that being said, I wanted to send thank you notes to all the people who so graciously have showered Hilde with so many adorable things but I also know that once she is here, my world will be rocked! So my plan is to send out as many as I can BEFORE she comes! haha. I've got a little station set up on the kitchen table that I am using to send out a couple whenever I have a chance to sit down. I've been writing about five in the morning while I drink my coffee!
I created Thank You cards with Pinhole Press.
Because I wanted them to have a photo on them! haha! I'm all about photo cards! I went back and forth with waiting for Hilde to be born to order them so she could be on them as well, but ultimately decided (like I mentioned above) I wanted to send as many as I could before she arrived! So I went with a maternity photo and ordered them right after we got our maternity pictures back! They arrived SO fast. Like speedy fast. I was expecting them to take a couple weeks to print and send! So that was a nice surprise! These are the exact cards I ordered and you can get exactly the amount of cards you want so I counted the names on my list and added some more for others!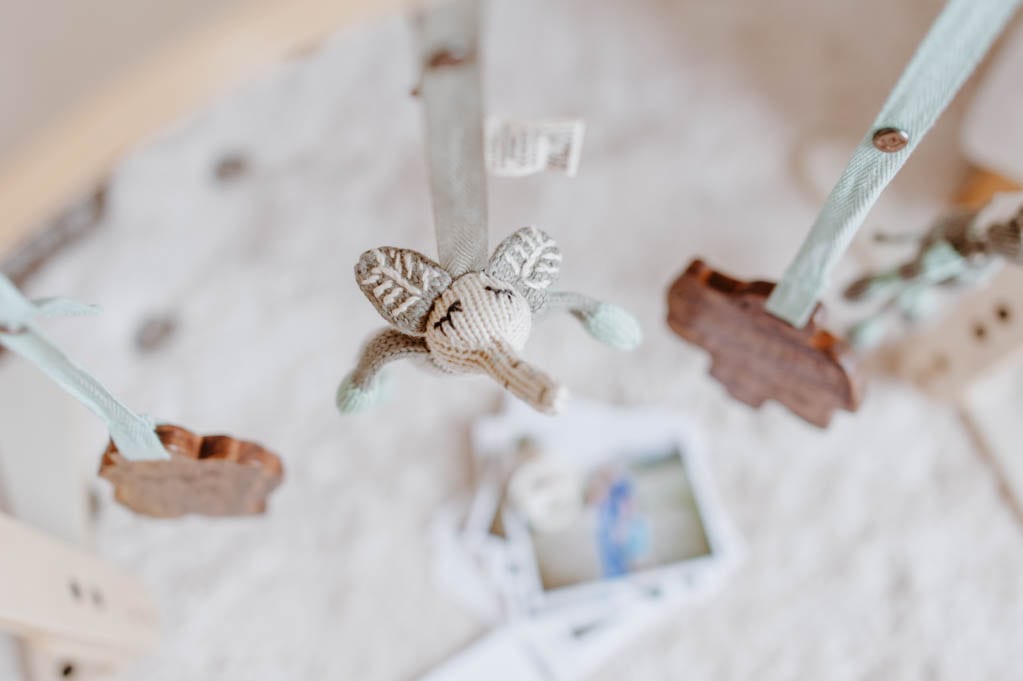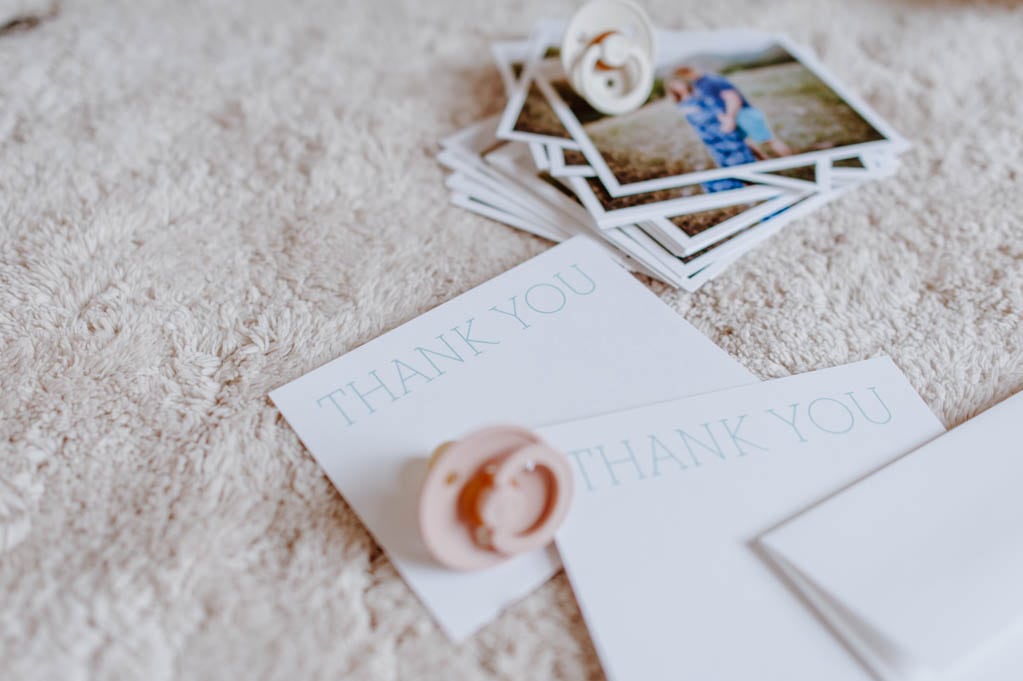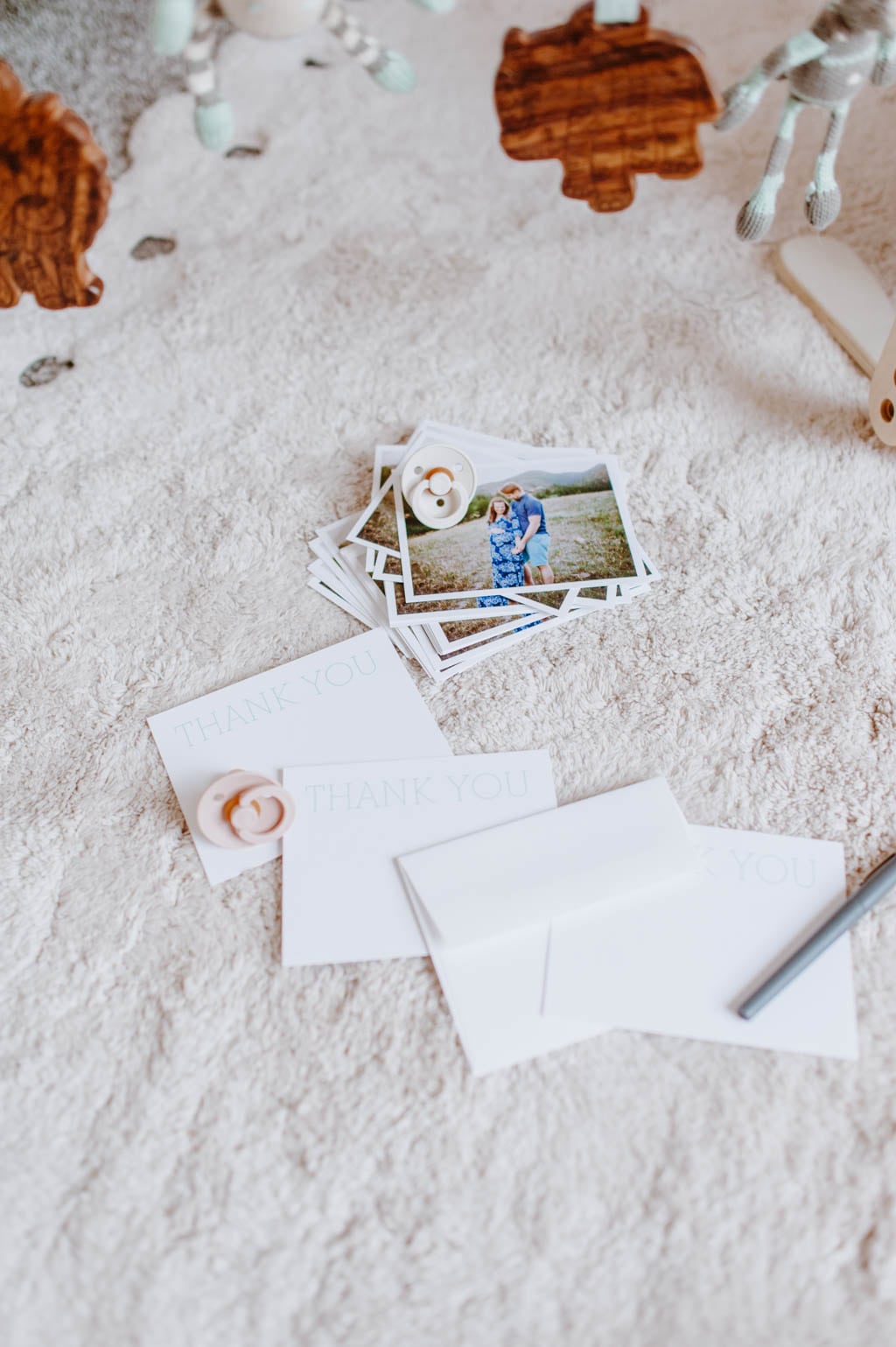 I have a really simple formula that I use for all thank you notes (not just for baby!) You'll be able knock out those cards faster than you thought while also making them super personal! No need to overthink what to say!
The Formula:
Greeting
Like any note, start with a greeting! Make this personal too! like "Aunt Noreen" or " Megs" or "Baby Sis"
Reason
Then share why you are writing. "I wanted to say thank you for celebrating Hilde's baby shower with us!"
Gift
Mention the gift and also share how you are planning or already using it! With a money or gift card gift feel free to share what you already spent it on or are planning to spend it on! "We love the adorable floral blanket you sent! I've already washed it and it is hanging out on our rocker. I cannot wait to snuggle Hilde in it!"
Personal Note
This is where I add something about them and why I am thankful for them personally. I also talk about the next time we can see each other or mention how I can't wait for them to hold Hilde themselves! "We are so looking forward to thanksgiving when Hilde will be able to meet you in person!"
Sign Off
And like any note, sign off! For a baby shower I think it is fun to add you baby's name too! If you are not revealing the name, just say "Mama & Baby Girl" or something fun like that!
Some Tips:
Create a space where you can leave everything out until you are done and work on writing cards a little bit at a time.
Send right after a shower or right when you get a gift in the mail so you don't get overwhelmed by a big list.
Keep a list of gift givers and cross them off once you've dropped a note in the mail.
Send as many as you can before baby comes but if you don't get to them all, give yourself grace. Chip away at them while you can.