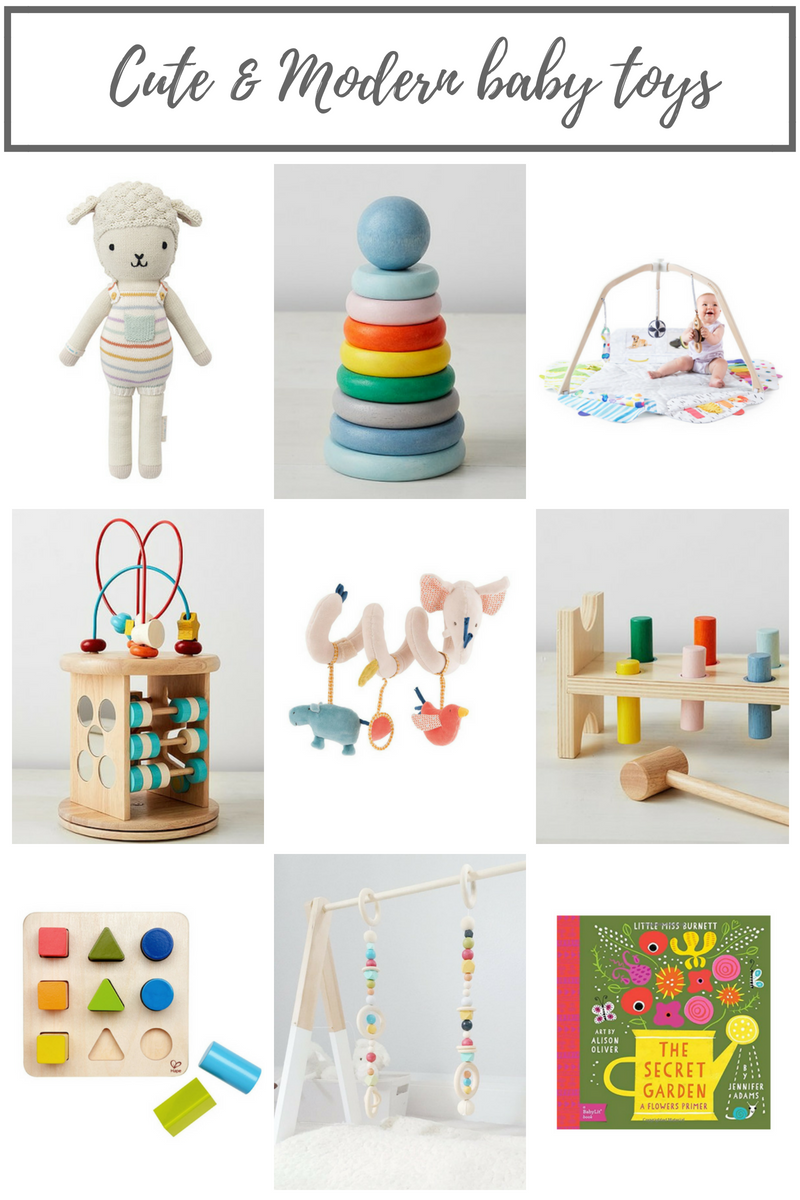 I'll be honest, I think a lot of baby toys are tacky. HAHA! Just writing that made me laugh out loud. I know a lot of toys will sneak our way into our home but honestly, I don't want a house cluttered with toys. Plus the Tupperware from the kitchen cabinet was always more fun than the basket of toys growing up – amiright?!? In an attempt to keep the toy count down, I've only registered for several cute & modern baby toys I like and I think will not only be fun for our little girl, but will also look good in her room!
Early in our marriage we spent money on crappy things to fill our home. Not that it was all necessarily bad – we were just young and couldn't afford to spend money on quality items. But it ended up allowing a bunch of stuff to fill our home but nothing we really loved. I always felt unsatisfied (which is a heart issue not a stuff issue just FYI!).  We started actually saving up for the quality items we really wanted (and not settling on cheaper things that didn't fit what we were looking for) and it began to make a difference in how I viewed our home and our spending. Even now as we go room by room to create a space for our little girl, I cannot believe how much stuff we have just around. With another human on the way, the time is now to really kick those habits in the booty and mindfully spend our money.
Anyways, here are 9 of my favorite things! I think they will be able to grow with her and be cherished in different seasons. I know people love to buy toys for kids (which is why I made sure to register for some) but I as I am currently processing through minimalism and the idea of "having less but doing more" – I just don't want to keep shoving "more" into every room. I know a baby brings on a lot of new purchases but I don't want to get too carried away with it all. I would rather take her to see the ocean than buy her a bunch of toys. So without further adieu, here are 9 cute & modern baby toys!
Avery the Lamb – $52 (1 doll = 10 meals!)|| Preppy Wooden Stacker – $16 || Lovevery Play Gym – $140 || Wooden Discovery Maze – $79 || Activity Stroller Spiral – Les Papoum – $45 || Preppy Hammer and Block Game – $27 || Hape Color and Shape Wooden Block Sorter – $13 || Signature Scandi Wooden Play Gym – $79 || Babylit The Secret Garden – $8
What are some of your favorite kids toys? What style are you drawn to? Do you like to give toys as gifts?