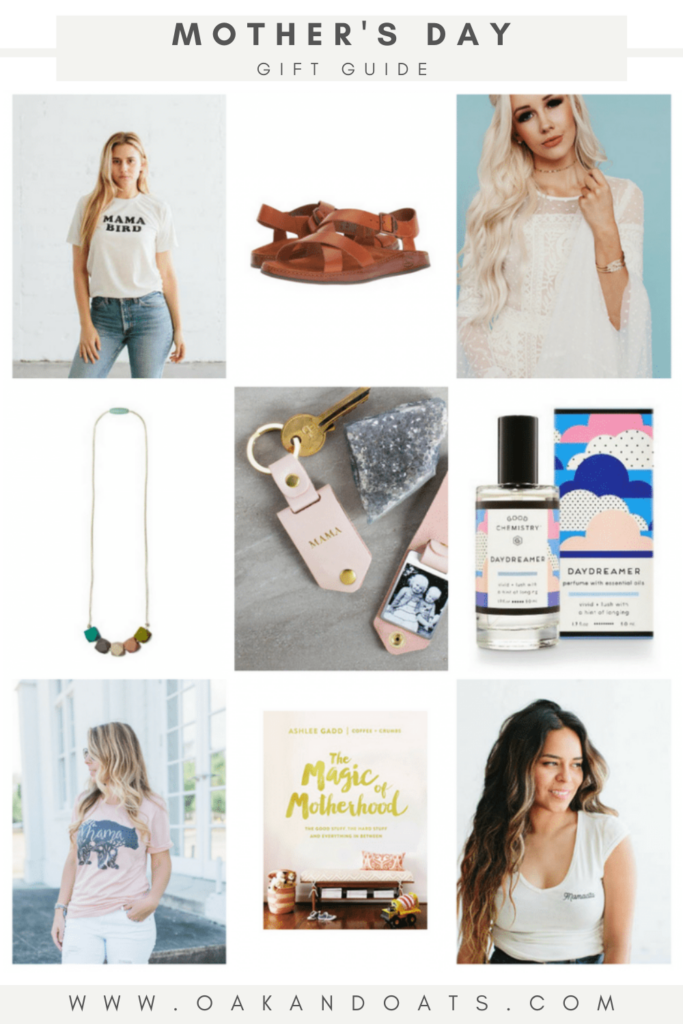 I'm more excited about mother's day than I normally am. It's all for selfish reasons – let's be honest! I am a mama (nearly) for the first time in my life this mother's day! I can feel our little girl moving around & wiggling all the time am I just cannot believe that I get to add the role of "mama" to my many hats! It is a gift and a blessing. One I feel completely unprepared for but also absolutely excited about!
Today's Thursday Links is coming to you on a Tuesday this week! haha. My birthday is Thursday so I'm switching things up this week to allow for a fun birthday post! This Thursday's (or should we say Tuesday's links) is also a Mother's Day Gift Guide! Mother's Day is just around the corner (May 13th) so you need to get those orders in soon!! I've rounded up a couple things I am loving this year as an expectant mother and any modern mama would love as well!
I'm just all about this mama bird shirt. So cute, classy, & casual! Plus there is a matching baby bird onsie that is adorable and on my baby registry!
I really am a fan of the leather Chacos! I already have one pair but I would love another! I feel like this style is so great for everyday wear – can be dressed up or down!
These bracelets are STUNNING and any mama would rock them on her arm!
I am super into this idea of a teething necklace! Not only is it cute, but baby can grab it and chew on it (like they love to do!) It is the best of both worlds!
I came across this on etsy and fell in love! How cute is this style and how fun to have this on your key-ring!! I'm really into it. I've just got to wait for baby girl to be born to get the picture on the inside!
Okay, I already bought this for myself!!! As an early mother's day gift to me! I was recently telling Bruce how expensive perfume was and how unsure I was about all the ingredients anyways. Then I found this at Target! Not only does it smell amazing, it is vegan, cruelty-free, paraben & propylene glycol free, and made with essential oils! The smell is light but fresh and long lasting! Oh, and it is way affordable! Super into the whole Good Chemistry line!
The blush color is stunning and the mama bear is adorable. I'm all about the mama shirts!
I have this on my registry and if I don't get it, I will buy it! hahah. I have loved Ashlee Gadd's blog for years now and I'm thrilled that I am a mom-to-be so that I can follow Coffee & Crumbs and get this book! I love her style and her writing!
Another Mom shirt but I cannot help it! I love the simple style of this one!
Happy Mother's Day all you Mamas!