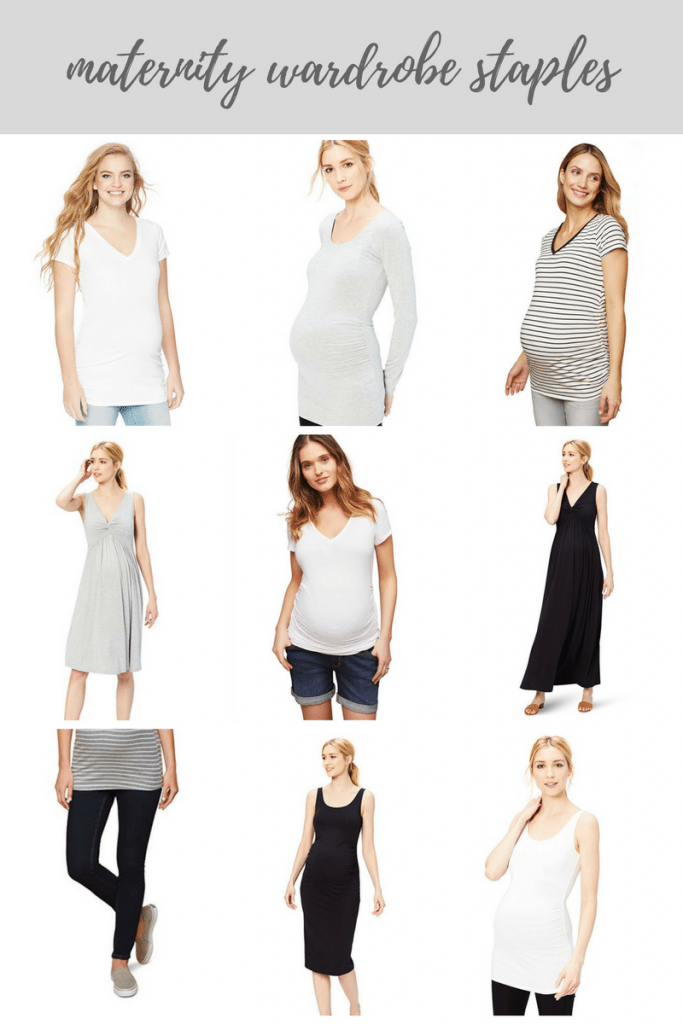 Today on Thursday Links we're talking about maternity staples! I am pretty sure I naively though that my undershirts and classic t-shirts would work as I went into pregnancy. I was quickly informed by my belly as I put on a white v-neck a couple weeks ago that they wouldn't no longer work for me. My belly kept peeking out and I realized why all those maternity shirts were so long – the shirts that used to always work were now WAY to short!
I'm no pregnancy pro, but I do know that it is important to have a couple staple pieces that you can mix and match. Maternity shirts in a couple classic colors are a must have, a good pair of jeans and shorts, and a couple dresses. Plus that undershirt! You will still want one and your old ones won't work! haha.
Maternity Wardrobe Staples
When none of my v-necks fit, I immediately bought a couple of these solid v-necks. White & Black are classics to have and look great with a plethora of outfits! I wear these nearly every day.
If you are preggo for any part of the winter in a colder area, a classic long sleeve is a great thing to have in your maternity wardrobe. Especially when you have to go out to dinner with friends on a chilly night. Your over-sized sweatshirts won't work for going out 😉
I'm obsessed with these and I think one or two "fun" patterned v-necks is also a staple. To dress things up even when you are just wearing shorts & a t-shirt!
Especially for bring pregnant in the summer, a flowy sleeveless dress can work for everyday wear or fancier events!
A classic staple in my book. Everyone needs a pair of shorts – even when you are pregnant. You won't want to wear dresses or workout shorts every day.
Another fun, flowy favorite! I think maxi dresses are adorable on pregnant ladies! haha.
A necessity for the winter months and just cooler days in general. I wear these a good 50% of the time I leave the house.
Add a fun kimono to a dress like this and you are set for work, a baby shower, or a wedding.
Great for putting under anything you may need. I love a good cami and being pregnant, you still need one sometimes!
While it is fun and tempting to get a bunch of fun maternity clothes, sometimes all you want is a classic, basic outfit. It is important to remember to snag some classics as well. Also, they will be able to mix & match a bit more so that you don't have to buy so many new things. It's only 9 months but your body changes so much that you do need new clothes! haha.