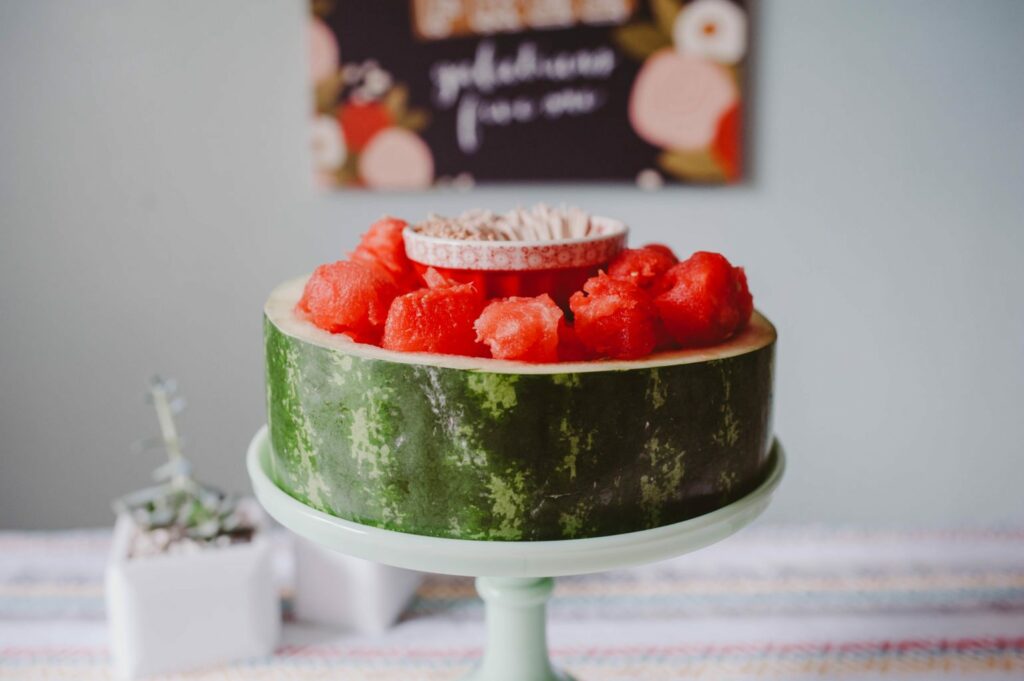 Thank you Naked Juice for sponsoring this post. All thoughts and options are my own!
When I was little, we would sit in a line off the edge of the back porch and see who could spit their watermelon seeds the furthest. I have no idea who ever won but we were always thoroughly entertained. Our faces, hands, and t-shirts would be covered in sweet sticky pink juice by the end of it but we didn't mind one bit – watermelon was the taste of summer.
Last week I was at the store and walked by the big boxes of watermelon. I realized I hadn't yet bought one this summer! I have eaten it at BBQs and gatherings but I hadn't bought it myself. I stood over them inspecting them for awhile and then added one to my cart.
While I am still all about watermelon as an adult, I'm less all about getting it all over my face and clothing! That's why I love this fun & simple way to set out watermelon to be enjoyed!
WHAT YOU NEED:
Watermelon
Melon Baller
Knife
Cutting Board
Cake Plate
Small Bowl
Toothpicks
HOW TO:
Lay the water melon on it's side and cut off 1/3 of the side.
Then cut of 1/3 of the other side, leaving you with a section from the middle of the watermelon.
Scoop out all the watermelon and put them in a larger bowl using a melon baller until the section is hallow.
Add the middle section to a cake plate and place a small bowl in the middle to hold the toothpicks.
Add back all the watermelon balls to the empty space around it (try to drain them as much as you can before you add them back.)
Fill the bowl with toothpicks.
Set out to be enjoyed!
I love how simple yet FANCY this little watermelon display is! And speaking of delicious fruit, did you know nearly 30 million Americans live in food deserts without access to affordable, quality, fresh fruits and vegetables?! I'm not just talking about fancy watermelon trays or home gardens, I'm also talking about grocery stores. That means nearly one out of every 10 people in neighborhoods across the country are affected by this crisis. Naked Juice has launched the #DrinkGoodDoGood to help fight food deserts and provide fresh produce where there is none! Getting involved is really easy – for every fruit and veggie selfie shared using #DrinkGoodDoGood (on Instagram, Facebook, or Twitter), Naked Juice will donate 10 pounds of produce Wholesome Wave to help communities in need! I participated last year and I am so excited to participate again this year! Join us and get your fruit or veg selfie on too!