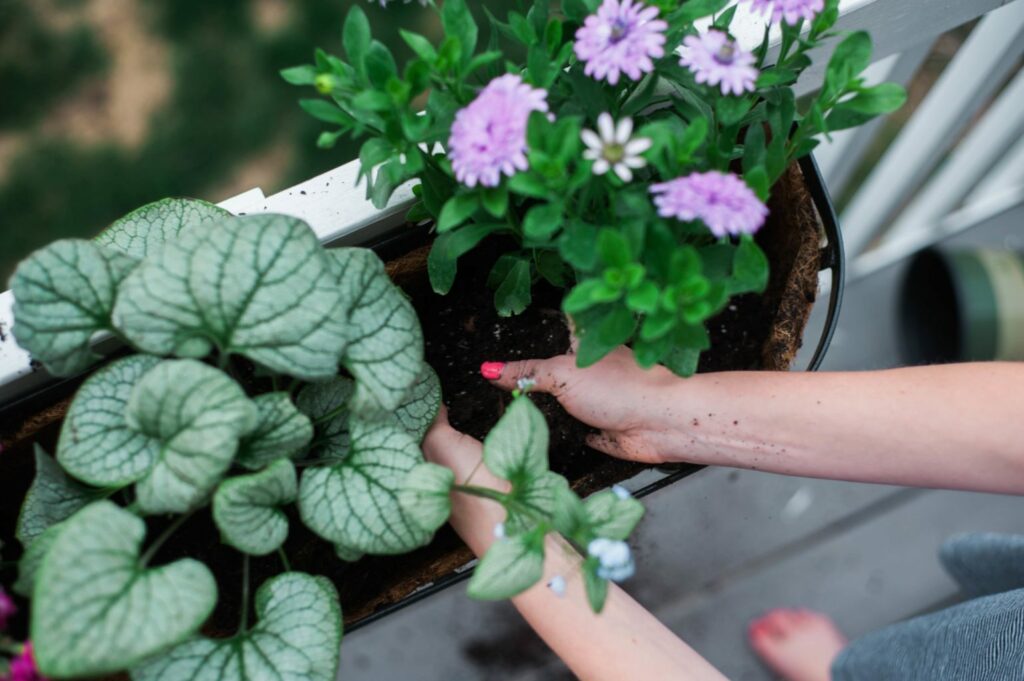 This post is sponsored by Monrovia, but the content and opinions expressed here are my own.
It looks like I have a new tradition – planting flowers my birthday week. Last year I planted our first porch garden. I was just about to go (aka jump) full time into blogging and I felt the freedom to take care and nurture a little space. Now I am back at it again.
There is something so exciting about planting a garden. Picking out each flower and each plant. I can always go overboard because I LOVE THEM ALL. Although I've been pinning like crazy on my garden pinterest board and getting excited about the day when I will have more space, I don't want to just skip the years I am in our town-home. Honestly, I love this place. For the last (nearly) five years we have called this place home and I am passionate about making your home feel like home regardless of where you are living. All that to say, my little porch feels more alive with flowers.
I had already invested in some adorable baskets last year, so this year I only needed to grab new liners. I headed out to Lowe's where I found too many beautiful Monrovia plants. I honestly couldn't stop putting them in my cart 😉 I'm all about the color when it comes to porch decorating – nothing screams summer to me more than hot pink, bright purple, and fire orange. #ammiright?! My sweet neighbor agrees, she was so excited to see me planting for this summer and she told me I did GREAT job picking out colors this year 🙂
Tips for your Porch Garden
USE BASKETS & HANGING PLANTERS
Porches can get crowded fast. Especially if you have a small apartment or town home porch. You want to save the majority of that space for living space so bring the flowers up off the floor. I love having hanging baskets on the railing because they are beautiful and out of the way. Plus all my neighbors can see them better up there anyways.
PLAN AHEAD 
You don't have to go crazy overboard with this one but have a general idea of where you want plants before you buy them. I knew I wanted to plant my hanging baskets and a pot we have on the front porch. When I walked into Lowe's I knew about how many plants I would need for those spaces. This is also important because some plants like lots of sun and some plants need more shade. Know where you want things so you can find plants that will be able to thrive where you want them. From here you can pick the flowers you want for the spaces by pattern, style, color, or whatever your heart desires!
Make sure you also get soil and baskets/ pots while you are shopping if you need them (more things to think about before you go!)
SPACE OUT
When you start planting, lay out all your plants where you want them. You should arrange the plants in the order you want them. It is always good to make the plan and see where things fit before you start planting! You may move things around a couple times and it is SO MUCH EASIER when they are still in their plastic pots!
PACK IT DOWN
When you start adding the soil, make sure you pack it down and secure all the plants. If the dirt is too lose, the first ran (or watering) can make the plants move/ even fall. Just pack it up and make sure the plants are safe and sound!
WATER
After you are all done cleaning everything up, water your new plants! They have been through a lot and water helps the new soil and the old soil to blend together. The water encourages your new plants to root in their new home.
Need more inspiration? Check out the Grow Beautifully Blog with all the tips & ideas!