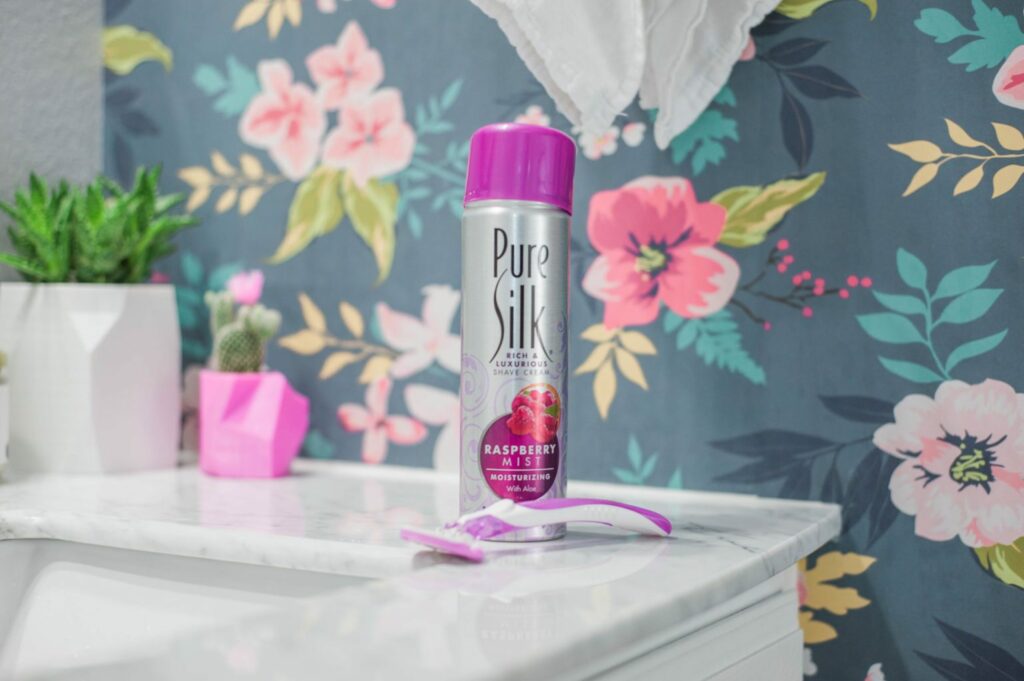 Thank you Pure Silk for sponsoring this post!
Summer. The word alone carries magical feelings. Tropical vibes, sun-kissed skin, palm trees, juicy pineapple, music, and coconut everything. It makes you want to plan all the vacations, backyard picnics, BBQs, and weekend adventures. While travel may not be huge on our list this year (we're saving money for other things… ugh 😉 ) both Bruce and I are summer junkies. We love the long days, warmer evenings, wearing shorts, and outdoor everything!
The truth is I'm a Colorado girl and my legs don't see the sun for a good 4 months. So every year my legs need a little bit of TLC to get summer ready! While I'm at it, I'll also confess how bad I am at shaving! I may even be one of the worst shavers in the world (although quality razors and Pure Silk Shave Cream make a HUGE difference). I love having shaved legs but I've ended up in too many situations where I use an old razor with shampoo and walk out with missed patches and a handful of cuts (boo!)
That's why I am embracing summer by shaving the right way. I was excited to try Pure Silk Razors and Pure Silk Shave Cream to get my legs ready for all things summer. I instantly started dreaming of hanging by the pool listening to my new JBL Flip 3 Speaker and started shaving my legs right away (they needed it anyways! haha!) Now that we are dreaming of sitting by the pool and soaking up all the sun, I wanted to share with you some of my tips for revealing that summer skin!
TIPS FOR SUMMER SKIN
SHAVE EVERY DAY:

Shaving can feel like a daunting task (at least if you are anything like me) but when you have quality razors & Pure Silk Shave Cream (NOT body wash or conditioner) it makes the task so much easier. It is so easy to work the two minute task into your shower routine and the result is smooth, healthy, moisturized skin. So easy in fact that I should honestly keep it up through the winter too! I mean, you never know when there will be a hot tub!! 😉

USE LOTION:

When the dryness of winter melts away, sometimes we forget to still moisturize. Use a good lotion and moisturize after your shower every time! It will keep your legs silky smooth!

GET SOME SUN & WEAR SUNSCREEN:

I know it feels like the moment we put on sunscreen we don't get the benefits of the sun – we want the tan skin & vitamin D BUT we actually get the best of the sun when we are wearing sunscreen. It is important to protect your skin from the damaging effects of the sun and you will still get plenty of the vitamins!

USE BRONZER:

Since we are wearing sunscreen for the healthiest skin, bronzer is your new best friend for that sun kissed look! I love using it on my cheeks and brow (in moderation) as well as my collar bones.
So grab some Pure Silk Razors & Pure Silk Shave Cream and get that soft skin for your summer activities! You'll legs will be on their way to some much needed vitamin D and ready to take you on all the adventures your summer holds!
What are you doing to get ready for summer?