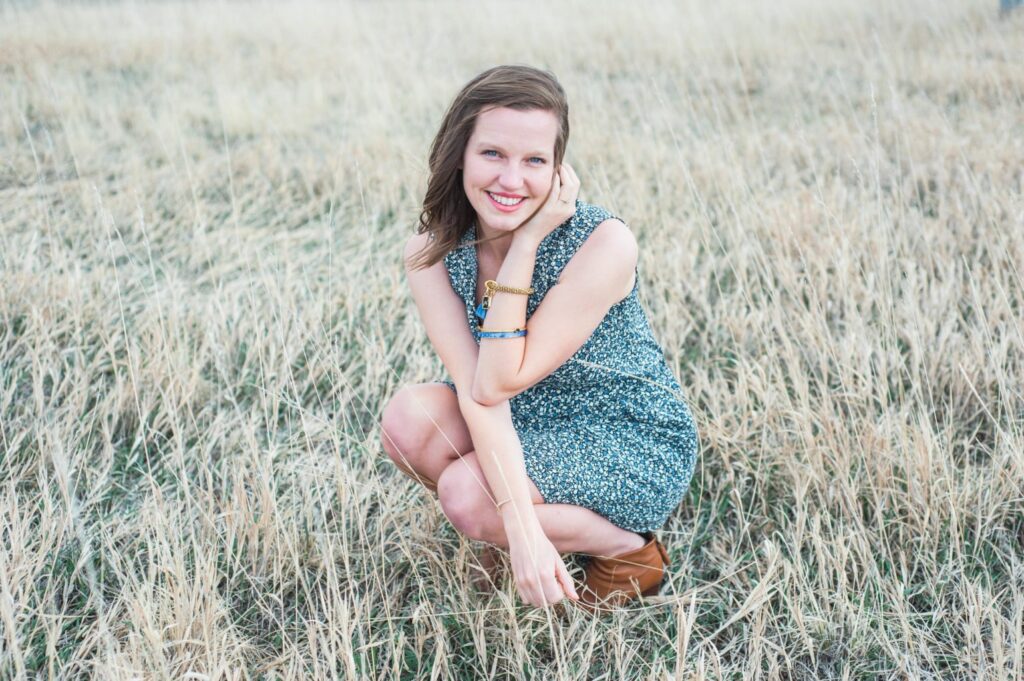 LOCATION: Black Forest
OUTFIT DETAILS: Toms Booties || GAP Sleeveless Floral Shirtdress || Petite Bangle – Maya (c/o) || Splendid Bangle – Fiers (c/o) || Swanky Gold Bracelet – Maya (c/o)
I love the changing of the seasons. I love how they flow consistently year after year. Spring always follows Winter, Autumn always follows Summer. It is one cycle. One circle (of life 😉 ) Pulling out the Spring dresses not only feels exhilarating (something new is on the horizon!) but it is also cathartic. We put away Winter for Spring – we pack up the scarves, boots, and gloves and trade them in for rain coats, breezy dresses, & lighter fabrics. While I love seasons in the natural world, I don't always love them in my life. So often I want to live in Summer & Autumn in my life – seasons of playful work and harvest. Growing beautiful, healthy, delicious fruits and enjoying them. I don't want to go through dead seasons, rest seasons. I don't want to go through the seasons of waiting. Of working & planting without knowing if it all will grow & thrive or if all my work will be in vain. I don't like the roller coaster of emotions and I long for consistency. I'm also human and want things to go my way all the time 😉
I find it fitting (and slightly frustrating) that this season of Spring in Colorado is also a season of Spring in my heart. I find myself dreaming of the growth & the harvest. I have hope it is coming. I've seen the patterns before and I know Summer always shows up but yet I find myself in a season of waiting (ugh – am I right?!) Not only waiting but also preparing.
As a business owner, there are times that I do so much work without seeing the benefit. Website details, schedules, plans, brainstorming sessions, education, etc. In fact, most of the time that I am working I am not technically "getting paid." I don't have an hourly wage – I get paid by projects … when I have projects. In work I find myself in Spring – attempting to faithfully plant (without knowing if any of it will pay off) after a season of rest.
Oak + Oats takes up a lot of room in my heart & life. I want business to not be personal but it deeply is. I often hear Meg Ryan's voice in my head "What is that supposed to mean? I am so sick of that. All that means is that it wasn't personal to you. But it was personal to me. It's *personal* to a lot of people. And what's so wrong with being personal, anyway?" Seasons of business affect me personally, especially since – if you haven't already noticed – my brand is me. Now that doesn't mean that if this all went away tomorrow I would be nothing. I am more than my job, my brand, my business. I am a child of God created for His glory. My identity and worth will not waver if Oak + Oats crashes & burns or grows exponentially. However, if tomorrow it was all gone I would grieve. This space has been a place of growth, connection, dreams, goals, and passions. I would grieve the loss of it. Each investment is a piece of me. Each plant I plant – each email template I write, blog post I pin on Pinterest, each Instagram image I create.
My personal and business goals are so closely intertwined. Working from home with my husband our marriage is part of our business, our home, our friends, our family, our financial goals, our dreams all are too. This season of Spring in Oak + Oats also pours into our family and our home. A season of waiting of preparing. Of looking over our budget and making sacrifices to get where we want. Of trusting the Lord. Of believing that this season of working, preparing, and waiting is all in His timing. Seeking Christ for His wisdom & direction. Desiring to be good stewards of what we are given. Being faithful and diligent in the times of waiting. Holding onto the hope that spring isn't forever but Summer & Autumn cannot come without Winter & Spring.
It's Spring. Be faithful in this season.