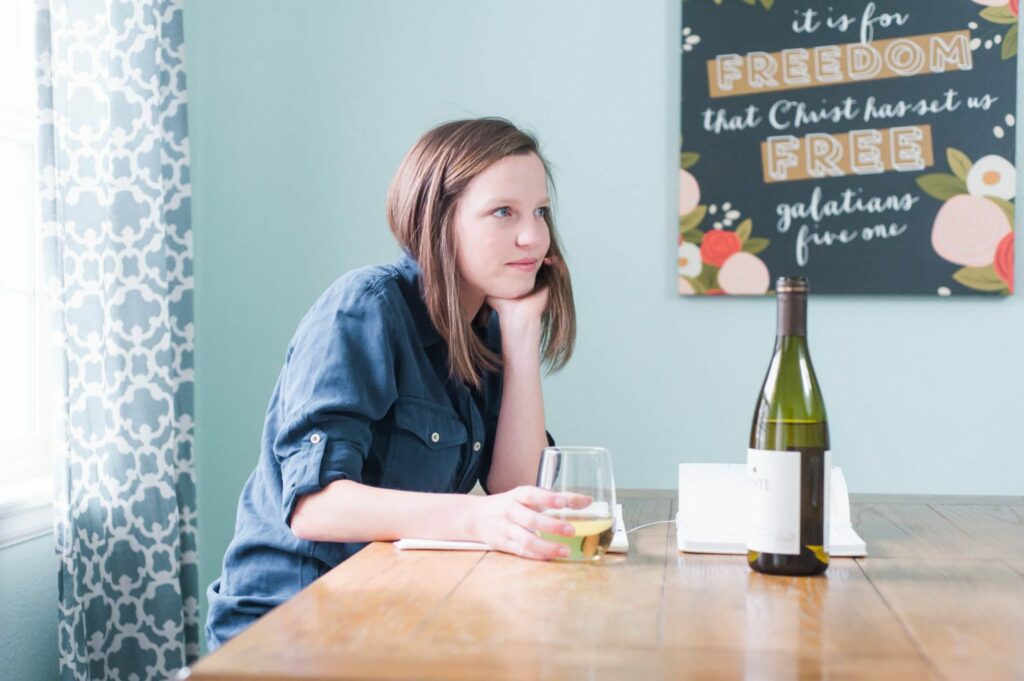 This post is sponsored by Wente Vineyards, but the content and opinions expressed here are my own.
2017 has already marked so many changes & new beginnings. In my job, in my home, and in my heart. The biggest of them being that 2017 first official year that I get to do Oak + Oats as my full time job. Transitioning into this role as entrepreneur, girl boss, creative has brought a lot of challenges to overcome along with some true gifts. I've been forced (thanks to a sever case of writers block/ overwhelm) to take a good look at Oak + Oats – what it was and what I wanted it to be. While I wish the process was organized and complete over a morning in a coffee shop with a pretty latte, it was anything but that. It was months of sorting out priorities, intentional time with the Lord, sacrificing my schedule, rewriting posts and retaking photos. It was a lot of hard things and a lot of tears wondering if I was even going in the right direction.
I think so often that when we face pressures & challenges reaching our dreams we instantly doubt we are on the wrong path. Maybe I should just go back to my office job, back to what I know, back to what is comfortable. We retreat because failure is scary. And not just the fact that other people will see that we failed, but that failing would break out hearts. Putting so much time, love, heart, into something and having it all fall apart – I mean, that is what we are scared of – the pain of loss.
I spend a lot of time in my head. I am a dreamer and and achiever. It is a weird mix of imagining all that could be and then working my butt off to get it done. I however struggle with the in between. I want it all and I want it now (dramatic much?!) This season of Oak + Oats (after nearly seven years of blogging) have really been defining & sharpening. I honestly had to ask myself "Is this worth it?" and once I said "YES!" not turn back anymore.
I find that I can get very one track minded (in many things) but especially in my business. If I don't make a sale or get a sponsored post, I only see that. I only see how somehow I am failing. I realize how wrong that all is – and I can't live that way. When disappointments come in my business (because they always come and will come again) instead of looking at the loss, I am bringing my heart back to home base. I remind myself this is so very worth it. I make myself write a list of great things that have come from this journey. Things like being able to pay off a student loan all with Oak + Oats income (or even making income off Oak + Oats!) Like the time & freedom to jump into friends & family situations to help out (baby sitting, giving a ride, taking a meal, etc) Like getting to do what I love. Like having photo shoots and coffee dates and craft projects all part of my job. Like being able to work along side my best friend, teammate, and husband. All those things. I also look back on the journey that got me here. So many choices & sacrifices that I had to make. Each one bringing me deeper into Oak + Oats and shaping this space. When I look back, I am overwhelmed with how blessed I am. When I look at the path all together, it is exiting! I see how everything fit together and how the Lord has opened so many  doors.
Today I want to pass some of that onto you. I want to encourage you where ever you are. It is never too late to start. To jump in. To take one step towards your dreams. Overwhelm and the fear of failure can leave us stuck – unwilling to move. It won't always be easy, but it will be worth it. Just like Miley said " There's always gonna be another mountain. I'm always gonna wanna make it move. Always gonna be a uphill battle. Sometimes I'm gonna have to lose. Ain't about how fast I get there. Ain't about what's waiting on the other side. It's the climb!" It is never to late to begin. It is never to late to rethink. It is never to late to refocus.
This season has been a lot of that. After nearly 7 years of blogging, more NEW things to jump into. More mountains to climb 😉 So I am taking the time to recount and reflect. Move forawrd with new vision and get my heart back where it needs to be. Just a glass of wine and an empty notebook.
Wente Vineyards recently launched an initiative titled "For the Love of the Journey," which serves as a way of sharing their story and what they believe in. They agree with me & Miley – it's about the climb! 130 years and 5 generations later, Wente is the country's oldest continuously operated family-owned winery. It's the Love of the Journey. As they say, "We don't make wine because we have to, we do it because we love to."
What is your journey? What do you need to say yes to (or no to)? What is this season about for you?