Air Plants have been a recent addition to our indoor gardens (aka bringing all the plant life I can inside!!) I found them on Pinterest (of all places) and instantly became intrigued. It was just about the same time that we started playing around with mini planters and the air plants found a great home in our Shop Oak + Oats mini planters. They are truly unique plants that add a fun vibe to your home! However, they are not the plants that we are used to seeing (ehem, where is the dirt?!) and so we can feel a bit overwhelmed about taking the step into air plant ownership. Today I am answering some of the most common questions I get about air plants so that you can know all the things and be empowered to be a great air plant parent!
ARE THEY ALIVE?
Yes! They are not fake plants one bit. They can actually grow and live without dirt! They absorb water and sunlight through their leaves and that is how they survive.
HOW DO YOU PLANT THEM?
Planting air plants is really simple because there really is no "planting" involved. You just set them up the way you like them. We have made our mini planters the prefect size to fill with air plants and set around your house. You can also get creative with places to put them (just look on pinterest!) or just set them out!
DO YOU NEED TO WATER THEM?
Just like any other plant, you do need to water them. Depending on your environment, they may get some moisture through the air but if you have a dehumidifier or live in a dry place like Colorado, they won't be getting enough. Every 2-4 weeks, round up all your air plants and put them in a bath of water for 60-90 minutes. Once they have thoroughly soaked, set them out and let them dry ALL THE WAY THROUGH before putting back around the house. I shake them off and lay them out on a towel to dry. Air plants can rot & die if they get too much water stuck in them.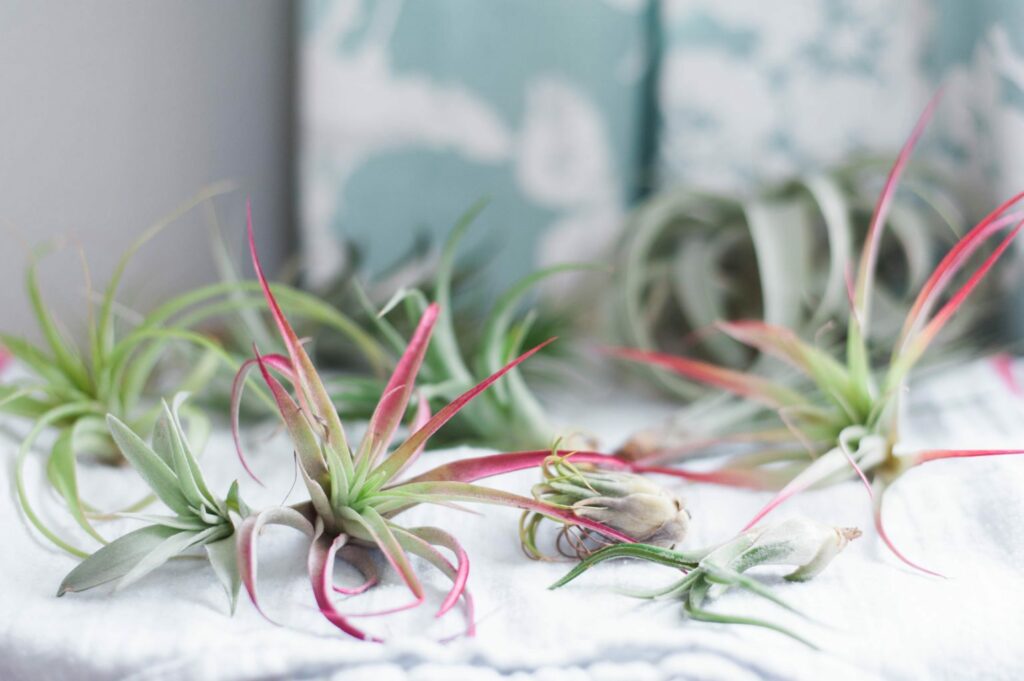 HOW MUCH SUN DO THEY NEED?
Air plants need to be placed in a room that gets indirect light. Think of the rooms in your house that get bright during the day and place your plants there. Don't put them in direct light – make sure they are not in the reach of the sun beams from the window. As long as you have a window in a room, your air plants should do well!
WHERE CAN YOU FIND THEM?
This one can be tricky. Some garden centers have a variety of air plants year round and some may never carry them. Call around before you head out to see if your local garden centers have any. During the summer places like Home Depot, Walmart, Target, and Lowes may have some.
I have actually purchased all my air plants off of Amazon. Here are some ones that I have purchased!
Air Plant Set of 12 || 5 Pack || Medium Set of 3 || Small Set of 5 || 6 Pack
With the proper care, love, and attention, these guys are easy plants that just sit around your house looking cute. They are not as high maintenance as you may think and they fill your home with life! All you need to do is mark the calendar for "bath time" every 2-4 weeks and you are set! Do you have any other questions that I didn't answer? I would love to help answer them and include them in this list!
So…. what are you waiting for? Join our Shop Oak + Oats newsletter to be the first to know about deals, new products, & see behind the scenes! SIGN UP HERE!
Top Photo Credit: Elah Tree Photography