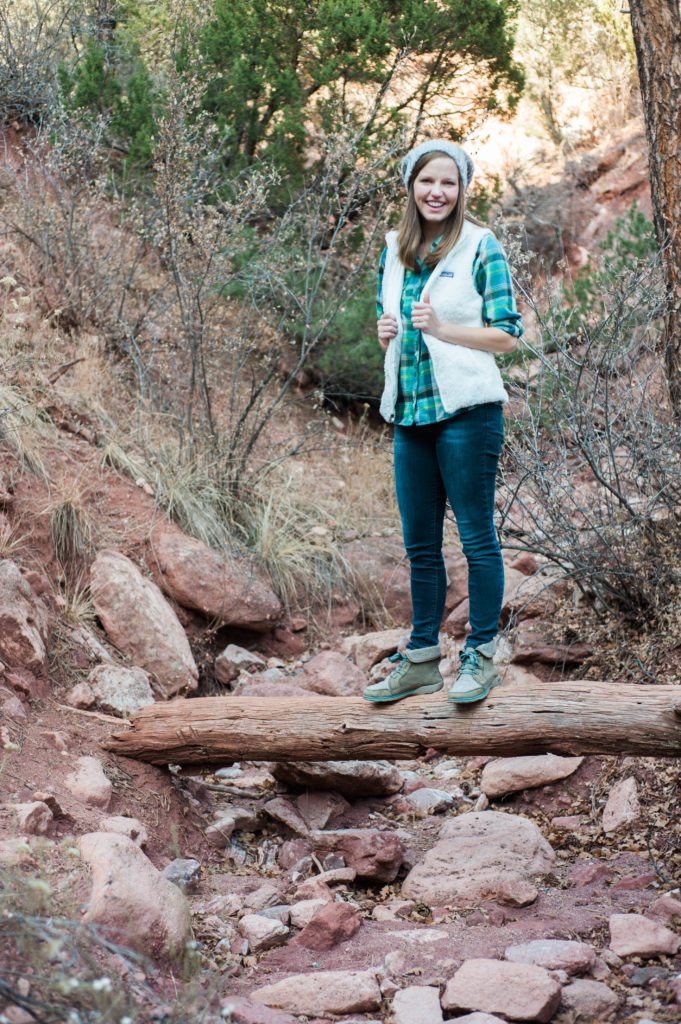 LOCATION: Garden of the Gods Park
OUTFIT DETAILS: Patagonia Los Gatos Fleece Vest || Gap Skinnies || Chaco Barbary Boot || Marmot Bridget Flannel
It doesn't snow in Colorado all winter long. It snows for sure but not everyday all day. I find that a lot of people tend to be surprised by that. When I went to college in Arkansas I had people ask me if I took a dog sled to school – nope, we just drive – like everyone else. I LOVE Colorado when it snows, but I also still love it when it doesn't.
Thanksgiving weekend, Bruce and I wanted to join the #optoutside movement and so we went for a walk in one of the most beautiful places, the Garden of the Gods. We walked in (instead of driving) which was a good choice. We knew it would be packed. It is such a site to see that so many people go there. We have a couple trails we like to take that go around the park and weave through secret places. We find we tend to avoid the masses because they are not paved – the majority of the foot traffic avoids the rocky trails.
Walking together is one of our favorite things. We like walks around the block and walks through the woods. The brisk pace (and crisp air) is good for our bodies, our minds, and our relationship. We don't feel like we're forced to talk – we just talk. Talk about somethings and talk about nothings. We ask questions, we share dreams and struggles. We catch up on hearts, plans, and timelines. We chat about memories and dream about the future. We talk about the smells and sights and marvel at creation. And sometimes the only sound heard is the crunching of the gravel as our feet walk in unison.
Opt outside sometimes (not just on black Friday!) You'll find a brisk walk can do a lot of good for you. For your marriage. For your family. For your friendships. You'll be amazed what you can talk about side by side.