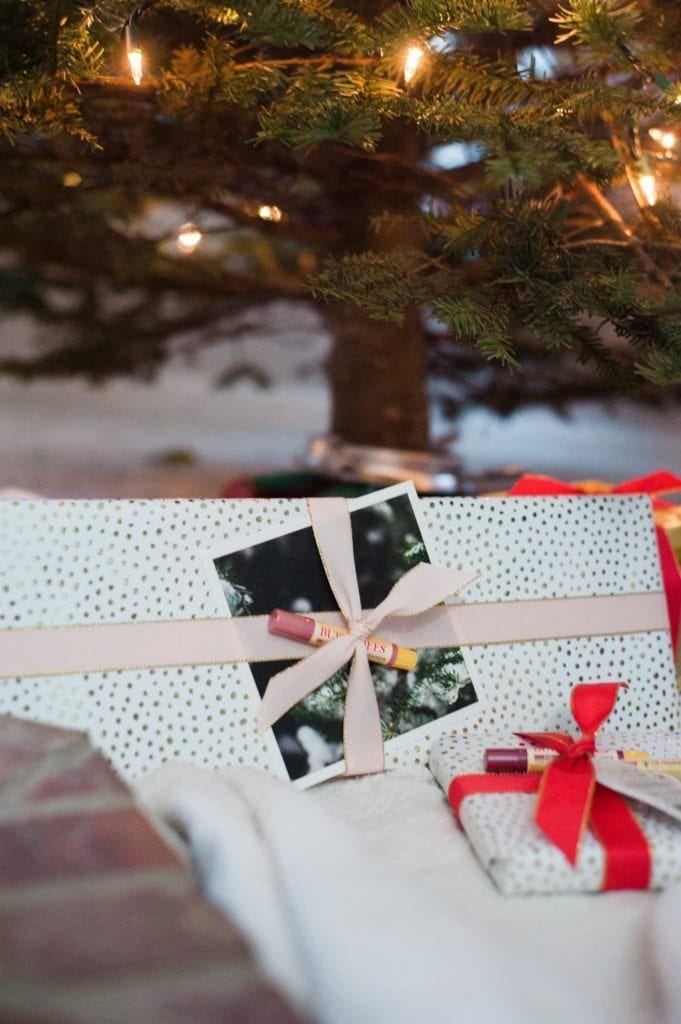 Thank you Burt's Bees for sponsoring this post. All thoughts and opinions are my own.
I'm practically almost done with all my Christmas shopping. I love to get it done earlier than later so that I can come home, wrap my gifts, and get them under the tree. A full tree brings me so much joy and really is the cherry on top of (or under 😉 ) the beautiful Christmas tree that sits in the corner of our living room.
The other day I was at Target and I saw the Holiday display of Burt's Bees on the side-cap of the natural beauty aisle. I grabbed a couple of the gift sets because I know they will make great additions to the gifts I have for a couple ladies I've drawn names for. I also picked up some more Burt's Bees to play with in my gift wrapping.
Wrapping gifts is one of my favorite parts of the gift giving process. I love to find ways to make them personal and also beautiful. When everyone is grabbing presents out from under the tree the first thing they do is look for a name. Gift Tags are almost essential when it comes to Christmas Wrapping and if you are feeling up for something a little different, I want to share with you some ways you can spice up your gift wrap:
ADD A SECOND GIFT
This has been a favorite of mine since I was a little kid. I always loved finding ways to include some of the gift in the wrapping. It is like a little teaser that the gift recipient gets too look at as much as they would like until they finally get to open the rest up on Christmas day. These winter color Burt's Bees Lip Shimmers we're so perfect to sneak in the bow with the tag!
ADD A PHOTO
I love to print off some of my favorite Instagrams and use them later as cards. I printed off a bunch of festive ones from last Winter and have been writing names & notes on the back of them for gift tags. I slipped a second gift in with this one as well because the Burt's Bees Lip Shimmers came in a set of three so I divided them up!
USE AN ORNAMENT AS A TAG
Another thing I love to do is pick out fun (and flat) ornaments and use them as gift tags. I write the name and year on the back and it doubles as a new ornament and a gift tag! In a way it makes it a second gift as well. Because the Burt's Bees gift sets are already wrapped so nicely, I just added ribbon and an ornament to double as the gift tag.
STACK IT
Whenever I have a couple stackable gifts, I stack them! I try to stack and tie up gifts as much as possible! It is a fun way to add depth and dimension and make your gift stand out above all the rest. When stacking I usually opt for different colored wrapping papers to add some character. I left the Burt's Bee Holiday Set unwrapped because it looked so pretty already and paired it with some golden tree wrapping.
This year when you go out to shop and sit down to wrap, have fun with it but also let yourself keep it simple. Let the shopping and wrapping be just as joyous (and not stressful) as the giving! Find just about all your need for wrapping and gifting with Burt's Bees at Target this year! 
What are your favorite gift wrapping tips?