I'll be honest with you, this summer is unlike anything I thought it would be. I mean, it is great and we've done so many fun things & planned some incredible trips & spent quality time with friends and family but so much of it has been a surprise on the fly. I didn't know what to expect this summer to be like and the expectations I did have were all over the place. A couple weeks ago I realized it was the middle of July – WUT?! There were so many summer things that I had not done yet. I still had not made it to the farmer's market, read an entire book in the sunshine, gone camping, or made any homemade ice cream. Last year at this time I had made at least 10 batches.
I sat at my kitchen table, scribbling ingredients on my grocery list so that I could at least make one batch. I asked friends for ice cream flavor recommendations to kick start my creativity, dug through the cupboards to find the KitchenAid attachment, and (to be honest) kicked myself for being so bad at summer this year. Before I got too far down the negative Nancy/ self doubt path, I caught myself. Last year our summer was very different. We pretty much locked ourselves in our house and worked on the basement every day. It was hard, I cried about it a lot, but I had a lot of time at home – time that I used to make ice cream so that I could soak up summer in a different kind of way. I was faced with my sinful heart that's first reaction is comparison – disappointment & envy. I see everyone's summers and try to mush it all together to create the perfect summer – cooking, creating, working, making money, traveling, taking awesome pictures, sitting by the pool, going on adventures, road tripping, and making memories with friends and family. You know, doing it all, having it all, being it all.
I continued writing down the ingredients but no longer in a place of defeat, but in a new moment. I wanted to slow down to make some homemade ice cream and I was going to make time for that. I was going to say no to some things, to say yes to this one. The ache came from a summer moving so fast with so much pressure to succeed, that I hadn't even slowed down enough to do something that would actually inspire me. I took a good look at my heart and my expectations for the summer and I crossed a bunch of things off – not because I've given up on doing them, but because this season isn't for them. I've opened up my heart & time for some good old fashion ice cream recipes and I'm excited to get creative.
Summer Berry Ice Cream ended up being the first one on my list. The grocery store had berries on sale so I threw them in my cart. Fresh fruits & berries SCREAM summer to me and are one of my favorite parts of this season. I was on a "this is summer and I'm going to enjoy it" kick so it seemed like the most obvious choice. I also added dark chocolate chips because chocolate goes best with berries 🙂
INGREDIENTS
1 Cup Milk
1 Cup Heavy Whipping Cream
1 Package Blueberries
1 Package Raspberries
2 Eggs
1/2 Cup Sugar
1 Cup Dark Chocolate Chips
1 Shot of vodka (the alcohol will burn out)
HOW TO
In a pan on medium heat, mix berries and vodka until berries are soft and fragrant.
In a separate bowl, whip the eggs and sugar together until fluffy.
Add berry mixture to the bowl.
In the same pan, heat up the milk and whipping cream on medium heat until it simmers.
Slowly add the simmering milk mixture to the eggs & berries and continue whisking together.
Once all mixed, set in fridge until completely cool (4-6 hours)
Pour mixture into ice cream maker and follow manufacturer's instructions (usually let mix about 20-30 minutes.)
Add chocolate chips about 15 minutes into mixing.
Enjoy right away for a soft serve taste or place in freezer proof container and let freeze for 5+ hours to achieve an ice cream consistency.
PS: I am using the KitchenAid Ice Cream Maker attachment for all these recipes and I love it! I recommend it if you already have a KitchenAid and are wanting to get into making ice cream!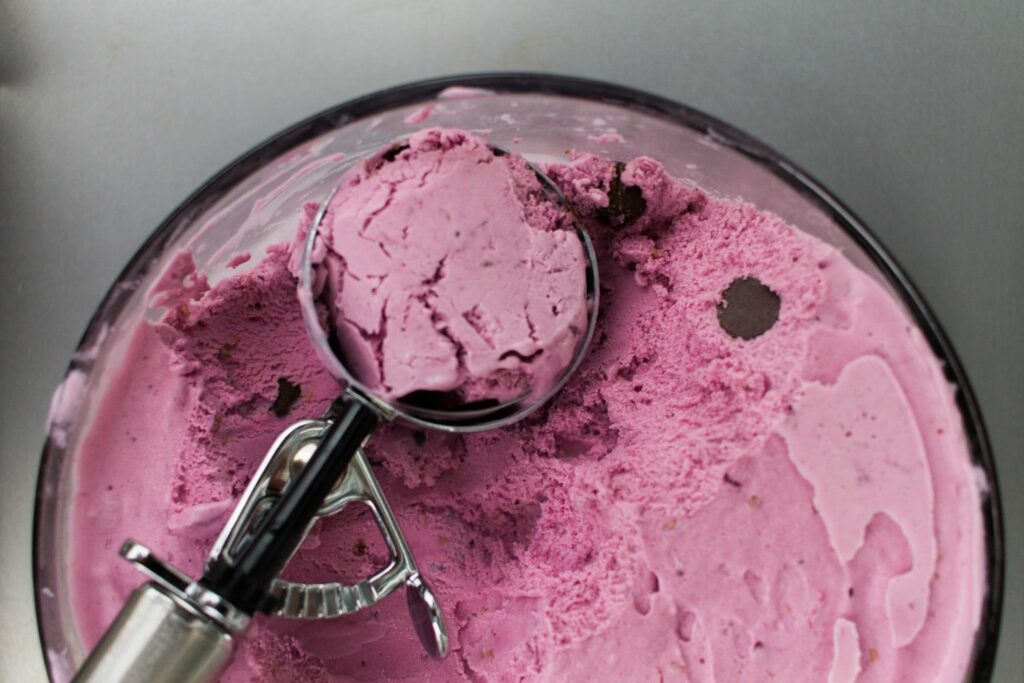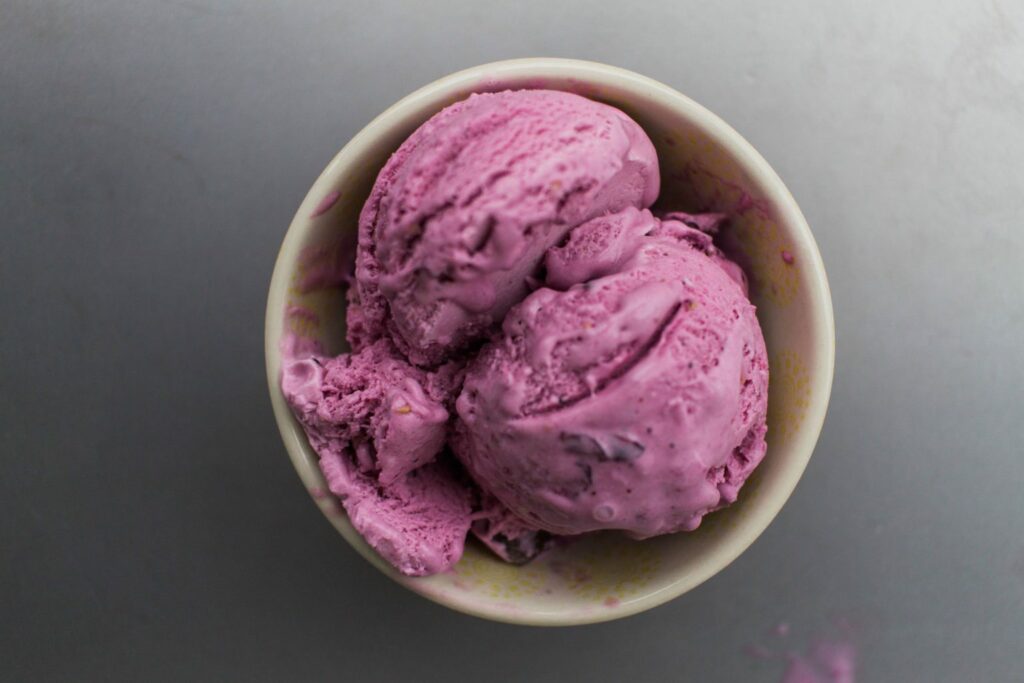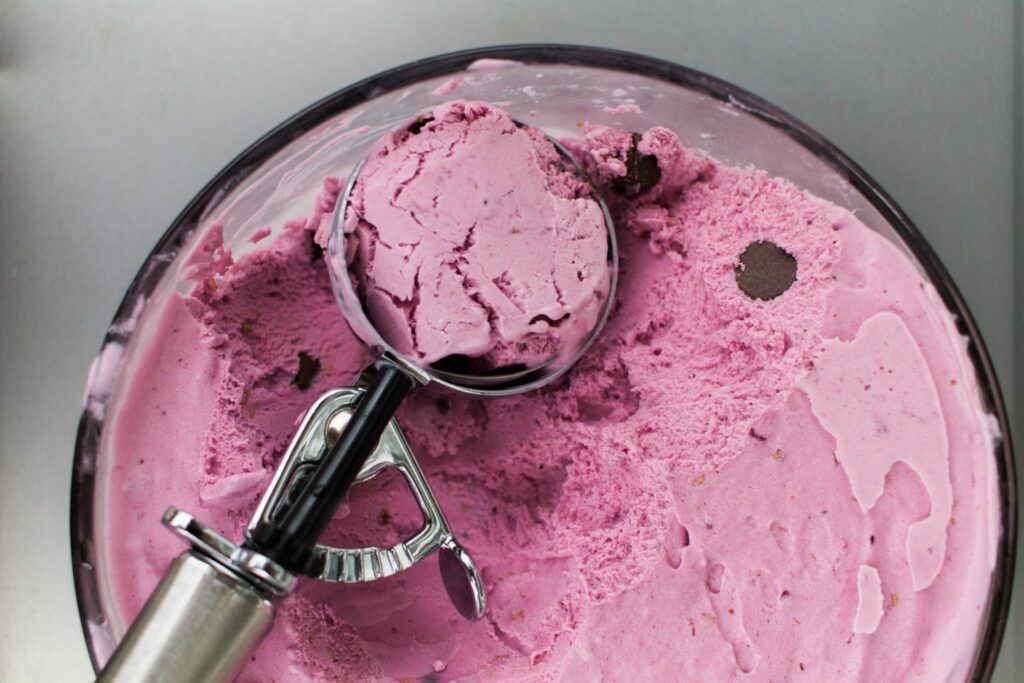 xoxo, elizabeth