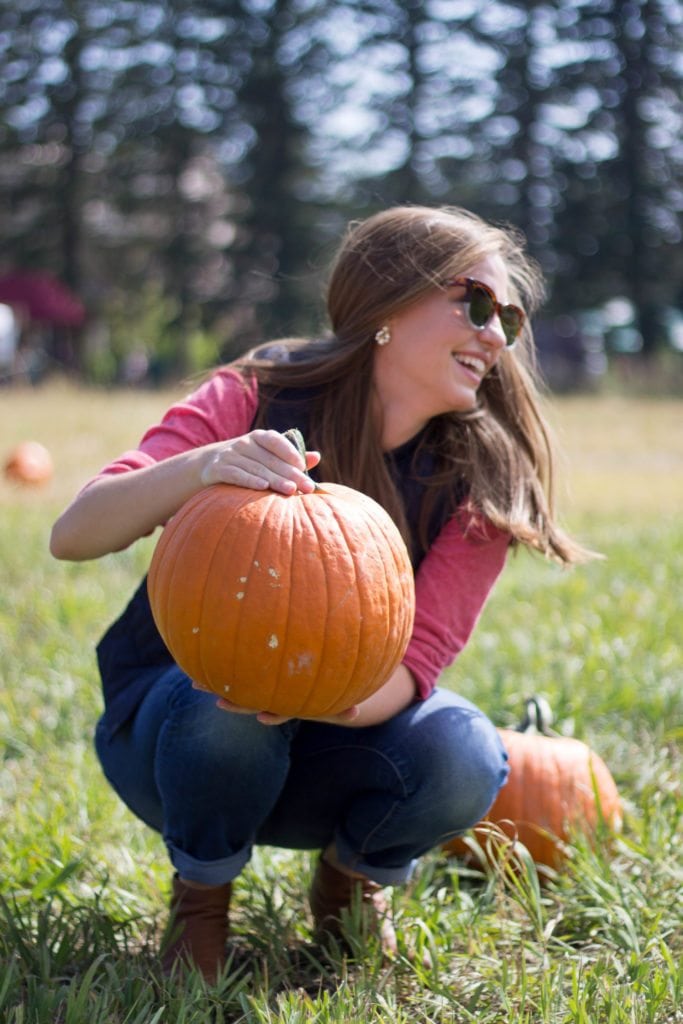 LOCATION: Rock Ledge Ranch Harvest Festival
DETAILS: Tortoise Crystal Fade Polarized Sunglasses || Warm Tan Full Grain Leather Women's Leila Booties || Skinny Jeans || Quilted Vest || V Neck Sweater (old, similar)
Today is World Sight Day and I am excited and honored to partner with TOMS to bring awareness and #GiveSight! I've loved TOMS since I first heard of them when I was in college. I remember saving up to buy my first pair of TOMS (I got the burlap kind) and loved knowing that the pair I bought was actually two pairs – one going to a kid without shoes. I loved the idea of my purchases making a difference. Up until this point, I thought of my shopping and my giving as separate actions but hearing the heart behind TOMS in a chapel service at John Brown University, I started to realize that where I shopped, how I shopped, and what I supported mattered more than I realized. I could give to great organizations and then I could also support great organizations by my purchases.
Over the years TOMS has grown and has continued to be a brand that I love supporting – providing even more One for One® opportunities! Remember when they started selling bags back in May providing safe births for moms & babies? And when their eyewear launched in 2011 and has since helped restore sight to over 275,000 people in need?!
QUICK STATS:
285 million people are blind or visually impaired, 80% of them don't have to be.
2/3 of people who are blind are female, partly because in developing countries women have reduced access to services and inability to pay.
80% of what we learn is through sight–this means that the 19 million children who suffer from blindness or visual impairment have difficulty succeeding in school.
Not only does a purchase help restore sight, it supports sustainable community-based eye care programs, the creation of professional jobs (often for young women) and helps provide basic eye care training to local health volunteers and teachers!!
TOMS gives sight in 13 countries, providing prescription glasses, medical treatment and/or sight-saving surgery with each purchase of eyewear.
With every pair of eyewear you purchase, TOMS will help give sight to a person in need. One for One®. That is something I am proud to get behind and something I am excited to cerebrate today! Will you join me in making your purchases matter? Grab some eyewear today to support World Sight Day or pick up a pair of adorable boots because they are still One for One® too. And pick out a pumpkin, because it is October!