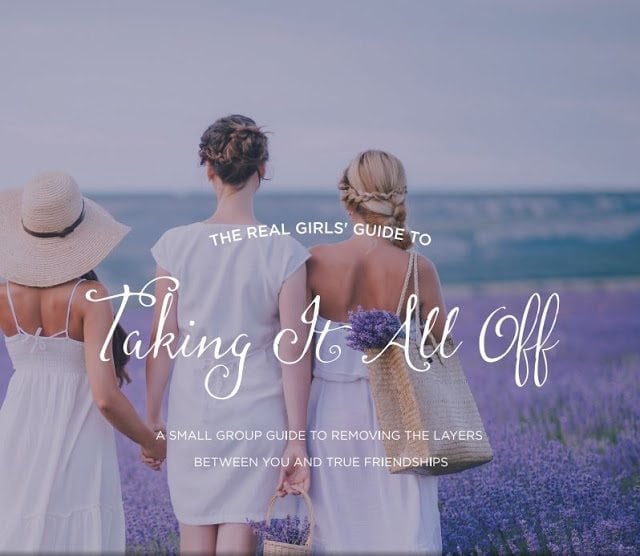 When Stephanie May Wilson announced her new small group guide, I immediately clicked over it to learn more. I mean, friendships are so important and so life giving yet sometimes they are so hard to find. I know I am not the only one who has cried in my bed asking God why I don't have that best friend who I can do everything with or that suffocating close friend group like I did in college. Life changes and friendships change but we were never meant to do life alone.
Years ago (four in fact) a bunch of us found ourselves in Colorado Springs post college and trying to figure out what was next. We pieced a group of us together from recommendations, camp friendships, and just others we knew needed community. That's when we all started.
We met as a big group- with all the men and all the ladies – and we still are doing that every week to this day. But we needed/ desired more. We wanted more girl time to really dive into the Word together, to share our hearts, and really be friends. The years meeting every week connected us and fostered relationships. We met at hospitals when babies were born, we cried on the other side of heartbreaking phone calls, we showed up for each other's birthdays, and we christened new homes with new bottles of wine. But when you are used to the cramped quarters and community that literally lives together, you wonder if you will ever find a group of girls who get you that way.
So we started a girls study (in addition to the community group our husbands get to come to with us) and we made a commitment to meet together. We had just wrapped up the first study we went through and we were looking to what was next for the summer.
My heart was giddy as I poured over Stephanie's words and the outline for the study – what a perfect summer study and what a great opportunity to continue pushing toward that friendship. I was slightly nervous to bring it up to my group (even though I have been meeting with these women for years) because vulnerability is always scary. Also, telling these ladies that I want them to be my best friends is also a little terrifying. I am sure you know that feeling too – like when you and your best friend haven't vocalized if you both feel like you are each other's best friends so you are waiting to hear them say it, but they are waiting for you and so you both feel this weird pressure to not say "best friend". It was kind of like that. It is hard to express your need and desire for true friendships but it is what we all long to hear.
I want to grow in my relationships with these girls and they want to grow closer to me to!  
I am so excited to share with you that we are going through the study together. This group of girls from my real life, everyday community have enthusiastically signed up to pursue each other and true friendships. I am excited to share the journey with you and I am even excited to share with you more of them – the beauty of the everyday lady.
I want to invite you to do the same. Won't you join us? Will you be BRAVE enough to ask the women around you to meet for six weeks. I truly love the online community and there is so much we have to offer and encourage each other from far away but you need physical community too. The Lord desires for you shoulders for you to cry on, hands for you to hold as you walk through life, and ladies who are the physical representation of Jesus in your life. I know it is hard to reach out – to invite people to be your friend – but I can promise you, they want a friend too.
I'll be sharing our journey and I want to hear yours as well. Just like Winnie-the-Pooh said, "You can't stay in your corner of the Forest waiting for others to come to you. You have to go to them sometimes."
So are you in? Will you grab your books now and bravely ask the ladies around you to meet together to grow in relationship? Do you trust that the Lord wants you to have good girl friends, even BEST FRIENDS right now? Even if you are married and living the grown up life – He knows you still need that girl time! Pray about it, be brace, and make sure to order your books before May 27th because they will not be printing them again until December!