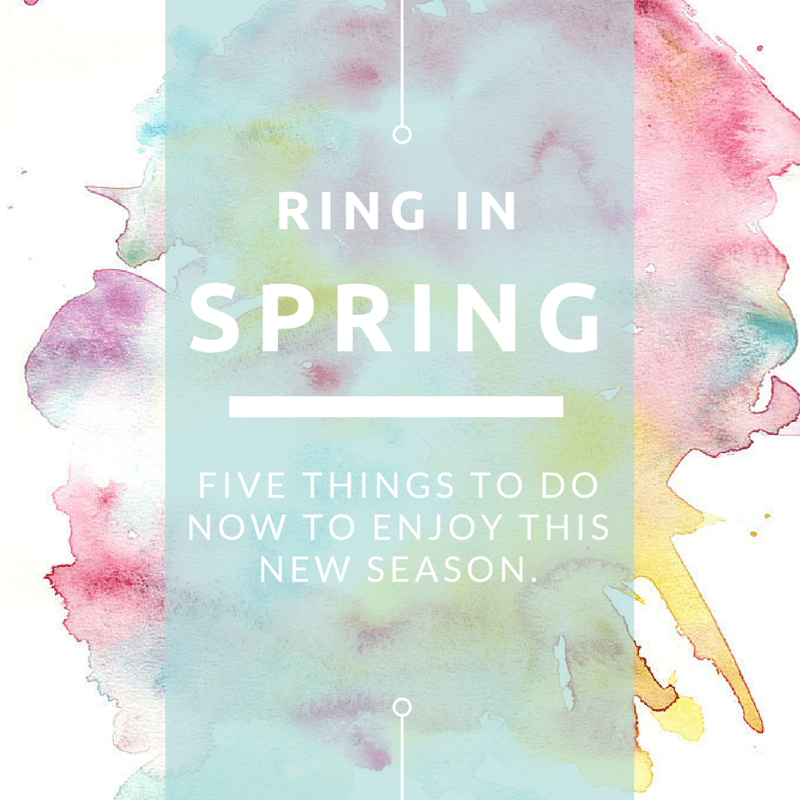 This post is part of a social shopper marketing insight campaign with Pollinate Media Group®, PEOPLE®, and Real Simple® but all my opinions are my own. #pmedia #SpringintoMeTime http://my-disclosur.es/OBsstV
I don't know how things are where you call home, but I can tell you that this girl (me) is pulling out the spring-wear. In fact, this weekend Colorado Springs was rocking the 70 degree high and I was living in up in my shorts. I am sure we will still have one more big snow storm, but Spring is just around the corner and it is time to get ready for the change in seasons.
With the change and anticipation of a new season, I love to take some "me time" to take stock and prepare. This year it looked like a long shower shaving my legs (getting ready for those Spring shorts), reflecting on all that this past winter was, and picking up some magazines from Target to sit on my back porch with drinking iced coffee (obvi).
I feel like we were given seasons for a reason – to remember to reflect and enjoy each season in our life and also to have something to look forward to when we get bored. We need stability and adventure. Memories and dreams. Winter and Spring. Today I want to encourage you to take some "me time" as well and take time to do these five things to get you (and your family) ready for a stress free Spring!
PURGE
Over the Winter the comfort of home may have won over your desire to run errands in the Winter frost. I always find that the clutter collects a bit more in the winter times. Take an afternoon for yourself to clean out to make room for Spring. Think of closets, counter tops, coat racks, and your car. Some things may need to be put into a box for Goodwill (or Twice, ThredUp) but other things may just need to be put away until next year. Think of all the boots and coats that have piled up in the entry way, take a couple minutes to put all those away to make room for the baseball hats, flip-flops, and Frisbees. Or maybe you counter top still has a pile of Christmas cards and tax information, throw away (or fridge) those Christmas cards and get your taxes done so that the counter can be free for been sprout projects and bowls of Robbin Eggs. Remember, less mess equals less stress.
CONNECT
Not only does the winter weather tend to create a clutter build up, but it also keeps us at home more and away from friends and social events. With the weather warming up, take some time to meet another mom for a park play date or have friends over for a Spring Bash in your backyard. Connecting with friends face to face is so good for our souls and our moods. Maybe just even having your girlfriends over to weigh in on the new Bachelorette debate is what you need. Getting you home and heart ready for spring is more than a Spring Cleaning checklist – it is about awaking and watering your relationships too.
FRESHEN
I am sure I am not the only one who has already noticed the growing selection of the produce department. Fruits and veggies are becoming more readily available at Farmer's Markets, in stores, and at local restaurants. Switch up your cooking schedule and winter go-tos by adding some freshness to your diet. Replace those soups and chilies with salads and smoothies! Switching up your go-to foods each season helps your children have a larger range of tastes and give you room to be creative but not overwhelmed. Real Simple always has the best family (and time) friendly seasonal recipes you should check out!
PLAN
What are some fun things you want to accomplish this Spring? Do you want to make sure to take your family to the zoo? Do you want to plant your strawberry bushes? Do you want to start a Saturday park tradition and go to a new one every weekend? Do you want to sew bright pillow cases for your living room couch? I don't know what you want from your Spring but take some time to think about what you would like it too look like. Don't get too carried away with this list, remember, Spring is only three months, but be realistic of what would really make this season intentional. So often life just flies by us and the next season is upon us before we know. Making small, realistic, and meaningful goals for the season helps you enjoy the season fully, get things done, and make memories.
DECORATE
I know those people who decorate for every holiday and I think they are really cool. I don't have the time (or money) for that! BUT I do think there are little things you can do each season to change up the feel. Add a couple spring pillows from the Target section to your couch, switch your Sugar Cookie candle for a Fresh Linen one, or redecorate and clean up your fireplace (because you won't be needing that anymore.) I think that taking a nap time and transitioning your home over from one season to the next in well worth the time and helps bring in the season. I am never at a loss for home ideas after some magazine time 😉
This year, be more intentional about each season. Take the time a couple afternoons to dream, plan,
pick-up, decorate, and meet a friend for coffee. Don't let Spring pass you by! If you want to grab some magazines from Target to inspire you, take advantage and save $2.00 when you buy any TWO (2) participating magazines titles (All You®, Real Simple®, PEOPLE®) from 3/15-3/28 while supplies last. You can also save 15% on select special issue magazines (PEOPLE® Crimes of Passion, National Geographic® 100 Journeys of a Lifetime, TIME® Mark Twain, LIFE® Lincoln ) if you use your Target Cartwheel app and want to go magazine crazy!! ( available until 4/17/15, while supplies last.)
How do you feel about spring? Are you ready for it? What magazines do you read to get inspired each season? Do you try to be intentional about transitioning into each season? Or do you live somewhere that doesn't really have set seasons? I want to hear about Springtime in your areas!